Ramnath Kovind Birthday Prediction: 2021 Forecast for the President
Coming from a very humble beginning to his journey to Rashtrapati Bhavan, Ramnath Kovind's story is as inspiring as inspiring stories get. A scholar, who passed his UPSC exam and then went on to practice law in Delhi High Court, is truly a deserving candidate to be the President of the largest democracy in the world.
He started as a Central Government Advocate in the Delhi High Court, and at the same time, he also served as the personal assistant of then Prime Minister, Morarji Desai. He later went on to become an advocate and a standing counsel for the Central Government in the Supreme Court of India. What a celebrated career to have!
Among all this, he has always stayed connected to his roots, offering voluntary, without payment advocacy in the Delhi High Court for the poor, women, and weaker sections of society under Free Legal Aid Society.
Ramnath Kovind joined BJP in 1991 and went on to become a Member of Parliament (MP), Rajyasabha from UP. He has helped in constructions of school buildings in the rural areas of Uttar Pradesh and Uttarakhand. As the 26th Governor of Bihar, he has been praised for investigating corruption & Mismanagement in the universities and undeserving promotion of the teachers. He took his presidential oath on 25th July 2017, defeating Meira Kumar by a landslide.
Fondly called "The master of Indian Constitution", Ramnath Kovind will celebrate his 75th birthday on 1st October. We bring you his astrological predictions for the year ahead.
---
Ramnath Kovind Birth Chart:
Date of Birth: 1st October 1945
Time of Birth: Unknown
Place of Birth: Uttarpradesh, India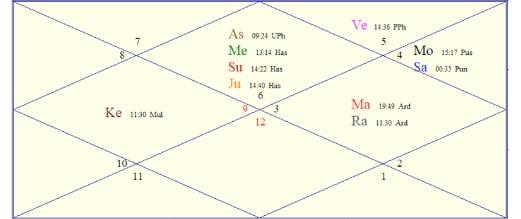 According to Vedic Astrology, the time of birth is required for an accurate analysis for one's birth chart. Since we do not have the time of birth, we will be analysing Ramnath Kovind's Surya Kundli. A Surya Kundli also tells us a lot about the personality of native and helps us predict the events likely to occur in future based on the positioning of the planets and signs in the birth chart.
Get Your Hand-written Janampatri By Our Experts.
---
Ramnath Kovind Horoscope by Date of Birth:
According to his birth chart, Ramnath Kovind's Zodiac Sign is Libra. Now that is no surprise as Diplomacy is the strong suit of Librans. The positioning of Sun and Jupiter in the birth chart, Ramnath Kovind was always supposed to be inclined towards the professions related to law. Did we mention his body of work with the Supreme Court? The conjunction of Sun and Mercury creates the auspicious combination called Budh-Aditya Yoga, which helps him in excelling in any job that he takes up. This positioning also indicates the administrative qualities of the person. As cliché as it may sound, he was born for this!
Mercury, Sun, and Jupiter together also point out his giving nature, the one who works relentlessly for the betterment of society. Going into 2021, Ganesha would like him to be careful about his health due to the transit of Saturn in until March 2021. However, the health issues seem manageable with a proper and timely diet for the president.
The transit of Saturn in Capricorn can have a massive impact on your life, especially for those who are going through Sade Sati. Brace up and shield yourself in tough times by getting insights into upcoming challenging situations from your Personalized Saturn Transit Report written by Vedic experts.
---
Happy Birthday, Mr President!
An epitome of hardworking and persistent soul, we wish the best for the coming term to Ramnath Kovind with all the gratitude. May his year ahead be full of health and bring new achievements to him and our country. Jai Hind!
To Get Your Personalized Solutions, Talk To An Astrologer Now!
With Ganesha's Grace,
GaneshaSpeaks.com
---
---
Get 100% Cashback On First Consultation