MK Stalin may prove to be a key player in the upcoming electoral battle of Tamil Nadu…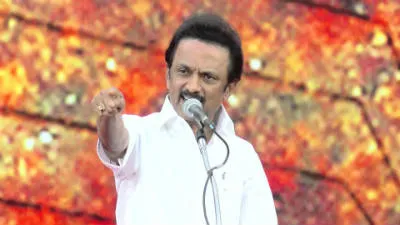 MK Stalin, who has courted controversy several times, is a Tamil Nadu politician, a state which he served as Deputy Chief Minister from 2009 to 2011. He also served as Mayor of the state's capital Chennai from 1996 to 2002. He was highly praised for his work during his term as the Mayor and is given credit for changing the landscape of Chennai and turning it into a metropolis. Stalin is the third son of DMK supremo MK Karunanidhi, who has named him as his heir apparent. Stalin serves as the Treasurer and the Youth Wing President of the DMK. Stalin began his political career at the age of 14 when he campaigned in the 1967 elections. In 1973, Stalin was elected to the General committee of the DMK. He shot to fame when he was jailed under the Maintenance of Internal Security Act (MISA) for protesting against the Emergency imposed by Indira Gandhi.
The election season is nearing in the southern state of Tamil Nadu and the political arena is likely to get electrified. Let's get an idea of what the planets indicate about MK Stalin and his fortunes in the upcoming grand electoral battle.
MK Stalin
1st March, 1953
Chennai, Tamil Nadu, India
SURYA KUNDLI

[Owing to the unavailability of credible birth-time, the analysis and predictions have been done on the basis of the Solar Chart/ Surya Kundli with the help of Nehra's birth-date and birth-place only.]
---
MK Stalin and the Stars
In the Horoscope of Stalin, the Sun – the planet of leadership, politics and power is placed in the Sign of Aquarius. So, he is dynamic and spontaneous. He has the abilities to perform better than expected, if he takes the help of unconventional methods. But, the planets indicate that he is choosy about people and can sometimes be stubborn. Also, at times he may resist accepting any new ideas and may not want to change his opinions that easily. So, on the surface, his approach may come across as dictatorial and autocratic, but it may not necessarily be the case in reality. It is his strong views and intuition which generally guide him to take vital decisions and stand firm against the opposing views.
He has exalted Venus placed with Mars and Mercury which makes him a charismatic leader who has abilities to connect with the voters. He would be disciplined, aggressive and may prefer to express his views and policies strongly. The planetary configurations indicate that he is a leader who likes to lead from the front.
What adds more power to the Horoscope is the exchange between Jupiter and Mars which forms an excellent Parivartana Maha Rajayoga and gives him endless perseverance. This also makes him fortunate and influential. It makes him a very efficient and shrewd politician and also gives him great drive and ambition. On the flip side, it also signifies repressed anger. But, overall, this strong planetary configuration may help him to instill confidence among various sections of society to gather support and love for his party.
Jupiter is aspecting his Natal Saturn which indicates that he has highly developed sense of duty, will power, and a capacity for hard work to control or govern his organization effectively.
Such strong planetary configurations in his chart make him an influential leader in Tamil Nadu politics.
---
The Upcoming Battle and his fortunes
He is trying to continue the legacy of his father who owns a respectable place in TN Politics. As the transiting Jupiter is aspecting the Natal Sun, he will be able to attract and gather support from different quarters of society and will also establish himself as a prominent leader in TN politics. His efforts and aggressive campaign may help his party to increase vote share in forthcoming elections.
However, the transiting Saturn in Scorpio may restrict his progress. Also, the transiting Rahu is moving over the natal Moon and the transiting Ketu is moving over the natal Sun. Due to the Sun being under the negative influence of transiting Ketu, he may not get desired success in his endeavours. He will have to compromise in various areas and may also not get the lion's share of success. Thus, the luminaries under affliction may create hurdles, thereby making his path rather difficult. The transiting Jupiter promises considerable success and may may help him to make decent progress.
With Ganesha's Grace,
Tanmay K. Thakar
The GaneshaSpeaks Team
---
---
Get 100% Cashback On First Consultation