With well-disposed planets, Mamata makes for a naturally gifted power-wielder!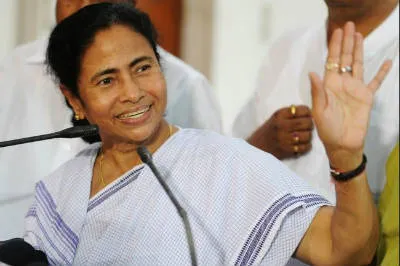 Jupiter's auspicious support till August 2016 shall help Mamata to maneuver her ship well…
Mamata Banerjee is one politician, who has exemplified power and the strength of a woman from a long time and she has been one of the most prominent woman faces of Indian Politics and Governance. Born as Momota Bandopadhyay, Mamata, who is commonly referred to as Didi, had created history in the 2011 assembly elections of West Bengal, when she pulled of a landslide victory for the TMC-INC alliance, by trouncing the 34-year old Communist Party of India (Marxist) led Left Front government, the longest-serving democratically-elected communist government! With a stern and bold approach to governance, Mamata Di has always managed to somehow be in the limelight, whether it was for her stint as the Railways Minister twice or whether it was for her inclusion in the list of the '100 Most Influential People in the World'. This gritty woman has been marching forward with various policies and governmental functions and she is now nearing another big electoral battle, which shall take place in the state of West Bengal in 2016. What makes Mamata such a strong and dynamic leader? How shall the year ahead unfold for the popular leader of the eastern state? Let us find out something more about Mamata from the perspective of the Stars!
Mamata Banerjee
Date of Birth: January 05, 1955
Time of Birth: Not Available
Place of Birth: Kolkata (Calcutta), West Bengal
SOLAR CHART

---
The Astrological Picture:
The Trio of Sun-Mercury-Rahu:
She has Sun placed in the Sign of Sagittarius sign with Mercury and Rahu. The Sun symbolizes the core essence, individuality and the self. It one's attitude towards life, the soul and the spirit. As it is placed in a fiery sign in Mamata's Chart, she is a leader with a clear vision and purpose. She know what to achieve, how to achieve and when to achieve. She is philosophical, inquisitive and would believe in finding solution with an aggressive approach. She would always seek expansion and growth. She will have a special love for challenges and the challenges would mostly revolve around pushing her own limits and to broaden the horizons. The fiery and optimistic sign – Sagittarius indicates her quest for freedom and adventure, and the search for meaning through expanding her horizons. It provides her leadership quality and makes her an aggressive activist at heart.
Love for Freedom…
Because her approach to life is basically positive and optimistic, she expects things to go her way. But, at times she will get irritated when things will not move as per her expectations. In such cases, she prefers to challenge the limitations by pushing herself to see how far she can go. The Sun, when placed in a fiery sign always develops in a native, a liking for adventure and independence. Such individuals generally do not like the involvement of others in the decisions that they take. They would be alright with facing failure once or even twice, but they would not easily give in to others' advice.
Sun-Rahu Conjunction: Tendency to Become Over-ambitious!
Sun conjunct Rahu indicates a brash, self-centered and sometimes inconsiderate way in which one may handle power and a magnified sense of ego. Hence, she is often accused of being blunt and frank to the point that makes it appear as more of rudeness. Sometimes, in the quest to break the barriers of limitations, she may become so ambitious that she may have to face some unfavorable consequences!
The power of Saturn!
Saturn is said to be best placed in the Sign of Libra for a politician. Saturn in the sign of balance, harmony relationships makes her a very good diplomat and gives her a good political acumen. Saturn in such a powerful position blesses her with clear vision and foresight. Her sense of responsibility and endurance is noteworthy. Saturn in Libra may also help her to find the middle path and that helps her to negate the extreme tendencies. She may have an obsessive or compulsive nature, owing to the influence of Rahu on her Sun and Mercury, but Saturn helps her to balance the extreme impulses and the resultant imbalance. An exalted Saturn is a boon for a politician. It makes her an efficient strategist and helps her to score over her opponents. It also gives her the ability to connect with the masses and to gain her support.
Mars as Atmakaraka:
Mars is the Atmakaraka in her chart, that is, it happens to hold the highest degree in her Chart. Mars is her strength and gives her the ability to win battles. It makes her a great fighter, an aggressive leader and a dominating politician. However, Mars without the aspect of any planets upon it in her chart indicates that she needs to control her aggression, else her actions can lead her to regret many mistakes caused by her impulsive acts.
The Special Role of the Benefics:
The Moon-Venus opposition as well as Venus trine Jupiter render a lot of power and strength to her Chart. Due to such bright planetary configurations in her Chart, she is reckoned as one of the most influential and prominent politicians of India.
The Current Astrological Picture:
The transiting Jupiter in Leo is aspecting the Natal Sun. It will help her to strengthen her position in state politics. She will succeed in providing a strong government in West Bengal. Her work at the grassroots will make her Party stronger in the state. The transiting Saturn in Scorpio may make her stronger and balanced in her approach and as a result her own image will improve. Her party will gain remarkable support. However, the transiting Ketu will be moving over the natal Mars after February 2016. So, she is likely to face stiff resistance in implementing her ideas and policies and also some of her remarks, policies and statements may attract criticism. She is likely to emerge as one of the strongest regional leaders in Indian Politics.
With Ganesha's Grace,
Tanmay K.Thakar,
The GaneshaSpeaks Team
---
---
Get 100% Cashback On First Consultation