MK Gandhi and the beauty of strong planets in Kendra positions: A Wonderful Astrological Portrait!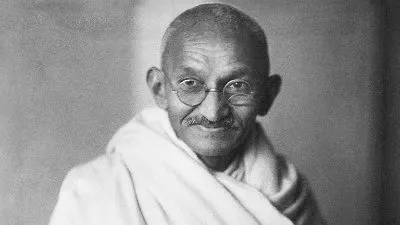 Mahatma Gandhiji
Date of Birth :- 02 October 1869
Time of Birth :- 07.45 am
Place of Birth :- Porbander
---
NATAL CHART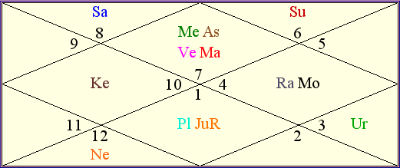 ---
The Astrological Sketch of the 'Mahatma':
Gandhiji was born with Libra Ascendant and the Lord of Ascendant Venus was placed in its own sign with Mars and Mercury in his Natal Chart.
Venus, Mercury and Mars in the Ascendant gives him intense focus and very strong determination. Venus is in his own House and is in the Birth Lagna, this results into the creation of the great Panch-Mahapurusha Yoga – Malavya Yoga. The Malavya Yoga blesses him with great passion, self-belief and the ability to connect well with the masses.
Mars in the Ascendant gives him a great fighting spirit. This is one of the highlights that made him a fighter for freedom and a staunch opponent to oppressive British rulers.
Mercury placed in Ascendant gives him popularity, truthfulness, effective and insightful speech and simplicity.
Venus is placed in the Ascendant and it gave him a pleasant nature and a soft-spoken personality. It blessed him with the ability to easily convince others with the help of his convincing power and charisma.
Venus and Mercury in Ascendant bestowed upon him the grace to shine bright. This combination becomes even more beautiful because Venus in its own House and Mercury is in its friend's (Venus) House. This made him optimistic and enterprising, enthusiastic and famous. He was talkative and impressive in speech. Venus and Mercury in the Ascendant also gave him enormous public response and mass appeal.
Saturn in 2nd House makes him devoid of riches and family life and enjoyment.
Sun in the 12th House makes him offer cooperation and preach harmonious co-existence, and a philosophical nature.
Moon is in its own House and in the Midheaven, that is the 10th House and this makes him a ruler of the hearts of millions of people; he was proud, confident of his actions and had great instinct.
Jupiter in the 7th House gives him a philosophical attitude, kind-heartedness and enabled him to go through great spiritual experiences.
Jupiter, Venus, Mercury and Mars are in Kendra Houses. Jupiter and Mercury happen to be placed in the Houses of their friends, and 4 important planets are forming wonderful associations with each other, by either being conjunct or by aspecting each other. This adds a lot of power to the Horoscope.
---
The Planetary Picture on the day of his unfortunate death:
On 31st January, 1948, the Lord of the House of Mystery in Gandhiji's Horoscope – Saturn, was passing through a degreecal transit over his Natal Moon and was also forming a degreecal square with the Natal Mars and Venus at the time, who were transiting through his 10th House. And, the Sun was also transiting in a square from Natal Mars and Venus in his 4th House. This is indicative of a brutal, shocking and a life threatening incident, as all the strong and forceful planets are involved. This was the day, on which Mahatma Gandhiji was assassinated by firing three bullets into his chest at a point-blank range.
May Mahatma Gandhiji's soul rest in peace and may his glory eternally enchant people.
With Ganesha's Grace,
Kashyap Rawal
The GaneshaSpeaks Team
Talk to our Astrologers First Consultation with 100% Cashback
---
---
Get 100% Cashback On First Consultation