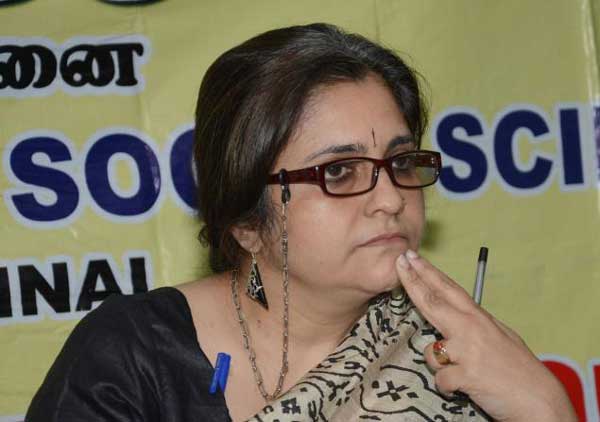 Teesta Setalvad, well known civil rights activist and journalist, who heads the NGO – Citizens for Justice and Peace (CJP) has remained on legal tenterhooks for a very long time now. As the secretary and chief functionary of the CJP, she has been vigorously fighting cases stemming from the 2002 Godhra riots. In turn, she too has six cases filed against her by the Gujarat government.
Teesta, along-with her husband Javed Anand and a few others, founded the CJP, which forthwith began to litigate in various courts against the alleged complicity of the then Chief Minister (Shri Narendra Modi) and the government of Gujarat state in the Godhara riots. By 2013, however, after numerous upturns, all the cases filed by CPJ were dismissed. Teesta herself has been accused of taking multiple legal liberties, including witness tampering and misappropriation of fund.
Well, although the cases against Teesta are still in courts, and recently a fresh FIR was filed against her by the CBI, there have been many theories, one of which says that she has been unduly hounded and framed. CBI displayed a rare speed in her case recently, when it raided her home. Now, as she prepares to continue her fight in the Zakia Jafri case, she is yet again in the limelight. Will stars relent and make her life smoother? What has made her road so full of hurdles? Ganesha looks at the strong woman's Solar Horoscope to answer these and other questions. Read on.
Teesta's Surya Kundli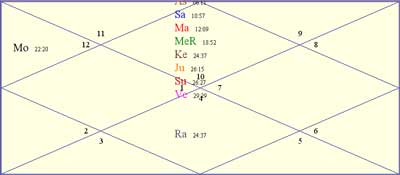 The Planetary Picture
In Teesta's Solar Chart, majority of planets are placed in the Earth Sign Capricorn. This is a clear indication of her natural patience and perseverance. This planetary strength seems to have helped her fight for so many years, while making her way through the maze of the complex Indian judicial system. This planetary factor also indicates Teesta's unquenchable curiosity to know what is on the other side of the mountain.
Further, the exalted Mars in close conjunction with Saturn in her Solar Chart indicates her strong, aggressive character and mental and physical endurance (to fight for a cause).
However, given the severe afflictions of the benefic planets in her Chart, her life has turned out to be a series of constant struggles. Adding to this is the fact that all the planets in her Solar Chart are hemmed in between malefic planets Rahu and Ketu. This planetary factor has led to the constant shadow of doubt, conspiracy and treachery in her life. Rahu's hidden, illusive nature and Ketu's secretive conquests have pockmarked this strong lady's life path with all sorts of confusions, illusions and confusions.
The Future
Currently, the transiting (retrograde) Saturn is aspecting the Natal Sun and Saturn in Teesta's Chart. Plus, the transiting Ketu is moving over her Natal Moon. Moon is the signifier of emotions and mind, and the passing over of the detached and hazy Ketu over this has led to Teesta facing so much of pressure, turmoil and legal hazards.
Saturn's movement too is not favourable for her. As Saturn deals with dark issues, grey areas and areas of law and enforcement, its retrograde motion (to continue till early August) has cast a major shadow on Teesta's case. In the coming times too, the transiting Saturn in Scorpio (till 2017) may remain stressful for her, and she might undergo a very lengthy legal battle.
As of now, the planet Venus too is moving in a retrograde motion, and is in the Zodiac Sign Leo. This too is not a great placement for Setalvad and her NGO.Ganesha doesn't rule out the possibility of the cancellation of the registration of her NGO, particularly till 5th September 2015.
Conclusion
All in all, though, Ganesha feels that Teesta Setalvad will be able to find legal remedies and ways to tackle the pressure situations, given the Natal strength.
However, the transiting Rahu in Leo, from January 2016 onwards, may again bring a new set of problems for her. So, the planetary positions in the next one and half year may not allow her to settle down.