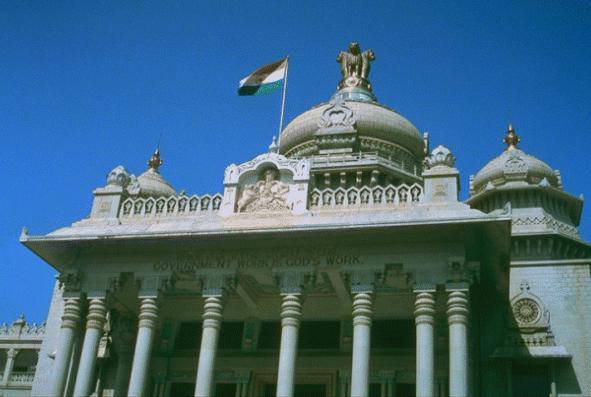 Political alleys of Karnataka are now tingling with excitement of election manifestos as the Assembly Elections 2008 are looming large. To be held in three phases, elections will start from May 10 and second and third phase will take place on 16 and 22 of May. Apart from the major political parties like BJP, Congress and JD(S), a new political group has come into picture in the name of Janapara Rajakeeya Ranga. The result of this battle will be declared on May 25, but Ganesha can tell you the fate of political parties in this election.
Janata Dal(S) has its party leader and former Prime Minister H.D. Deve Gowda. He is born in Cancer Ascendant and the Ascendant Lord Moon is placed in the 8th house with Rahu. Deve Gowda has not been praised in the media for his tricks and treachery which is signified by affliction of Moon in the 8th house. He will be under the influence of Sun-Rahu period from 20th April this year. Rahu in the 8th house placed with Moon doesn't look good for him. May be, he is fighting for his pride but continuous hard work and tensions may affect his health and his dream to return to power look very far from visible.
For Kumaraswamy, the transiting Saturn squaring natal Sun and transiting Rahu in the 8th house from natal Moon looks adverse and may not be able to make a big mark in the forthcoming elections.
Congress Party will be under the influence of Rahu-Mars-Rahu period. Moon-Rahu conjunction is placed in the 7th house and Mars is placed in the 5th house in Scorpio Navmansa. The planetary influences are indicating lack of focus and confusing mindset of leaders and also friction within the party. The only heartening factor is the transiting Jupiter. So they might recover some of their lost grounds.
The Saffron party BJP will be passing through the Venus-Mercury-Mercury period and Mercury, the Ascendant Lord is placed in the 9th house and well placed in Navmansa as well looks good. The transiting Jupiter moving retrograde in the 7th house in trine with natal Jupiter may boost the party's moral during this election.
Yediyurappa is the candidate of CM for BJP. He was under the influence of Sun-Mars period and Sun and Mars are powerful in his chart and very much responsible for his Chief Ministerial ship last year. But unfortunately at the time of confidence vote meeting, he was running Sun-Mars-Saturn period and Saturn is not only placed in 6th house of Natal chart but also in D-10 chart and debilitated in D-9 chart caused his downfall. The transiting Rahu was moving over the natal Sun denying the authority. He will be under the influence of Sun-Rahu-Saturn period, so again Saturn is playing important part in his political career. Although BJP has planetary influences in their favor, Yediyurappa's chart is showing some constraints and obstacles.
Considering all these aspects, Ganesha feels that BJP looks well placed but they might fail to get the comfortable majority in Assembly and may fall short to dominate the Karnataka's politics.
Ganesha's Grace,
Tanmay K. Thakar,
The GaneshaSpeaks Team