The Journey of a Lifetime – All About Kamala Harris' Path to the U.S. Presidential Elections 2020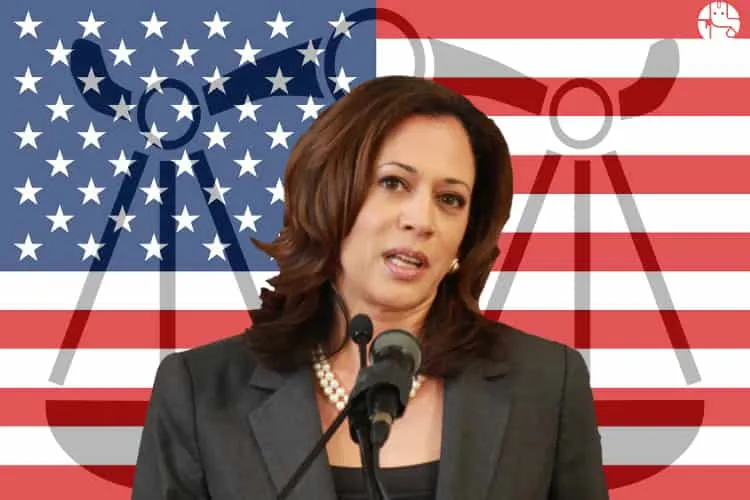 ---
Who is Kamala Harris?
There is something incredibly powerful about a woman who dominates in a man's world. It means that she is confident, unafraid, and unapologetically herself. In a world where women are asked to shut up and be pretty, Kamala Harris pursued law because she "wanted to be at the table where decisions are made." Earlier this year, Harris announced that she would be running for the President in the 2020 U.S. Elections. For a woman of colour, her journey from being a regular Indian-Jamaican American girl to being a Presidential candidate was not easy. What was her journey like? How significant a role does Kamala Harris' zodiac sign play in this?
Kamala Harris was born on October 20, 1964, making her a Libran. Libra's symbol is a balance scale, which means that everything about Kamala screams a well-balanced person who will make for a great leader. Find out more about YOUR Zodiac Sign here.
Kamala Harris had always been a popular student, especially after she formed a dance troupe in her high school. She graduated with a degree in Political Science and Economics from Howard School and got her Juris Doctor (J.D.) from the University of California. Post her J.D., she was immediately admitted to the State Bar of California (1990). She served as the deputy district attorney in Alameda County, California from 1990 to 1998.
---
As District Attorney of San Fransisco
Her career took a flight after her appointment as the District Attorney of San Francisco in 2003. As a district attorney, Kamala took quite a few bold steps to make the world a better place. In 2004, when a San Francisco Police Department officer, Isaac Espinoza was shot and killed in the line of duty, everyone expected the killer to be hanged. Instead, like an unpredictable Libran, Kamala Harris did not give him a death penalty.
The same year, Kamala Harris introduced a reentry program known as Back on Track. This initiative was for the non-violent criminals- people like first-time drug users, non-gang related criminals. Participants who were able to clear their drug tests, have regular court visits, get a high-school-equivalent diploma, had steady employment, and took parenting classes would have their records cleared. It was an enterprise that heralded Kamala as a "justice for all" person. In 2009, a State Law was passed based on her initiative. However, controversy arose when the program let illegal immigrants get away freely. While most of the people would have done nothing about it, Kamala Harris apologized for the loophole and strived to make things better. For Librans, this is a common trait. They will make mistakes but will have the guts to admit it and resolve them.
For Kamala, justice and equality are huge things. Kamala even organized a Hate Crimes Unit and extended her complete support to the LGBTQ community. Her world-view includes a society where there are no crimes, and everyone is equal. A Libran is always an idealist, and Kamala had to face a lot of disappointments because of this idealism. When she was the District Attorney of San Francisco, felony rates rose from 57% to 67%, the conviction rate for homicides was 85%, and the drug-dealer conviction rate was 74%. While this seems like a pretty impressive number- something close to what people would like an ideal society to be like, Kamala faced a backlash. People pointed out that San Francisco never had such high conviction rates and was known as a defender-friendly state. Nevertheless, the San Francisco Police Department credits Kamala with tightening the loopholes in the bail and drug programs.
---
As Attorney General of California
In 2011, Kamala Harris became the first female, Jamaican, Indian Attorney General of California. Harris participated in the 2012 National Mortgage Settlement against five banks. She secured $12 billion of debt reduction for the homeowners of the State of California. The same year, she also sent a letter out to a hundred mobile app developers asking them to comply with the California Law regarding privacy. If one failed to comply, a fine of $2500 per download was set. In 2015, she set up the Bureau of Children's Justice. Throughout her career as Attorney General of California, she fought many radical cases and established many laws. She has also been outspoken about the Trump Presidency. No wonder, she decided to participate in the next General Elections! In all these years, we always found her being compassionate towards people, being smart, flexible, polite, diplomatic, and balanced- a true mark of a Libran.
---
The Leap into Presidential Candidacy
For Librans like Kamala, they need to work in a place where they can make a huge difference. They crave to work towards things with deeper meanings. And keeping up with that spirit, Kamala Harris ran for the U.S. State Senate in 2015. She was the forerunner from the beginning of her campaign itself. In November 2016, Harris triumphed with 62% of the votes. Her election followed a rather bold statement wherein she said that she would save the immigrants from Trump's policies. Ever since then, she has been notably vocal about her displeasure in and disapproval of the Trump reign.
In 2017, she again found herself in a controversy when she questioned Rod Rosenstein over the role he played in the firing of James Comey (Director, FBI). People thought that she was not respectful. Another drama arose when she was questioning Jeff Sessions. She was interrupted mid-questioning. To this, she retorted by saying that she was the only senator ever to have been interrupted mid-questioning. Many commenters argued that no male senator would have been treated that way.
Kamala Harris kept on getting recognition and accolades for her charismatic personality, a trait she shares with most of the Librans. It is common knowledge that Librans are very passionate politicians. They speak only the truth, even if it is harsh at times. Librans are social butterflies, and the general public usually gets attracted to them pretty easily. Kamala Harris, too, has a fan following. This was apparent when she announced her presidential crusade. During the first twenty-four hours, she received the most money raised for a campaign the day after the announcement.
The upcoming elections will surely be entertaining. If Kamala Harris wins, she will be the first female President of the United States. Not just that, she will also be the first half-Indian to be a U.S. President. We don't know much about her chances at the Presidency, but we do know that she has the skills to make her a strong leader. As a Libran, she is a natural leader. She is both empathetic and practical. She may be a little bossy at times. However, we need that in a President of a country. She is all about the balance- a fact reiterated by the symbol of her sun-sign. Besides, Librans are known to be people who do what's best for others. They are supportive, have astounding listening skills, have high morals, and believe in justice a lot. It's all about the balance scales of justice for them. In fact, like Kamala Harris, they always believe in equality. Librans are great leaders. What career path is right for you? Ask Our Expert Astrologer now.
In a world where feminism has made a tremendous impact, Kamala's election will be quite a step-up for the movement. It will indeed be a delight to watch what happens during the Presidential Elections 2020. Plus, we already know that Kamala Harris' zodiac traits will keep her way ahead of the rest.
For Instant Solutions! Talk To Astrologer Now.
With Ganesha's Grace,
The GaneshaSpeaks Team
---
---
Get 100% Cashback On First Consultation