In future, BJP faces change or extinction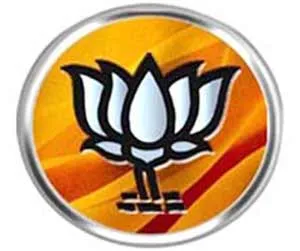 Senior BJP leader and former external affairs minister Jaswant Singh was recently expelled from the BJP's primary membership for praising Pakistan's founder Mohammed Ali Jinnah, and ridiculing Sardar Vallabhbhai Patel and Jawaharlal Nehru in his new book Jinnah: India-Partition-Independence.
After the debacle in the recently concluded Lok Sabha elections, the BJP's internal feuds have came out in the open. Many party members and allies have either voiced their concern against the party's current style of functioning or have simply walked out. There also seems to be a sense of insecurity among party members, and there are strong voices in party lines seeking a return to Hindutva in toto.
At this juncture, Jaswant Singh's praise of Jinnah could have hardly been taken in any other manner. It seems the BJP leadership has decided to make an example out of him: the party, which is already weak at the top, has been forced to expel one of its most experienced leaders before the controversy generated by Singh's book explodes in its face.
The present of the saffron party doesn't look so good; Ganesha predicts BJP's future:
---
BJP's horoscope and future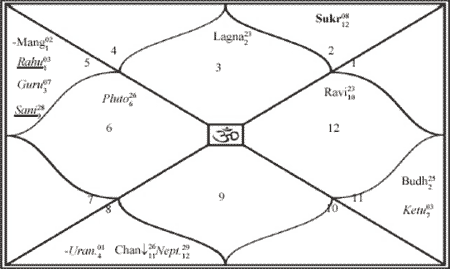 Saturn is currently moving exactly over natal Saturn in the 10th House from natal Moon. Saturn is weak in Sarvastaka, causing all kinds of problems. Saturn cycles are crucial for timing of major events. It brings to the fore problems that are intimidating. Saturn is actually reminding the BJP high command that the clock is ticking, and it's now or never if they want to accomplish anything in Indian politics. It should make the BJP reconsider its approach and rejig the party structure.
Also, BJP is under the influence of Venus-Mercury period, and Mercury is the Lord of Ascendant and 4th House (internal harmony) in BJP's party chart. Mercury is afflicted by Ketu in the 9th House. So, matters related to ideological differences will surface and threaten the internal harmony in the party.
Yashwant Sinha, Vasundhara Raje and Jaswant Singh are ideal examples of such differences. Transiting Jupiter in the 9th House over the natal Mercury might give the BJP high command a relief from January 2010. But an undercurrent of anger and frustration will remain in the party cadre due to transiting Ketu passing through the Ascendant.
Transiting Rahu will be moving over natal Moon between July and September 2011. This is a crucial period for BJP as a political party. There will be indiscipline, rebellion and defections in the party. All in all, for the BJP, 2010 will be a year of forming new policies and improving the party structure, which will require hard work and deep introspection.
The transformation process that will begin in 2010 will see a complete overhaul of the party by the end of 2011, with transiting Jupiter in Pisces and transiting Saturn in Virgo. BJP would gain strength and will consolidate its position in Indian politics.
The BJP will be under the influence of Sun's Mahadasha from 18th April, 2012. Sun is placed in the 10th House in exchange with Jupiter. This will bring change in party leadership and a leader, who has a persona bigger than any other party leader, will rise to prominence. The BJP will be a changed outfit and will try to rope in wise, youthful and respected statesmen, who are thinkers and capable of leading the party in the right direction.
With Ganesha's Grace,
Tanmay K.Thakar,
www.GaneshaSpeaks.com
---
---
Get 100% Cashback On First Consultation