Centre's thumbs up for Telangana opens a Pandora's box: Ganesha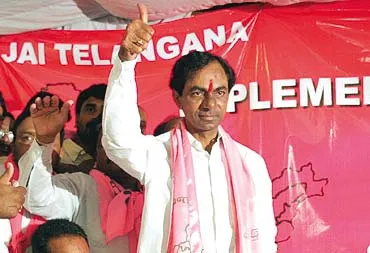 The Centre has decided to finally throw in the towel and give in to the demand by Telangana Rashtra Samithi (TRS) for a separate Telangana state. The movement was spearheaded by TRS president and MP K Chandrasekhar Rao, who went on a fast till the time his party's demands are met.
The MP's fast-unto-death led to sporadic violence between his supporters and those opposing the breaking out of Telangana from Andhra Pradesh. After a series of emergency meetings among top Congress brass in New Delhi, the Centre decided to concede to TRS's demand.
The decision has not only sparked reactions of euphoria and protests from all corners of the region, it has also intensified similar movements for a separate state in other parts of the country. Uttar Pradesh Chief Minister and BSP supremo Mayawati has demanded that her state should be divided into three parts. Expelled BJP leader Jaswant Singh too wants a piece of Gorkhaland separated from West Bengal.
Are these signs of cracks in the democratic fabric of India? What is next for the country that has never been this divided since Independence? Ganesha studies India's Independence chart to find the answers.
---
Horoscope of Independent India
Get Your Hand-written Janampatri By Our Experts.
Here, Ganesha observes that Venus, Lord of Ascendant, is combust in Cancer. This indicates highly emotional and dramatic behaviour on part of people of the country. There is a cluster of five planets in Cancer in the 3rd House, forming a stallion in India's horoscope. The 1st House is occupied by Rahu, which, according to some astrologers, is considered as exalted.
These planetary positions led to the formation of states. Combust Lord of the 1st House and presence of Rahu in the 1st House is indicative of still more divisions to come. A sort of federal structure may come into existence with a strong Central government.
The movement for a separate Telangana state may be the beginning of a larger process of division, predicts Ganesha. Smaller states, or a district-level division, seems to be in the offing.
Ganesha is of the opinion that this process is likely to intensify, and in turn, smaller states are likely to come into existence with the entry of Dragon's head or North node called Rahu in Scorpio (Vrischik rashi) from the start of June 2011.
This is likely to disturb the law and order situation in the country. During Rahu's transit through Scorpio, we are likely to see more states being formed. Whether this is good or not, only time will tell. There is also a possibility that smaller countries around us will join us, forming a loose but workable structure.
Ganesha hopes that this arrangement goes well in the long run.
For Instant Solutions! Talk To an Astrologer Now.
With Ganesha's Grace,
Bharat Trivedi
www.GaneshaSpeaks.com
---
---
Get 100% Cashback On First Consultation