The stars don't seem to be too favourable for Captain Singh, efforts may go in vain!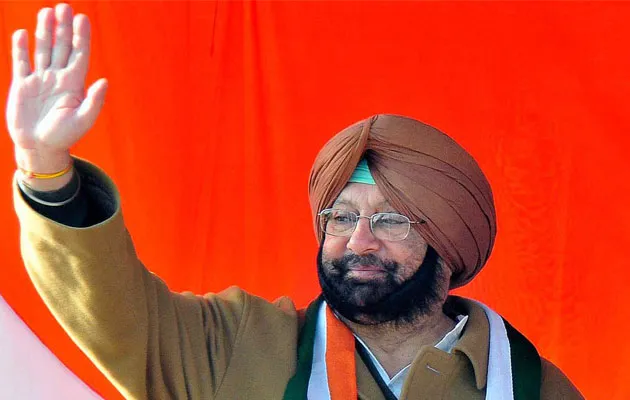 Ganesha foresees a tumultous ride ahead and rebellion from within the party for Capt. Singh!
Will Captain Amarinder Singh deliver the Congress an electoral victory in Punjab? While rival political parties have been dismissive about the change of guard in the party, the mood in the Congress camp is optimistic. It senses a strong anti-incumbency sentiment building up against the ruling Shiromani Akali Dal-BJP government and believes it can win comfortably under a capable leadership. Partap Singh Bajwa, the earlier president of the state unit, didn't fit the bill. The state goes to the polls in 2017. Here Ganesha takes a look at the future prospects of the fiery Singh and predicts what may be the likely turn of events.
Captain Amarinder SinghDate of Birth :- 11th March, 1942Time of Birth :- Not KnownPlace of Birth :- Patiala, Punjab, India
SOLAR CHART

---
Astrological Predictions:
---
1) Do the planets seem to be in favour of Amarinder Singh?
Important astrological observations:
Jupiter will be transiting over his Rahu through the Leo sign, and will be aspecting his Sun and Ketu in the Aquarius sign till 11th August, 2016 in his Solar Chart.
Rahu will be transiting over his Natal Rahu, post 30th January, 2016. Ketu will be transiting over his Sun and Ketu during same time period.
Transiting Saturn will be aspecting his Venus and Mercury in Capricorn, it will also be aspecting his Mars, Jupiter and Saturn, in the Taurus sign, and also his Rahu till January 2017.
Astrological Predictions :-
Looking at the planetary transits and their influence on the Natal planets, Ganesha feels that the path ahead will be a very tough one for Captain Singh. Multiple challenges, obstacles, confusing siuations and struggles await him and he may even get frustrated too often in the coming months. He will have to face a lot of problems even from within his party and there will be members who will rebel against his authority.
The entry of Rahu-Ketu into the Leo-Aquarius axis will make situations tricky for him, and the transit of Ketu over the Natal Sun will not augur too well for him and a political turmoil is indicated. Controversies will also take centrestage and his image may get dented owing to the combination of Jupiter and Rahu in the House opposite to his Natal Sun and also the transit of Ketu over his Sun will not let him reap the best benefits due to his position.
Though the malefics will be on a rampage in the year ahead, Jupiter will render some support till around August 2016, but post that, the real test will begin! Saturn has already been playing the role of the restrictive and controlling taskmaster in his Chart, as he is aspecting 5 of the most important planets of his Chart!
---
2) Will Amarinder Singh be able to create a strong platform for Congress before the upcoming elections?
Important astrological observations :-
In Addition to above observations, Jupiter will be transiting through the Virgo sign in his chart, post 11th August, 2016.
Astrological Predictions :-
He will have to gear up himself with strong and creating hard work till the 11th August,2016 , as the transiting stars will be creating various problems and obstacles for his working systems. He will be surrounded from the variety of hindrances during this time, feels Ganesha. He may be able to make the result oriented and rewarding platform post 11th August, 2016 for the forthcoming election in year 2017. The period will be much crucial between 30th January, 2016 to 11th August, 2016.
Though Ganesha foresees a rough ride ahead for Amarinder Singh, he also feels that the tough politico will maintain a ruthless approach and will put in great efforts to strengthen the base for the Congress in Punjab. He is likely to be aggressive in his fight against the opposition parties. There will not be lack of efforts, but his attitude in some situations will be too high-handed or arrogant and this will not go down well with people around.
The bright spot in this case is the entry of Jupiter into the Sign of Virgo on the 11th of August, 2016. Post this period, things will start getting better and he may be able to come up with better strategies as Jupiter will be aspecting the key planets such as – Venus and Mercury in the Sign of Capricorn and Jupiter, Saturn and Mars in the Sign of Taurus. He will benefit well, if he capitalises on the benefic influence in this period.
Ganesha wishes a great time ahead to Captain Amarinder Singh.
To Get Your Personalized Solutions, Talk To An Astrologer Now!
With Ganesha's Grace,
Rantidev A. Upadhyay
The GaneshaSpeaks Team
---
---
Get 100% Cashback On First Consultation