The induction of the Reddy brothers, Janardhan and Karunakar, in the Karnataka cabinet has sparked off serious infighting in the national BJP ranks that could potentially lead to a break-up, or a complete overhaul of the party structure. The brothers, who are mining magnates in Karnataka and are facing charges of illegal mining, are said to be close to Sushma Swaraj, the Leader of the Opposition in the Lok Sabha, and it is widely perceived that she played a major role in the elevation of the Reddy brothers to the Karnataka cabinet. However, Swaraj has categorically denied being the political mentor of the controversial Reddy brothers of Bellary, saying that they owe their political profile to her Rajya Sabha counterpart Arun Jaitley, Karnataka chief minister BS Yeddyurappa and other party colleagues. Swaraj and Jaitley have often been seen as being at loggerheads and rivals in the race for who gets projected as BJP's prime ministerial candidate in the 2014 Lok Sabha elections. This has brought the rift in the national BJP cadres out in the open.
The Lok Sabha elections are a long way off – slated for 2014 – but Ganesha, with the help of Vedic astrology, analyses the consequences of this Sushma-Jaitly rift on BJP's future.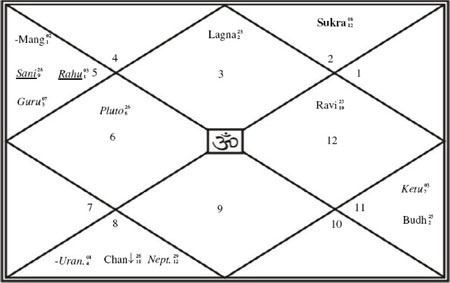 In BJP's chart, the transiting Rahu is approaching the natal Moon and it will conjunct the Moon in August, 2011. This will create circumstances that are in some way new or unfamiliar to the party. The period between 12th July and 8th November, 2011 will add to the aggression, agitation within the party, and also prompt the party leadership to take some radical actions. Rahu's transit through Scorpio will be very important for BJP, as it indicates a high-voltage political drama and constant manipulations. BJP is currently under the influence of Venus Mahadasha and Ketu Bhukti. Ketu is placed with the Ascendant Lord. So there may be differences between what the party leadership says to the world, and what it actually does. It indicates the breaking of the ethics and conventions that make up the party's fabric. Lack of spirit and inspiration of national leaders will create an even more serious situation for the party. This is a crucial period for BJP as a political party. There will be indiscipline, rebellion and defections. The transformation process that had begun in 2010 will see a complete overhaul of the party by the end of 2011, with transiting Jupiter in Pisces and transiting Saturn in Virgo. The BJP will be under the influence of Sun's Mahadasha from 18th April, 2012. Sun is placed in the 10th House in exchange with Jupiter. This will bring change in the party leadership and a leader, who has a persona larger than any other party leader, will rise to prominence. The BJP will be a changed outfit and will try to rope in wise, youthful and respected statesmen, who are thinkers and capable of leading the party in the right direction.
With Ganesha's Grace,
Tanmay K.Thakar
The GaneshaSpeaks Team