Invite Auspicious Moments On The Malayalam New Year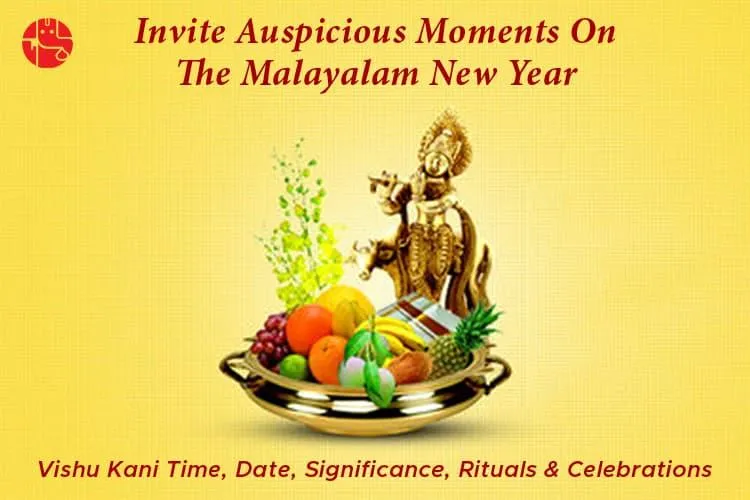 ---
Introduction
Vishu, a Sanskrit word which is also called Vishuva in Malayalam, signifies equality and, in the context of this festival, it connotes the completion of the Spring Equinox. It is a belief that a person's future is a function of what one experiences and if he/she experiences auspicious and joyful things as the first thing on Vishu, the year may turn into a fruitful one for the person.
---
Vishu Kani 2023 Date & Timings
Mesha Sankranti is celebrated as Vishu Kani in the Southern state of Kerala. People in the Malabar area consider Vishu Kani as the astrological New Year. In 2023, Sankranthi on Vishu Kani or Malayalam New Year will occur on Saturday, April 15.
---
About Vishu Kani & the legend behind Vishu Kani
Vishu Kani signifies the Sun's transit into the first Lunisolar month in the zodiac sign of Mesh or Mesha (Aries), marking the beginning of the new Lunisolar and harvest year. Several mythological tales are related to the celebration of Vishu Kani. Some believe Vishu is the day when Lord Krishna, the eighth incarnation of Lord Vishnu, killed a demon called Narakasura. Another belief is that Vishu Kani is celebrated with the return of Surya Dev or the Sun God. According to it, the demon King Ravana prevented the Sun God's rising from the East. Since then, Vishu is celebrated with great zeal.
---
Vishu Kani Significance & Rituals
The Malayalam word "Kani" literally means "that which is seen first", so "Vishukkani" means "that which is first sighted". The traditional belief is that one's future is a natural activity that involves one's experiences. Therefore, people view Vishu as the first thing on the New Year so that they may have favorable and joyous experiences in their lives, starting from the first day of Vishu Kani.
A fortnight before Vishu Kani the elders in the family place idols of Lord Krishna or Lord Vishnuin their home temples.
A sacred ceremonial preparation of auspicious items such as a peeled coconut, betel leaves, yellow flowers, money, gold and silver jewelry, raw rice, fruits, and a mirror is placed in the worship area as a part of Vishu Kani. These items are considered to be a good omen for they attract good fortune and prosperity.
"Nilavilakku", a traditional bell-shaped metal lamp, is also lighted and placed together with Vishu Kani before the deity.
It is believed that each member of the family is recommended to wake up early, bathe and enter the house temple to get the first view of Vishu Kani to start the New Year on an auspicious note.
Therefore, Vishu Kani is arranged with great care and precision to create a positive aura in the house.
Do you wish to invite prosperity in your home and office? Get online remedies from our Vastu Consultant and get ancient time tested solutions to remove any Vastu Dosh.
---
Vishu Kani Festival Celebrations
Vishu is celebrated with fanfare and vigor in Kerala. Vishukkani, the sighting of the auspicious arrangement of the idol at dawn on the day of Vishu,is considered to be the most integral part of the festival.
People celebrate it along with their families by preparing colorful auspicious items and viewing these as the first thing on the day of Vishu.
Vishu Padakkam or bursting crackers is an important part of Vishu Kani.
People wear new clothes and enjoy the special festival delicacy called Sadhya, which is a combination of sweet, salty, sour, and bitter ingredients. A tradition of exchanging money which is called Kai Neetam is also considered a blessing from the family.
Besides this, Veppam Poo Rasam, a dish prepared out of Neem flowers is served along with Mambazha Pachadi, a delicious combination of sweetness from Mango and spiciness from chillies. These are the principal dishes prepared on the day of Vishu Kani.
Let's Usher A New Beginning And Banish All Our Worries. Happy Vishu Kani!
To Get Your Personalized Solutions, Talk to an Astrologer Now, First Consultation with 100%
With Ganesha's Grace,
GaneshaSpeaks.com
---
---
Get 100% Cashback On First Consultation