Sheetala Satam 2023: Benefits of Worshipping this Auspicious Festival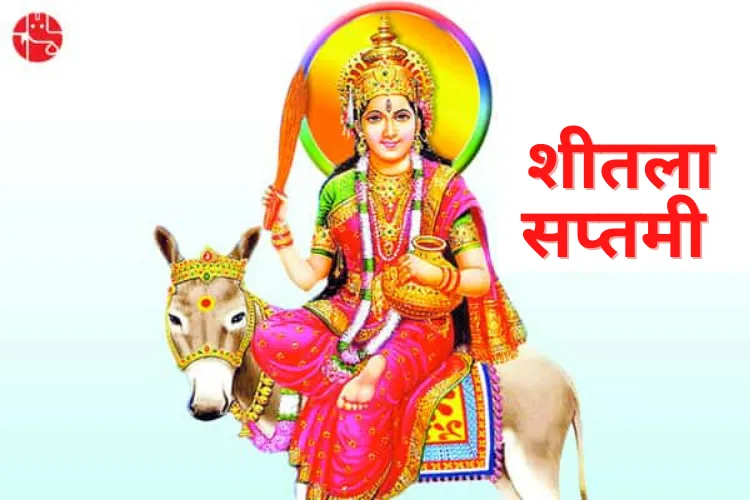 Shitala Satam festival is celebrated on the 7th day of the Shravan month, i.e., the day before Krishna Janmashtami, and a day after Randhan Chhath. It is also referred to as Shitla Saptami or Sheetala Satam. The benefits of worshipping Mata Sheetala have been explained in the Skanda Puranam that consists of the Shitala Mata Strotra, also known as 'Sheetalaashtak' written by Lord Shiva.
---
Shitala Satam Significance
Shitala Satam is observed in honor of Goddess Shitala, who is known to be the Goddess of measles and pox. It is celebrated to receive protection against smallpox or similar diseases. This is a significant day for the people of India, especially Gujaratis.
Known to be an incarnation of Goddess Durga, Shitala Devi is highly regarded and worshipped as a form of Shakti in Hinduism. Goddess Sheetala is said to be a natural healer, and in Sanskrit, the name Sheetala truly means one who cools. The Goddess is worshiped by several names in different parts of India. Many Hindus, Buddhists, and tribal communities worship her, and address her with the words Ma and Mata (mother).
Shitala Mata is mainly popular across North Indian states. She is also revered and viewed as the Goddess Parvati, the wife of Lord Shiva. While, in South India, Goddess incarnated as Mariamman is believed to have taken Shitala Mata's role and is worshiped by the Dravidians.
---
Shitala Satam 2023 Date and Puja Muhurat
Shitala Satam will be celebrated on the 5th of September 2023, Tuesday. The puja muhurat is between 03:46 PM to 06:39 PM
---
Shitla Satam Rituals and Puja Vidhi
The ceremonial tradition of Shitala Satam is similarly followed as Basoda and Sheetala Ashtami that are celebrated after Holi in North India. The most important ritual of Shitala Satam is to avoid cooking food on that day. Family members must not consume fresh food, and hence, on the day of Randhan Chhath just before Sheetala Satam, most Gujaratis prepare food in abundance. This food is sufficient enough to be taken the next day, i.e., the day of Shitala Satam. Below are the rituals to be followed on this day:
On the pious occasion of Shitala Satam, devotees take bath in a lake or river before sunrise and establish an image or idol of Shitala Ma. Then it is decorated using turmeric powder, sandalwood paste, vermillion (Sindoor), or Kumkum.
Devotees who can afford it, also make a golden sculpture of Shitala Mata who is seated on her vehicle (a donkey).
Join palms and offer homage to Shitladevi by doing puja with Aarti.
After the puja, offer fruits with 16 varieties of naivedyams. Some devotees also offer flour and gud (jaggery), or rice mixed with ghee (butter) which was prepared on Randhan Chhath.
People read Sheetla Mata Vrat Katha or story to gain blessings of the goddess.
As per the customs, only one meal should be taken on this day.
People also visit the Shitala Mata temple, where the Devi is worshipped using turmeric powder and Bajra (Pearl millet).
In Rajasthan, people celebrate this festival with full fervor and immense devotion. Also, a huge fair is organized, and many musical programs are also conducted on this day.
---
Sheetala Mata Vrat Katha or Story
There are many legendary stories related to the Shitala Satam festival. The most relevant one mentions a noble and righteous king named Indrayumna. He had a wife named Pramila, and a daughter Shubhakari, who had a husband named Prince Gunvan. Everyone in the kingdom used to celebrate Sheetala Satam and observe fasting with utter devoutness. Shubhakari had once visited her father's royal province to attend the grand festival and observe the fast as part of the custom.
Shubhakari went out with a few friends to visit a lake to perform the rituals. However, they lost their way and sought help from anyone who could pass by. They were guided with the correct path to the lake by an old lady who also assisted them in conducting the puja followed by fasting rituals. Shitala Mata was impressed with their puja procedure and hence gave a boon to Shubhakari. However, Shubhakari told the goddess that she would only use that boon when she would be in real need.
On their way back to the kingdom, Shubhakari and her friends came across a poor Brahmin family. The family members were in deep sorrow because one of their family members had died due to a snake bite. This sight was irresistible for Shubhakari, and so she prayed to Shitla Mata for her boon to be used for bringing the dead Brahmin to life. The Goddess granted life to the Brahmin after the prayer. This incident went deep within all the people's hearts, and they understood the meaning and significance of celebrating the Shitla Satam festival. From then everyone started performing Shitla Mata puja vidhi and observing Vrat with true devotion and piousness.
To Get Your Personalized Solutions, Talk To An Astrologer Now!
With Ganesha's Grace,
GaneshaSpeaks.com
---
---
Get 100% Cashback On First Consultation