Rama Ekadashi 2023: The Period of Observing Ekadashi Fast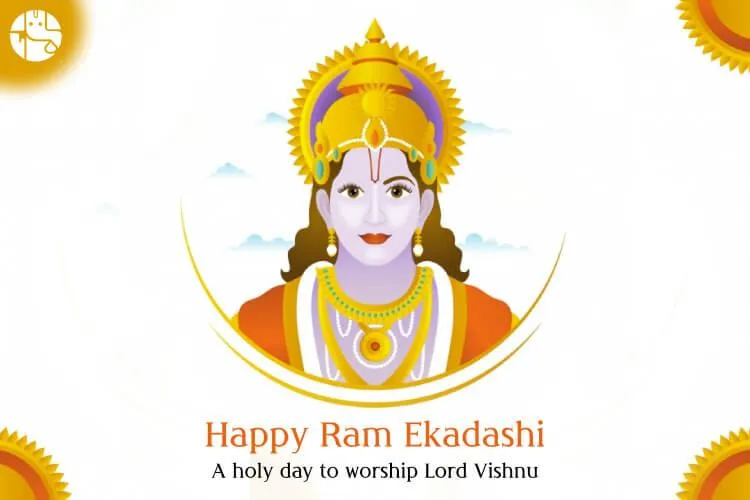 ---
Rama Ekadashi 2023
Rama Ekadashi fast is one of the important festivals as per the Hindu Tradition which falls on the eleven-day of Krishna Paksha. It is observed in the dark fortnight of the Moon. As per the Hindu culture, the day is of great significance, as on this day, it is believed that Kesahav Swaroop of Lord Vishnu is worshipped with Rama Swaroop of goddess Laxmi. This is considered as the last Ekadashi of Chaturmas. People who pay offerings to God archives wealth and prosperity in life.
---
Rama Ekadashi 2023 is on Thursday, November 9
Ekadashi Tithi Begins – 08:23 AM on Nov 08, 2023
Ekadashi Tithi Ends – 10:41 AM on Nov 09, 2023
---
Important dates and time:
On that Day
Date & Time
Sunrise
6:49 am
Sunset
5:58 pm
Dwadashi End Moment
10 Nov 2023, 12:35

PM

Parana Time

10 Nov 2023, 06:39 AM to 08:50 AM
---
Ekadashi Mantra
The mantra goes as: 'Hare Krishna Hare Krishna Krishna Krishna Hare Hare, Hare Rama Hare Rama Rama Rama Hare Hare or Hare Rama Hare Rama Rama Rama Hare Hare Hare, Hare Krishna Hare Krishna Krishna Krishna Hare Hare.
---
Significance of Ekadashi:
According to the Hindu scripture like 'Brahma-Vaivarta Purana', it is a well-known conviction that one who observes fast on this auspicious day, is freed from all the sins. A person who hears the glories of Rama Ekadashi is believed to attain Salvation and reach the supreme abode of Sri Hari Vishnu. On this day, whosoever worship the Lord Vishnu with complete devotion, overpower all the hindrance and achieve immense success in his/her life. You can also hold our virtual Vishnu Puja and Laksmi Puja to get rid of all the sins and evil and bring wealth and prosperity in your life.
---
Rama Ekadashi Vrat Katha:
In earlier times, there was a king named Muchukunda. He was a very kind and sacred person. He used to observe fast every year on the day of Ekadashi, and the same rule had applied to the people of Kingdoms. His daughter Chandrabhaga who had a great faith Ekadashi Vrat. One day, she got married to Shoban, son of King Chandrasena. When Ekadashi came, he also observed the fast with his beloved. But the fast didn't seem to work for him, and he died a premature death because of the starvation. Realising this, she got disheartened. On the other hand, Shobhan went to Deva-nagari On Mandarachal mountain from the influence of the fast, where he was assisted by Nymph. Once, king Muchukunda visited Mandarachal mountain, where he met his son-in-law and told everything to his daughter. Having heard this, she went to her beloved and lived happily thereafter.
---
Rituals of Rama Ekadashi Vrat:
Fasting is a prominent ritual of this festival. Other Vedic processes of this festival start from Dashami, a day before the actual Ekadashi.
On this day, all the devotees refrain from eating anything at all and focus on only Satvik food. And on the prime day of Ekadashi vrat, they do not eat at all.
On this day, devotees wake up before sunrise and take a holy dip into the water before offering fruits, flowers, incense sticks, and dhoop to Lord Vishnu.
Devotees prepare a special Bhog and offer it to the deity Lord Vishnu. An Aarti is performed, and then the prasad is distributed all over the place.
The last part of the fasting is called 'Parana', that occurs on 'Dwadashi' tithi. It is even for those who are not fasting.
Rama Ekadashi is one of the religious festivals of Indian tradition. The individual who hears the glories of Rama Ekadashi on this day attains salvation and reaches the supreme abode of Lord Vishnu.
If are you eager to listen to another Vratkatha related to this article, consult our expert astrologers now.
With Ganesha's Grace,
GaneshaSpeaks.com
---
---
Get 100% Cashback On First Consultation