Know The Significance Of Panguni Uthiram 2023 | Kalyana Vrata 2023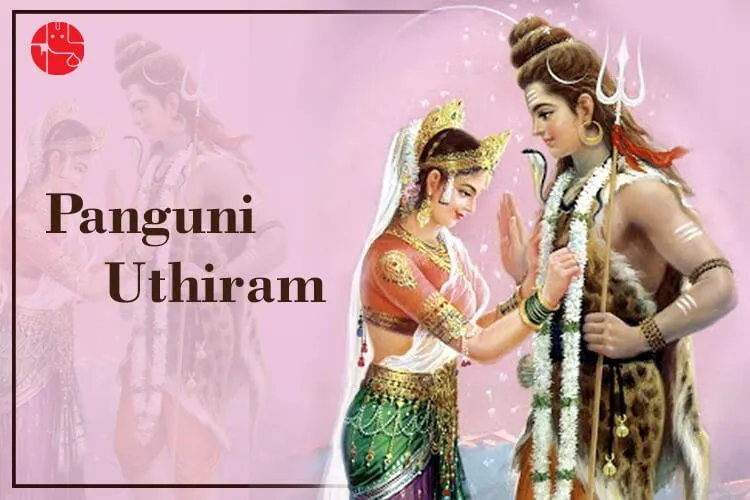 In one of the holy scriptures of Skanda Purana, eight maha vratas are mentioned where Kalyana Vrata, also known as Panguni Uthiram, is one of them. This auspicious fast is observed when the Sun transits in Pisces on the Uttara Nakshatra during Shukla Paksha in the month of Phalguni. As per the Tamil calendar, this day is the full moon of the Tamil month of Phalguni. Panguni Uthiram is considered very important because it was on this special day when Himavaan's daughter – Goddess Parvati (Devi Shakti) married Lord Shiva. It is also believed that on this very day, the marriage between Devaseenaa and Lord Muruga was also commemorated.
For Hindus, the day of Kalyana Vrata is very auspicious and significant too. In Tamil Nadu, this day is celebrated as the festival of Panguni Uthiram. It is mostly followed in the southern states of India like Kerala, Karnataka, and Andhra Pradesh. On the day of Panguni Uthiram, devotees visit Lord Murugan temple. Madurai, Vedaranyam, Perur, Kanjeevaram, Tinnevelly, and Tiruvarur are some of the famous temples where the festival of Panguni Uthiram is celebrated with great austerity. In most of these temples, on this day, the divine marriage of the God and Goddess is conducted and some special rituals are performed by the Pujaris. Whereas in the northern parts of India like Braj, Vrindavan, Mathura, Barsana and Kumaoni, Kalyana Vrata, i.e. Phalgun Purnima, is celebrated as Holi.
---
Significance Of Panguni Uthiram | Importance of Kalyana Vrata
As per the Hindu Mythology, the one who observes Kalyana Vrata will be bestowed with the divine blessings of Lord Shiva and Goddess Parvati. They will be blessed with good health, wealth and happiness. To add further, it is believed that after contentedly living their life, they will attain salvation and reach Kailash Dham, the abode of Lord Shiva. Unmarried men and women can also keep this fast to get their dream partner. Also, married couples keep this fast to get blessed with a child. As per the legend, Hindu Gods and Goddesses had also kept this fast/vrat to get the desired life partner. After observing Kalyana Vrata and successfully completing the rituals of the day, Lord Vishnu married Goddess Lakshmi, Moon married the twenty-seven stars, Lord Brahma married Goddess Saraswati, Indra Dev married Indrani and Agastya married Lobhamudra. Some of the other examples of the glory of Kalyana Vrata includes: the daughters of Lord Vishnu – Amritvalli and Saundaryavalli had also kept Kalyana Vrat and got married to six-faced Lord Valli and Devasena, two daughters of saint Satyapurana got married to Mahasashtha. Not just this, but Devi Sita got lord Rama, Devi Jambhabhati married Lord Krishna, Lord Kama wedded Rathi.
In Bengal, Panguni Uthiram is celebrated as Basatotsav or Dol Poornima. Additionally, the divine marriage of Parmeshwara and Parvati is celebrated as Phagwah in Bihar, Basant Panchmi in Andhra Pradesh, Dolajatra in Orissa, Rangapanchmi in Madhya Pradesh, Manjal Kuli in Kerala and Fagu Poornima in Nepal. Panguni Uthiram is marked in different parts in India with different names, but the enthusiasm, joy, energy remains the same. Withal, it is said that performing certain rituals on this day helps to mitigate the malefic effects of Dosha in the Kundli which affects married life/marriage prospects. Access Free Janampatri, to know if there are any Doshas in your birth chart.
---
Important Date & Timings For Panguni Uthiram 2023
This year, Panguni Uthiram 2023 will be celebrated on the 5th of April. Below are the important timings to be considered:
Sunrise: 6:07 AM (April 5)
Sunset: 6:41 PM (April 5)
Uthiram/Uttara Phalguni Nakshathram Begins: 09:36 AM on April 04, 2023
Uthiram/Uttara Phalguni Ends: 11:23 AM on April 05, 2023
---
Rituals To Be Performed During Panguni Uthiram:
On Panguni Uthiram, devotees get up early in the morning, take bath and wear clean clothes before worshipping Lord Shiva.
The idol of God and Goddess is made from metal or gold, based on your choice. Devotees then decorate the idols with beautiful flowers and jewelry, and then worship it by offering prayers with sacred puja samagri.
Then the rituals for the marriage between Lord Shiva and Devi Parvati are performed. A special feast is also prepared where the followers and disciples of Lord Shiva are invited. Subsequently, the Prasad is distributed.
A strict fast is observed on this day where devotees can only consume one meal. They can also eat prasad in the form of Payasam and fruits.
On the next day, the observer of Kalyani Vrata donates the idol of Lord Shiva and Goddess Parvati to another pious follower of Lord Shiva as a part of the ritual.
To know the personalized rituals of Kalyani Vrata, consult our expert astrologers!
To Get Your Personalized Solutions, Talk To An Astrologer Now!
With Ganesha's Grace,
GaneshaSpeaks.com
---
---
Get 100% Cashback On First Consultation