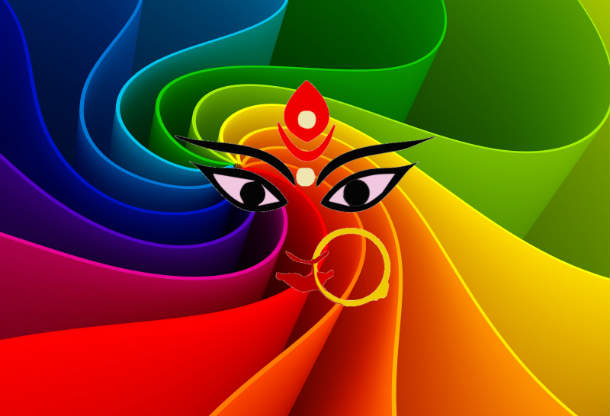 Colours have a very important role and they influence not only our behavioural patterns but also many areas of life. Also, festivals have a great connect to colours. The festival of Navratri is celebrated in honour of the nine forms of Goddess Durga, and each of these forms signifies a particular colour. In this article, find out, the right colour for each day and plan your dressing accordingly.
1) Pratipada – Day One:
Choose bright shades of Red on the first day of Maha Navaratri to reflect the power of Devi Shailputri.
Reason behind use of Red:
Being the daughter of the mountains, Goddess Shailaputri possesses the combined power of Brahma, Vishnu, and Shiva. Colour Red defines the bold, powerful and magnetic personality of Devi Shailputri. Thus, by wearing Red, you will be reflecting the spirit of the vibrant Goddess, and will be able to start the festival in an energetic manner.
2) Dwitiya – Day Two:
Dress yourself in elegant White to appease Devi Brahmacharini.
Reason behind use of White:
The name of the Goddess means the one who follows austerity with a pure heart. This incarnation of Goddess Parvati grants prosperity and emancipation. Since White signifies peace, loyalty and serenity, it is meant to be the color for the second day of Maha Navaratri.
3) Tritiya – Day Three:
Get draped in sparkling Yellow saree on the third day of Maha Navaratri to get blessed by Devi Chandraghanta.
Reason behind use of Yellow:
Yellow signifies brightness, joy, happiness, glory and fulfilment. The great Goddess is known for peace, serenity, and bravery. Yellow will fill your mental and physical state with optimism and enthusiasm.
4) Chaturthi – Day Four:
Choose apparel of Green colour to seek blessings of Devi Kushmanda.
Reason behind use of Green:
Since Maa Kushmanda is considered the creator of the universe, she represents life and brings the eternal symbol of growth and rejuvenation. Moreover, green happens to be the colour of cultivation.
5) Panchami – Day Five:
Pick up a smart and sober Grey attire to worship Devi Skandamata.
Reason behind use of Grey:
Wearing grey will please Kartikeya and Skandmata who are known for the destruction of evil.
6) Maha Shashthi – Day six:
Wear vibrant Orange clothes to satisfy Devi Katyayani.
Reason behind use of Orange:
A great sage named Katya practised austere penance for several years to get Durga as his daughter. The trinity of Gods – Brahma, Vishnu and Shiva got united and created Goddess Durga. Therefore Devi Katyayani got blessed with energy and vitality. To come across as a confident and charismatic person, wear attire of orange colour this Navratri.
7) Maha Saptami – Day Seven:
Dress in classic Black to please Devi Kaalratri.
Reason behind use of Black:
Kalaratri is the most ferocious incarnation of Goddess Parvati. The colour black perfectly echoes the spirit of this form of the great mother and thus wearing the attire of this colour will complement the power of the day.
8) Maha Ashtami – Day Eight:
Don Pink coloured robes to satisfy Devi Maha Gauri.
Reason behind use of Pink:
According to Hindu mythology, when Goddess Shailputri was young, she was extremely beautiful and was bestowed with pinkish fair complexion. And, Pink happens to be the colour of planet Venus. So, wear this colour and enjoy artistic vibes.
9) Maha Navami – Day Nine:
End Navratri in a stylish Sky Blue dress and seek divine blessings of Devi Siddhidatri.
Reason behind use of Sky Blue:
Sky Blue is the symbol of achievement, prestige, and wisdom. Thus, experience the magic of the great Goddess by wearing the robes of this colour.
Ganesha wishes all a colourful Navratri!
With Ganesha's Grace,
This Navratri, bring home the
Saraswati Yantra
and increase the chances of taking smarter decisions in various areas of life. Enhance your wisdom, knowledge and intelligence. Order Now!
Subscribe Our Newsletters