Maa Siddhidatri Worship Ninth Avatar On Day Nine Navratri
Published on October 27, 2001
Our Siddhidatri Worship Nintha Avatar On Day Nine Navratri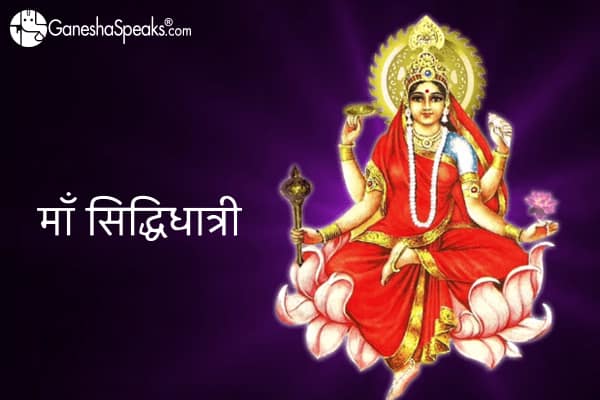 Mata Siddhidatri is worshiped on the ninth day of Navratri. As the name suggests, Mata Siddhidatri bestows all kinds of siddhis to her devotees. The last three days of Navratri are dedicated to Goddess Saraswati. Mata Siddhidatri is also considered as the form of Goddess Saraswati. All kinds of accomplishments are under him. In Navratri 2023, Mata Siddhidatri will be worshiped on 23rd October 2023. Anima, Mahima, Garima, Laghima, Prapti, Prakamya, Ishitva, and Vashitva eight siddhis have been described in the Markandeya Purana. Bhagwati Siddhidatri bestows all the above siddhis to her worshippers. With the worship of this final form of Maa Durga, the rituals of Navratri come to an end. According to the Markandeya Purana, Anima, Mahima, Garima, Laghima, Prapti, Prakamya, Ishitva and Vashitva are the eight siddhis and Mother Siddhidatri is capable of bestowing all these siddhis to the devotees and seekers. According to Devi Puran, Lord Shiva had attained these siddhis by his grace and only half of the body of Lord Shiva became that of the goddess. For this reason, he became famous in the public by the name 'Ardhanarishvara'.
Form of mother siddhidatri
The form of Mata Siddhidatri is very gentle and attractive. He has four hands. He holds a chakra in one hand, a mace in one hand, a lotus flower in one hand, and a conch in one hand. Worshiping the mother gives all kinds of knowledge easily. Those who worship the mother never have any trouble. This is the last day of Navratri. The day after this is celebrated as Dussehra.
Mantras of Maa Siddhidatri –
Or Goddess Sarvabhuteshu Maa Siddhidatri Rupen Sanstha.
Namasthasai Namasthasai Namasthasai Namo Namah.
Lord Shiva was made Ardhanarishvara
Lord Shiva had attained the form of Ardhanarishvara by the grace of Mother Siddhidatri. There is also a law to offer nine types of fruits and flowers in the worship of Mata Siddhidatri. They do not have any special bhog, but according to their own custom, all make special bhog for the mother, who offers it to her Kuldevi. Mother accepts the same prasad.
Maa Siddhidatri fulfills 26 different wishes of her devotees.
Maa Siddhidatri bestows all kinds of siddhis to the devotees. This last form of Goddess Durga is considered to be the best among the Nav Durgas and bestowers of salvation. Who in white clothes mesmerizes the devotees with great knowledge and melodious voice. If the devotee worships Maa Siddhidatri with full devotion on the ninth day of Navratri, then this devotee can attain all the eight siddhis. As a result of this, nothing in the universe will be unattainable for such a devotee. At the same time, it is also written in the anecdotes that Maa Siddhadatri fulfills 26 different wishes of the devotees. Get the special blessings of Maa Siddhidatri by buying gold plated Sarvakarya Siddhi Yantra.
Other celebrations on this day:
2023 Mahanavami
Mahanavami is the third and last day of Durga. Durga Puja on Mahanavami begins with Mahasnan and Shodopachar Puja. Maa Durga is worshiped as Mahishashur Mardini on Mahanavami. In fact, it is believed that on the day of Mahanavami, Maa Durga had freed the three worlds from her terror by killing the evil demon Mahishashur.
2023 Ayudha Puja, Shastra Puja
Ayudha Puja is performed on the day of Mahanavaratri, which is prevalent only in South India, especially in Karnataka, Tamil Nadu, Andhra Pradesh, and Kerala. Ayudha Puja is also known as Shastra Puja and Astra Puja.
Earlier the purpose of Ayudha Puja was to worship weapons, but in the present form all kinds of musical instruments are worshiped on this day. This is a day when artisans worship their instruments, similar to Vishwakarma Puja in South India and other parts of India.
Mantra and other facts of Maa Siddhidatri:
Maa Siddhidatri Meditation:
Mother Siddhidatri Mantra: Om Siddhidatraye Devyai
Namah: Chant this mantra 108 times
Colors of the ninth day: red and yellow
Ninth Day Prasad: Naivedya, Kheer, Panchamrit, Coconut
With the blessings of Ganeshji,
Ganeshspeaks.com
Also read about Maa Shailputri