Know About Lord Hanuman And The Ways To Worship Him On Hanuman Jayanti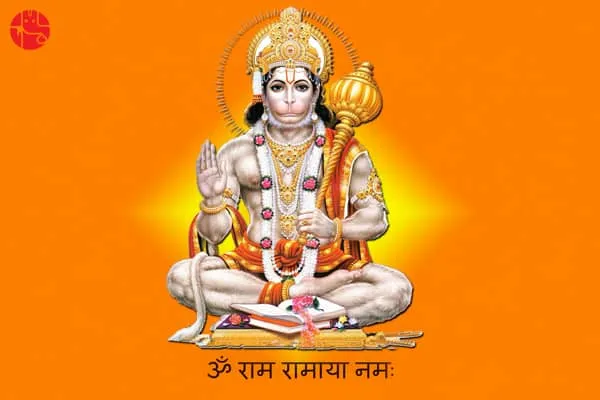 "Sub sukh lahe tumhari sarna, tum rakshak kahuko darna"
"Manojavam maruta tulya vegam jitendriyam buddhimatam varistham vatatmajam vanara yutha mukhyam sri ramadutam sharanam prapadhyai"
---
Important Characteristics Of Lord Hanuman's Personality
According to the above mantras, all types of happiness in life can be achieved by worshipping Lord Hanuman. Moreover, if we are protected by Lord Hanuman we will overcome all fears. Actually, Lord Hanuman is son of the Wind God and the beloved of Lord Shri Rama. Besides, Lord Hanuman has gained control over his senses. He is also the most intelligent and the strongest. Lord Hanuman is also the chief of all monkeys and the messenger of Lord Rama. The birthday of Lord Hanuman, known as Hanuman Jayanti this year falls on 6th April 2023.
Today is Hanuman Jayanti. Do you want to resolve your career-related problems on this special day? Buy the Remedial Solutions For Career Report and surge ahead in your profession.
---
Praying To Lord Hanuman Can Remove All Sorrows
In the Kali Yuga, Lord Hanuman is known as the awakened God, i.e. a truly alive God. Hence, just by praying to Lord Hanuman during the difficult times in our life we can resolve problems, overcome obstacles and also find a new path. This great Lord Hanuman was born on the day of Chaitra Shukla Purnima.
---
Lord Hanuman: An Incarnation Of Lord Shiva
Further, Lord Hanuman was born on Tuesday, and we salute him 100 million times, as he is propitious, helps us to perform auspicious activities, and also destroys all the sufferings from our life. Lord Hanuman was born on Chaitra Shukla Purnima, and Chitra constellation always occurs on the same day. Moreover, planet Mars is the Lord of Chitra constellation, and hence Lord Hanuman is worshipped on Tuesday and Saturday. By doing so, the native will get better results. Besides, Lord Hanuman is the Rudra Avatar of Lord Shiva. He incarnated as Lord Hanuman with the intention to help and serve his beloved Lord Rama.
---
Lord Shiva Is Dearest To Lord Rama
Actually, Lord Shiva is the dearest god of Lord Rama, while Lord Rama is the beloved god of Lord Shiva. Moreover, the Shivling at Rameshwaram temple was installed by Lord Rama.Additionally, Lord Shree Rama had stated – Ramasya Ishwara Iti Rameshwara. Whereas Lord Shiva stated – Rama Yasya Ishwara Iti Rameshwara. Hence, both of them considered each other as their God. Further, as Mars is the Lord of Chitra constellation, if we worship Lord Hanuman on Tuesday it will increase our courage, ability, introspection, strength, intelligence and boldness.
---
How Can You Worship And Please Lord Hanuman
A procession of Lord Hanuman is also organised in many cities on the auspicious occasion of Hanuman Jayanti. Following are some suggestions to worship Lord Hanuman on the Hanuman Jayanti festival.
1. Offer oil, sindoor and urad to Lord Hanuman. You can also offer a garland of Ankada flowers.
2. Recite Ram Raksha Stotra in Lord Hanuman's temple to get the strong protection shield of Lord Shri Rama.
3. You will gain by reciting Hanuman Chalisa while sitting under a Peepal tree.
4. Reading the Maruti Stotra will increase your strength and confidence and also remove the fear from your mind.
5. You can even recite the Panch Mukhi Hanumant Kavach.
6. Chant the Bajrang Baan.
7. You may also recite the Hanuman Ashtak.
With Ganesha's Grace,
Prakash Pandya,
The GaneshaSpeaks Team
To Get Your Personalised Solutions! Talk To Astrologer Now.
---
---
Get 100% Cashback On First Consultation