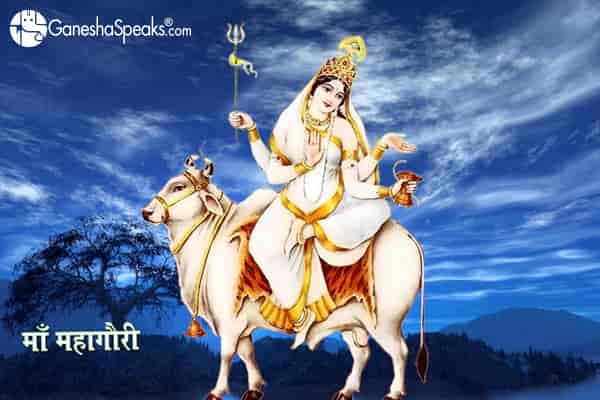 (Image Source: Internet) 
Maa Mahagauri Radiates Peace And Compassion 
The eighth avatar among the Roopas of Maa Shakti is Goddess Mahagauri. She will be worshipped on 17th October 2018 i.e. the eighth day of Navratri 2018. Her extremely fair complexion is similar to a white conch, the moon or Jasmine flower. It is believed that Maa Mahagauri always remains eight years old. Maa Mahagauri radiates peace and compassion, has four arms, and is the fairest among all the forms of Goddess Durga Shakti. The gesture of her upper right hand denotes that she is banishing fear, whereas she holds a trident (Trishul) in her lower-right hand. Besides, Maa Mahagauri holds a Damaru (drum) in the upper left hand, while the lower left hand is in the pose of granting boons. This goddess is mostly dressed in a white sari, and she often rides a bull. 
Goddess Mahagauri Had Performed Severe Penance To Have Lord Shiva As Her Consort 
As per the traditional story, Goddess Parvati practiced the most severe penance with the desire to have Lord Shiva as her divine consort. As a result of the severe penance, the colour of her body became black. Lord Shiva was highly pleased by her penance, and thus he washed Mata Parvati's body with the holy water of river Ganga. Hence, she regained her fair complexion. And thereafter, she was known as  Maa Mahagauri. Goddess Durga and her forms are all powerful. You can remove your sufferings by pleasing them.
If you buy the Lagna Vighna Yantra Golden Plated and worship, you will witness changes take place in your life
. 
Maa Mahagauri Channelises The Thought Waves Of Her Devotees 
All the sins of the devotee are washed away by worshipping this goddess on the 8th day of Navratri 2018. The devotees of Maa Mahagauri, therefore, become pure in all aspects. Maa Mahagauri channelises the thought waves of her devotees towards the path of virtue i.e. goodness, and she destroys Asat i.e. unholy or immoral thoughts of the worshipper. A very important institution in life is the union of marriage. 
2018 Mahashtami, Durgashtami 
Mahashtami, also known as Maha Durgashtami, is second day of Durga Puja. Maha Ashtami is one of the most important days of Durga Puja. Durga Puja on Maha Ashtami begins with Mahasnan and Shodashopachar Puja (षोडशोपचार पूजा) which is very much similar to Maha Saptami Puja except Prana Pratishtha (प्राण प्रतिष्ठा) which is done only once on Maha Saptami. 
On Maha Ashtami nine small pots are installed and nine Shaktis of Durga are invoked in them. All nine forms of Goddess Durga are worshipped during Maha Ashtami Puja. 
Young unmarried girls, being treated as Goddess Durga itself, are also worshipped on Maha Ashtami. Worshipping of young girls during Durga Puja is known as Kumari Puja. In many regions Kumari Puja is done during all nine days of Durga Navratri. Kumari Puja on a single day during Durga Puja is preferred on Maha Ashtami. 
The Mantra And Other Facts About Mahagauri:  
Maa Mahagauri Dhyan: Shwete Vrushesamarudha Shwetambardhara Shuchih Mahagauri Shubham Dadhyanmahadev Pramodada. 
Maa Mahagauri  Mantra: Om Mahagauryai Namah.  Chant it 108 times). 
Colour of the eighth day:  Pink colour. 
Prasad of the eighth day: Sweets like Malai Barfi, Penda, Rasmalai, and other mithai made from milk & fruits.
Governing Planet: It is believed that the planet Rahu is governed by Goddess Mahagauri. 
With Ganesha's Grace,
Acharya Agastya 
Also Read About:
Subscribe Our Newsletters