Worship Goddess Chandraghanta On Navratri Third Day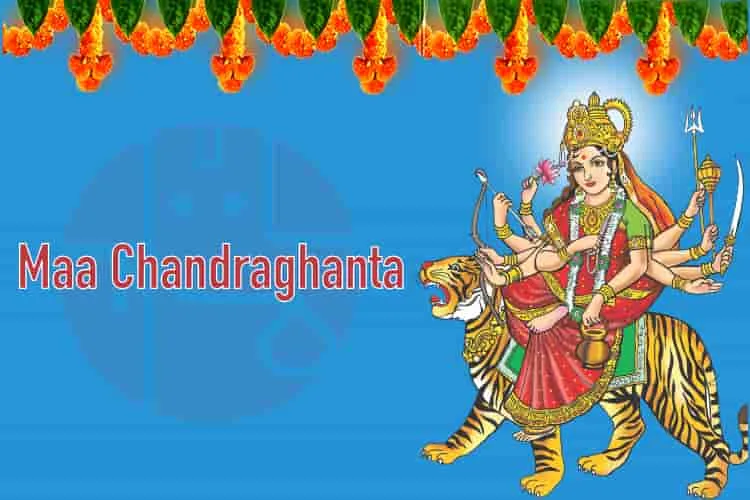 ---
Goddess Chandraghanta Bestows Immense Peace And Goodness
The third avatar amongst the Shakti Roopas is Goddess Chandraghanta. She will be worshipped on the third day of Navratri which falls on October 17, 2023, this year. The name Chandraghanta originated from the words Chandra (Moon) and Ghanta (Bell). This is because the Goddess has a crescent Moon on her forehead, and the roaring voice of Maa Chandraghanta is like the tumultuous sound of a bell, which makes the demons tremble with fear. Maa Chandraghanta provides immense peace and lots of goodness. She looks very bright and charmful, has a golden skin colour, and possesses ten hands & three eyes.
---
Maa Chandraghanta Washes Out All The Sins Of Her Devotees
Eight hands of this goddess hold weapons, while the gestures of the remaining two hands indicate bestowing a boon and stopping harm. This Durga Shakti rides a tiger. With the blessings of Maa Chandraghanta, all sins of the worshipper get washed out, and all the obstacles also get cleared from his/her path. Her worship provides instant results. By worshipping Maa Chandraghanta, one can get rid of all the worldly sorrows and fears.
Moreover, installing and worshipping Durga Yantra on this day helps to remove all the negativities and obstacles from life.
---
By The Goddess' Grace, Devotees Can Hear Divine Sounds
On the third day of Navratri, the mind of the worshipper enters the Manipur Chakra. At this stage, by the grace of Maa Chandraghanta, the devotee becomes capable of seeing unearthly and divine things. They can smell the divine fragrance of Maa Chandraghanta and achieve the capacity to hear many types of divine sounds. But, on this 3rd day, and at this particular stage, the devotee needs to be highly disciplined and very careful.
---
The Mantra And Other Facts About Maa Chandraghanta
Maa Chandraghanta Dhyan: Pindaj Pravara Roodha Chand Kopaastra Kairyuta Prasaadam Tanute Mahyam Chandra Ghanteti Vishruta.
Maa Chandraghanta Mantra for the third day of Navratri: Om Cham Cham Cham Chandraghantaye Hrum. (Chant 108 times).
Colour of the third day: White.
Prasad of the third day: Revdi i.e. mixture of white sesame seeds and jaggery.
Governing Planet: It is believed that the planet Shukra is governed by Goddess Chandraghanta.
Performing Shukra Grah Shanti Puja proves to be highly beneficial for the native on this day and helps to strengthen weak Venus in the birth chart. It helps you to attain health, wealth, and prosperity.
To Get Your Personalised Solutions! Talk To The Best Astrologer Now.
With Ganesha's Grace,
GaneshaSpeaks.com
---
---
Get 100% Cashback On First Consultation