Ekadanta Sankashti Chaturthi 2020: Sacred Day To Remove Obstacles In Life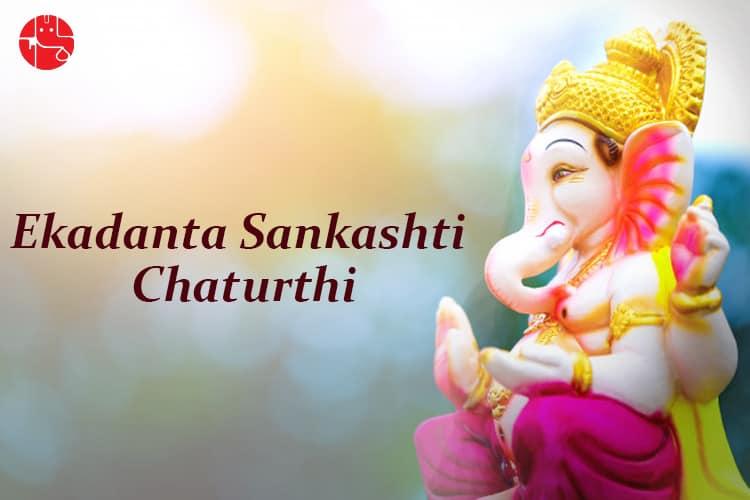 Ekadanta Sankashti Chaturthi is one of the 13 Sankatahara Ganesha Chaturthi Vratas. Every month, different forms of Lord Ganesha are worshipped along with different Peetha. As per the Hindu calendar, Ekadanta Sankashti Chaturthi falls in Vaishakha month. In Bavishyat and Narasimha Purana, the greatness of Sankashti Chaturthi puja and vrat are described. It is also believed that Lord Krishna narrated the importance of Sankasthti Chaturthi to Yudhishthira.
Important Tithi And Timings Of Ekadanta Sankashti Chaturthi 2020
Ekadanta Sankashti Chaturthi date is 10th May 2020 (Sunday)
Name of Lord Ganesha worshipped on this day: Chanakra Raja Ekadanta Maha Ganpati
Peetha: Srichakra Peetha
Chaturthi Tithi starts at 6.34 AM on 10th May
Chaturthi Tithi ends at 5.05 AM on 11th May
Moonrise on Sankashti Day – 9.13 PM
Significance Of Ekadanta Sankashti Chaturthi
Lord Ganesha is also known as Vighnaharta, meaning the remover of all the obstacles. Every month, there is a day that is specifically dedicated to the Lord Ganesha, that day is Sankashti Chaturthi. Sankashti Chaturthi is observed in every Lunar month of the Hindu calendar and falls on the fourth day of Krishna Paksha. The one, which falls in the month of Vaishakha is called Ekadanta Sankashti Chaturthi. Moreover, it is believed that when Chaturthi falls on Tuesday, it is very auspicious and named as Angaraki Sankashti Chaturthi.
As per Hindu Mythology, it is the day when Lord Ganesha was declared as supreme God. By observing the vrat of Ekadanta Sankashti Chaturthi, keeps devotees away from every problem they face in life. Literally, 'Sankat' means problems and 'hara' means the destroyer. On the day of Ekadanta Sankashti Chaturthi, Abhishekam is the main ritual observed during Lord Ganesha Puja. It is also believed that Ekadanta Sankashti Chaturthi vrat relieves the devotees of all their sins and confer a place in Svananda Loka – the abode of Lord Ganesha. It is the day that dispels all the difficulties, hurdles, and bestows the devotees with health, wealth, and prosperity.
Rituals For Ekadanta Sankashti Chaturthi
On this day, there is a special significance of sighting the moon. Devotees get up early in the morning, get ready and dedicate the day worshipping Lord Ganesha. Many devotees also keep fast on Ekadanta Sankashti Chaturthi wherein they are allowed to eat fruits. The idol of Lord Ganesha is decorated with durva grass and fresh flowers. A lamp is lit and Vedic mantras are chanted. In the evening, Sankashti puja is performed dedicated to the moon or Chandra  God.
Also, on this day, special Naivedya or Bhog is prepared, which includes the favorite dish of Lord Ganesha, Modak (a sweet made up of coconut and jaggery). Ganesha Aarti is performed and later the prasad is distributed among all devotees.
For personalized rituals for Sankashti Chaturthi based on your birth chart, consult our expert astrologers.
Hope all your dreams are fulfilled on this day, Happy Ekadanta Sankashti Chaturthi!
With Ganesha's Grace,
The GaneshaSpeaks.com Team