Know The Significance Of Dhumavati Jayanti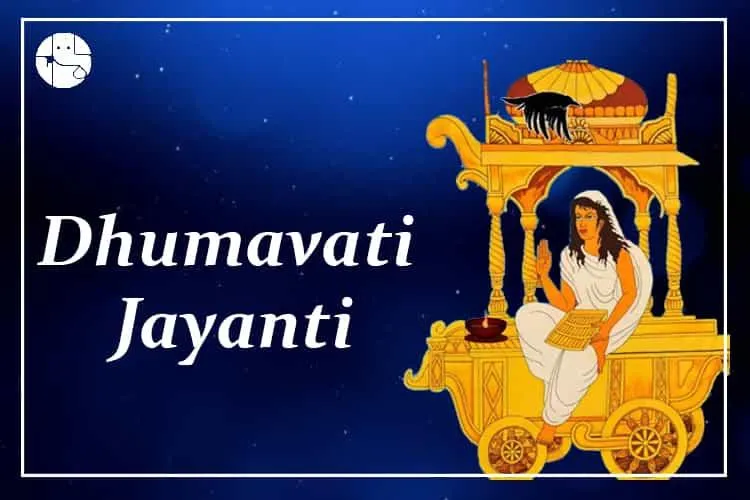 Dhumavati Jayanti or Dhumavati Mahavidya Jayanti is celebrated as the day when Goddess Dhumavati, an avatar of Goddess Shakti, incarnated on Earth. According to the Hindu calendar, it falls on the Ashtami during the Shukla Paksha in the Jyeshtha month, i.e 8th day during the bright fortnight of the moon. For Hindus, Dhumavati Jayanti is a very auspicious day as it is celebrated in honor of Goddess Dhumavati. As per Hindu Mythology, Goddess Dhumavati is the seventh of the 10 Mahavidyas and is known to be the most furious form of Goddess Durga.
---
Important Date And Timings For Dhumavati Jayanti 2023
Dhumavati Jayanti 2021 Date: 28th May 2023
Sunrise: 5:45 AM
Sunset: 7:02 PM
Ashtami Tithi begins at 7:43 AM on 27th May 2023
Ashtami Tithi ends at 9:57 AM on 28th May 2023
---
Significance Of Dhumavati Jayanti
According to Hindu legends, Devi Dhumavati is the old widow and is associated with things considered inauspicious and unattractive. The Goddess is depicted in the form of an ugly old lady seated on a horseless chariot. Sometimes, she is also portrayed riding a crow. However, even though Goddess Dhumavati's appearance is scary and dangerous, she always blesses her children.
In ancient times, Saint Bhrigu, Durvasa Rishi, and Saint Parshuram worshipped Goddess Dhumavati to get special powers. Moreover, in some regions she is worshipped as a protective deity. Even Tantric practitioners worship Goddess Dhumavati on Dhumavati Jayanti to overcome the challenges in life and for the fulfillment of desires. Hindus believe that even the glimpse of Goddess Dhumavati on Dhumavati Jayanti showers divine blessings on the devotee.
---
Dhumavati Jayanti Story
As per the legends mentioned in Prana Toshini Tantra, one day Goddess Parvati asked Lord Shiva the secret of meditation. But as Lord Shiva was in deep meditation, he did not listen to Goddess's words. Goddess Parvati became annoyed, and out of her anger she swallowed Lord Shiva. She started to produce a lot of heat and fire, her mouth exhaled a lot of smoke, dust, and fumes. Later, on the request of Lord Shiva, she disgorged him. After this incident, Lord Shiva rejected her and cursed her to assume the form of a widow and said that she will be worshipped in this avatar. 'Dhuma' signifies smoke, therefore Dhumavati means one who is composed of smoke.
To know the personalized rituals based on your birth chart, consult our expert astrologers!
Get personalised help from our specialized astrologer
Phone Consultation
    OR
Get Answer on Email
---
Rituals During Dhumavati Jayanti
On the day of Dhumavati Jayanti, devotees get up early in the morning, get ready and worship Goddess Dhumavati. One should remember that the main puja vidhi should be performed in an isolated place.
The Goddess is worshipped with dhoop, agarbatti, and different flowers. Also, a special prasad is prepared on this day by the devotees.
Special Devi Dhumavati mantras are recited during puja to please Goddess Dhumavati and get her blessings to remove all the obstacles and hurdles from life.
Aarti is performed after reciting special mantras, then prasad is distributed among family members and other devotees.
It is believed that by offering black sesame seeds tied in black cloth to Goddess Dhumavati on Dhumavati Jayanti, can fulfill all the wishes.
Also, note that married women should not worship Devi Dhumavati. They can only have a glimpse of the idol from far. This tradition is followed for the safety of their husband and sons.
Dhumavati Jayanti is celebrated with immense excitement and enthusiasm all over India. Worshipping Goddess Dhumavati on the auspicious day of Dhumavati Jayanti gives freedom from all problems and sins.
To Get Your Personalized Solutions, Talk To An Astrologer Now!
With Ganesha's Grace,
The GaneshaSpeaks.com Team
---
---
Get 100% Cashback On First Consultation