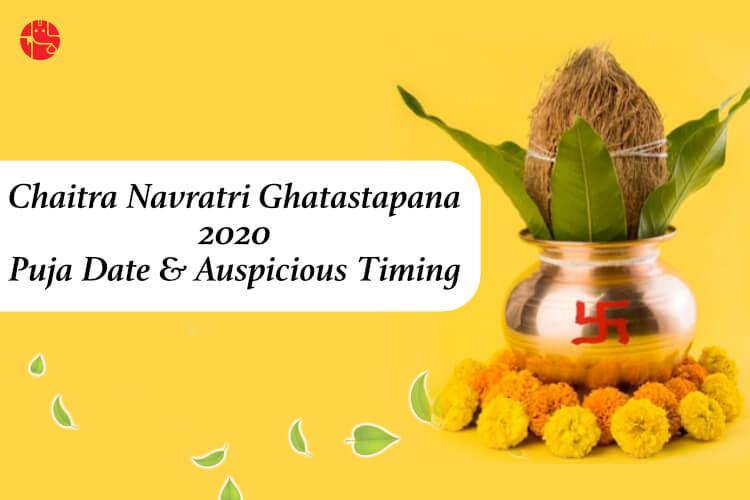 Navratri
is a Hindu festival that spans nine nights and is celebrated in various parts of the Indian sub-continent in autumn. Theoretically, there are four seasonal Navratri. The most commonly celebrated is the post-monsoon autumn festival called
Sharada or Shardiya Navratri
, which is observed in honour of the Divine Feminine Devi (Durga).
Sandhi Puja Muhurat
and
Ghatasthapana Muhurta
are the most observed ones with Chaitra Navratri during Shardiya Navratri.
About Chaitra Ghatasthapana:
Ghatasthapana is one of the most important rituals associated with Navratri as it marks the beginning of the nine-day festivities. Hindu scriptures consider it auspicious to start Ghatasthapana with the commencement of Navratri. As it is performed to invoke Goddess Shakti, it should be performed at the right time. Amavasya or night time may be prohibited to avoid enrage of the Goddess Shakti.Kalash Sthapana or Kalashsthapana are other terms used for Ghatasthapana.This year, Chaitra Ghatasthapana will be falling on the 25th of March, Wednesday in the Uttara Bhadrapada Nakshatra of the Shukla Paksha, year 2077 of the Vikram Samvata as per the Hindu calendar.
Date And Timings:
Chaitra Ghatasthapana on Wednesday, March 25, 2020
Ghatasthapana Muhurat - 06:19 AM to 07:17 AM
Duration - 00 Hours 58 Mins
Ghatasthapana Muhurta falls on Pratipada Tithi
Ghatasthapana Muhurta falls during Dvi-Svabhava Meena Lagna
Pratipada Tithi Starts =2.57 PM on 24th March -2020
Pratipada Tithi ends =5.26 PM on 25th March - 2020
Muhurta:
Performing Ghatasthapana on the third day of prevailing Pratipada(i.e.of 24 minutes) may be the most auspicious or Shubh time to carry it out. In case, due to some reasons, the time period is not adhered to, the ritual can be carried out during the Abhijit Muhurta.
Abhijit Muhurat is a mid-day auspicious time that lasts for 48 minutes. It is strong enough to destroy innumerable Doshas and it is considered the best Muhurat to start or inaugurate fortunate activities. In spite of positive aspects of the Chitra Nakshatra and Vaidhriti Yoga, they are not considered auspicious to perform Ghatasthapana. Moreover, afternoon time is considered best for performing this ritual in the prevailing Pratipada.
How auspicious will 2020 be for your profession? Buy the 2020 Career Report and know now!
Ghatastapana Puja Items And Kalash Preparation :
Things needed to perform the Ghatasthapana ritual mainly include an earthen pot with a widened mouth to sow Sapta Dhanya (seven grains), clean soil, seven different grains, small brass vessel filled with Ganga-jal, a Moli or a sacred thread, scent or perfume, some betel nuts, coins, mango or Ashoka leaves, a lid to cover Akshat or broken rice pieces, unpeeled coconut, red cloth, marigold flowers and Durva grass.
A Kalash is prepared before invoking the Goddess by adding clean soil at the base of an earthen pot. Grains are then pressed beneath the soil. The process is continued till a final layer of soil does not reach the brim of the clay pot. After adding some amount of water in a brass vessel, some betel nuts, scent, Durva grass, rice grains and coins are immersed in the water-filled vessel. Five to six mango leaves are placed at the mouth of the brass vessel to cover it. An unpeeled coconut is tied by a sacred thread in a red cloth. It is then placed on the top of the Kalash. Finally, the brass vessel or the Kalash is placed above the earthen pot and is all set to commence the Puja rituals.
Brahma Muhurta:
Choghadiya Muhurat is an important factor to be considered while performing Ghatasthapana. Although scriptures don't give it much importance, avoiding the Choghadiya Muhurat during Ghatasthapana is advisable.
It may be auspicious for performing Ghatastapana if the Dwi-Swabhav Lagna Kanya prevails at dawn during Shardiya Navratri.However, performing Ghathastapnan during afternoon, night time or any time after sixteen ghatis after sunrise is not advisable.
We, here at Ganeshaspeaks, Hope Lord Ganesha Showers Abundant Blessings On You During This Auspicious Period!
To Get Your Personalized Solutions, Talk To An Astrologer Now! With Ganesha's Grace, The GaneshaSpeaks.com Team