Ashadhi Ekadashi 2023 – About The Shayani Ekadashi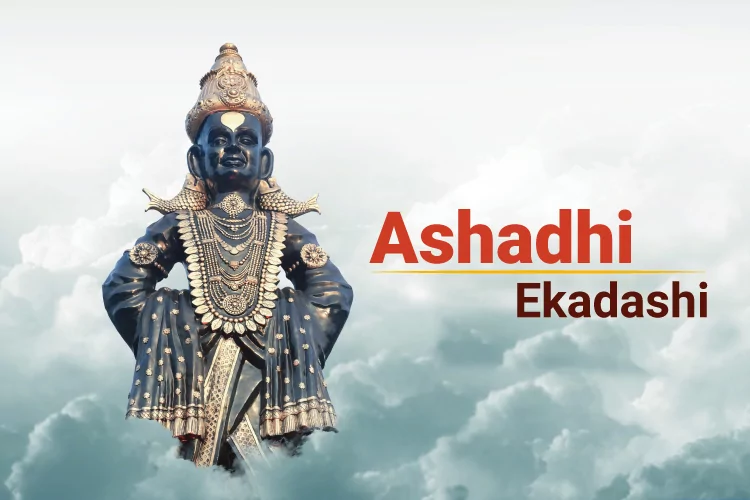 The eleventh lunar day of the bright fortnight that is Shukla paksha of the Hindu month of Ashadha, i.e. June-July, is marked as Ashadhi Ekadashi. It is also known as Shayani Ekadashi, Maha ekadashi, Prathama ekadashi, Padma ekadashi, Devshayani Ekadashi, or Devpodhi Ekadashi. In Telugu, it's called Toli Ekadashi. Vaishnavas, worshippers of Lord Vishnu, the Hindu protector God, have a particular place in their hearts on this sacred day.
On this day, devotees worship portraits of Vishnu and Lakshmi. They spend the entire night reciting hymns and prayer. Worshippers keep fasts and take vows throughout the chaturmas, the four-month period of the rainy season.
Vishnu is said to fall asleep atop Shesha naga, the cosmic serpent, in Ksheersagar, the cosmic ocean of milk. As a result, Dev-Shayani Ekadashi, Hari-Shayani Ekadashi, and Shayana Ekadashi are all names for the same day. Four months later, on Prabodhini Ekadashi, the eleventh day of the bright fortnight in the Hindu month Kartik (October–November), Vishnu emerges from his rest. Chaturmas is a Hindu festival that falls during the rainy season. As a result, Shayani Ekadashi marks the start of Chaturmas. On this day, devotees begin the Chaturmas vrat in order to appease Vishnu.
You can also appease Lord Vishnu by performing an authentic Vishnu Puja Online from the comfort of your home!
---
Ashadhi Ekadashi : Tithi, Timing and Puja Muhurat
Sunrise 29 June, 2023 05:48 AM.
Sunset 29 June, 2023 07:12 PM.
Ekadashi Tithi Begins 29 June, 2023 03:19 AM.
Ekadashi Tithi Ends 30 June, 2023 02:42 AM.
Hari Vasara End Moment 30 June, 2023 08:21 AM.
Dwadashi End Moment 01 July, 2023 01:17 AM.
Parana Time June 30, 08:21 AM – June 30, 08:29 AM
---
In Upcoming Years
2023 Thursday, 29th of June
2024 Wednesday, 17th of July
2025 Sunday, 6th of July
2026 Saturday, 25th of July
2027 Wednesday, 14th of July
2028 Sunday, 2nd of July
---
Ashadhi Ekadashi 2023- Auspiciousness And Significance
Lord Brahma told his son Narad about the greatness of Ashadhi Ekadashi, and Lord Krishna told King Yudhisthira, the eldest of the Pandavas, about it in the 'Bhavishyottara Purana.'
Shayani Ekadashi, often known as the first Ekadashi, is one of the most important Ekadashi vrats like Nirjala Ekadashi. It is widely believed that anyone who observes the Ekadashi vrat with utmost devotion will be blessed with a happy, successful, and tranquil life. They will finally achieve salvation after enjoying earthly delights.
Lord Vishnu rests on the 'Shesha Naag' (cosmic servant) in the 'Ksheersagar' (cosmic ocean of milk) on the day of this festival, hence the name 'Hari Shayani Ekadashi'. According to a belief, on this day, Vishnu goes off to sleep in Ksheer Sagar, which means an ocean of milk perched on Shesha Naga for approximately four months. These four months are known as Chaturmas. Fasting or the vrat is observed on the first day in the month's beginning. When after four months, Vishnu wakes up from his slumber, people call that day Prabodhini Ekadashi.
Lord Vishnu finally awakens four months later on Prabodhini Ekadashi, according to Hindu tradition. The Lord's slumber is known as 'Chaturmas,' and it coincides with the rainy season. Devshayani Ekadashi, also known as Shayani Ekadashi, is the first day of the Chaturmas month, and devotees conduct a holy fast on this day to invoke Lord Vishnu's blessings.
---
Ashadhi Ekadashi Pandharpur Waari Yatra
The famed 'Pandharpur Waari Yatra' comes to an end on this day. Pandharpur is a small district in Maharashtra where God 'Vithoba,' an embodiment of Lord Vishnu, is revered with devotion. The religious procession, or yatra, is a 17-day great event that draws travellers to this location. Palkhis (palanquins) featuring images of Maharashtra's saints are carried by some of them.
Dnyaneshwar's image is brought from Alandi, Namdev's image is brought from Narsi Namdev, Tukaram's image is brought from Dehu, Eknath's image is carried from Paithan, Nivruttinath's image is carried from Trimbakeshwar, Muktabai's image is carried from Muktainagar, Sopan's image is carried from Saswad, and Saint Gajanan Maharaj from shegaon. Warkaris is the name given to these pilgrims. They perform Abhangas (chanting songs) dedicated to "Vitthal" God Vithoba by Saint Tukaram and Saint Dnyaneshwar. Furthermore, Vaishnava Mutts dress in hot seals on the day of Ashadhi Ekadashi, a ritual known as 'Tapta Mudra Dharana.'
---
Ashadhi Ekadashi Vrat and Puja Rituals
On Shayani Ekadashi, a fast is observed. All grains, beans, cereals, certain vegetables like onions, and some spices must be avoided during the fast.
On this day, taking a holy bath is regarded as exceedingly auspicious. In honour of Sri Rama, an avatar of Lord Vishnu, devotees flock to Nasik to take a dip in the Godavari River.
Devotees keep a fast on Ashadhi Ekadashi, abstaining from specified foods such as rice, beans, grains, cereals, particular vegetables, and spices. It is believed that fasting on this day resolves all difficulties or tensions in life.
Want to remove difficulties from your life? Talk to an Astrologer Today to get all your questions answered.
Devotees adorn Lord Vishnu's idol in Gadha, Chakra, Shank, and bright yellow clothing. Offerings include incense sticks, flowers, betel, betel nut, and Bhog. Aarti is sung after the puja kriya, and the prasad is shared with other worshippers.
The observant of this vrat must stay awake all night on Ashadhi Ekadashi and perform religious bhajans or songs in honour of Lord Vishnu. It is also considered fortunate to recite holy works such as the "Vishnu Sahartanaam."
Attract Good Luck With Your Personalised Horoscope On The Auspicious Day Of Ashadhi Ekadashi! – Talk To Expert Astrologer Now!
With Ganesha's Grace,
The GaneshaSpeaks.com Team
Astrologers trained by Shri Bejan Daruwalla.
---
---
Get 100% Cashback On First Consultation