Akshaya Tritiya Festival: Worship Lakshmi, Ganesha And Invite Prosperity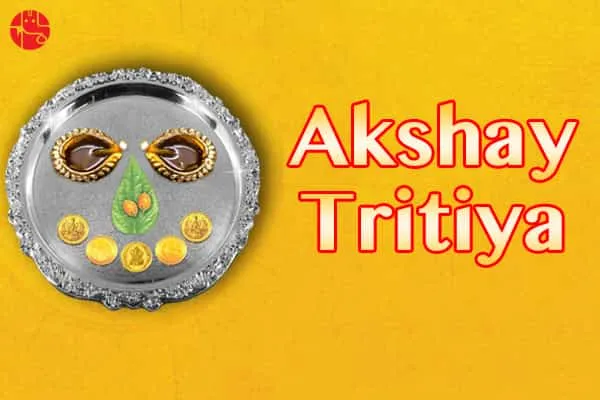 What Is Akshaya Tritiya Or Akha Teej?
"Donate to earn more"-this is going to be the mantra of Akshaya Tritiya 2023 The word "Akshaya" means immortal or everlasting. So go ahead for the new investment on Akshaya Tritiya or Akha Teej. Akshaya Tritiya or Akha Teej is one of the most auspicious days if you are planning to buy gold.
Akshaya Tritiya or Akha Teej is the Hindu auspicious day to start new activities and has a special significance in Hinduism. It is believed that any new venture or any furniture or vehicles brought on Akshaya Tritiya or Akha Teej will grow forever. Lord Ganesha and Goddess Lakshmi are worshiped on the day of Akshaya Tritiya or Akha Teej. According to the Hindu Calendar, it is celebrated on the third day of month Vaishakha (April-May) every year. Donating to the poor is considered truly auspicious.
Are you planning to change your job? Have you thought whether it is the right decision or not? Put an end to all your doubts by seeking Expert guidance.
Akshaya Tritiya 2023 or Akha Teej 2023 Date : 22nd April 2023, Saturday.
Any time on this holy festival is auspicious. However, the best time on Akshaya Tritiya 223 or Akha Teej 2023 for performing puja or buying gold is: 07:49 am and ends at 05:48 am on 23rd May.
---
Astrological Significance Of Akshaya Tritiya Or Akha Teej:
Akshaya Tritiya or Akha Teej is celebrated once in a year when Sun and Moon are exalted and at the extreme point of brightness on this day. This rare event takes place on the third day of bright fortnight of Hindu month Vaishakha (April or May).
Do you want to resolve your problems and gain success? Buy the Sarva Karya Siddhi Yantra Golden Plated and watch the difference.
According to Vedic Astrology, three lunar periods are considered auspicious in a year. These periods are known as Sade Teen Muhurat. The first lunar period of the Shukla Paksha (bright fortnight) of Chaitra, the tenth phase of Ashvin month, the third phase of the month of Vaisakha, and the first phase of Shukla Paksha of Kartika month. The first three periods are considered the full phase of lunar month whereas the last lunar period is considered as the half phase. Akshaya Tritiya or Akha Teej is considered truly auspicious for conducting a new business activity, for buying lands, bringing furniture or vehicles at home and for an auspicious Hindu marriage.
---
Legend Of Akshaya Tritiya Or Akha Teej:
Do you know Akshaya Tritiya is associated with Lord Krishna and his childhood Brahmin friend Sudama? On the day of Akshaya Tritiya or Akha Teej, Sudama visited Lord Krishna in Dwarka just to ask for some financial help. Lord Krishna welcomed Sudama with kindness and believed in 'Atithi Devo Bhava'. Discovering the richness of Lord Krishna Sudama was ashamed to offer his gift.
It was a bowl of Poha that Lord Krishna received sincerely from Sudama. He relished this gift as a tribute to friendship, hospitality, and care. Sudama felt ashamed of asking any financial favor from Lord Krishna and returned home with a peaceful heart. After reaching home, Sudama got surprised to discover his poor hut was transformed into a palace. Sudama's honesty and simplicity were taken by Lord Krishna as the token of unconditional trust, friendship, and kindness.
Get the help in your personal problems. Buy the Remedial Solutions for Personal Issues Report.
The Most Important Mantra of Akshaya Tritiya: "Remember the Kind act of Giving is Thousand Times More Powerful than that of Receiving", says Ganesha
Thus, the day of Akshaya Tritiya or Akha Teej is associated with material gains and wealth.
---
Rituals Of Akshaya Tritiya
You should wear piousness and austerity on the auspicious day of Akshaya Tritiya, says Ganesha. Follow the simple rituals and see the results.
Wake up early in the morning and take an auspicious bath.
Observe fast.
Offer sandalwood paste and flower to Lord Vishnu and Goddess Parvati During Akshaya Tritiya, you should also pray to Goddess Lakshmi and Kubera (Lord of Wealth).
Offer wheat, chana dal, milk, gold, clothes.
Recite 'Vishnu Sahasranama' and mantra.
Prepare Poha as prasad and offer to Lord Vishnu or Lord Krishna.
Donate to needy and brahmins. Feed grass to cow and calf.
On the day of Akshaya Tritiya or Akha Teej, donate the following items with a pure heart to the needy people.
Sesame seeds
Mattress
Clothes
Vermillion
Sandalwood
Betel nut
Coconut
Buttermilk
Water
Tulsi leaves
Slippers
---
Benefits Of Akshaya Tritiya or Akha Teej:
Whatever you offer on the day of Akshaya Tritiya or Akha Teej will enhance the auspiciousness of Akshaya Tritiya. Believe you can achieve wealth, prestige, and success on Akshaya Tritiya if you follow the above rituals with a pure heart.
You and your family members will gain happiness and prosperity.
Want your business or job get flourished? Then start any new activity, project or business on the auspicious day of Akshaya Tritiya.
You will get free from all your sins.
You will be blessed with health, wealth, happiness and prosperity.
Lord Ganesha provides knowledge and courage.
Akshaya Tritiya Puja Mantra Or Akha Teej Puja Mantra:
To get peace of mind and good health, pray to God and utter the following mantra:
"Jamadagnya mahaveera kshatriyaantha kara prabho
Gruhanarghyam mayadattam krupayaa parameshwaraa"
To get free from any wrong deeds, donate clothes and feed the poor with a good heart and chant the mantra:
"Sri parameshwara preethyartha muda kumbhadaanoktha phala vaapyartham
brahmana yodakumbha daanam karishye thadanga kalasha pujyadhikam cha karishye".
To create and enhance wealth this auspicious Akshaya Tritiya, chant this mantra:
"Kubera Twam Danadeesam Gruha Te Kamala Sithta
Tam Devem Prehayasu Twam Madgruhe te Namo Namah"
Ganesha wishes you all a Happy Akshaya Tritiya!
With Ganesha's Grace,
The GaneshaSpeaks Team
To Get Your Personalised Solutions! Talk To Astrologer Now.
---
---
Get 100% Cashback On First Consultation