Dahi Handi Festival: Know Its Significance And Celebration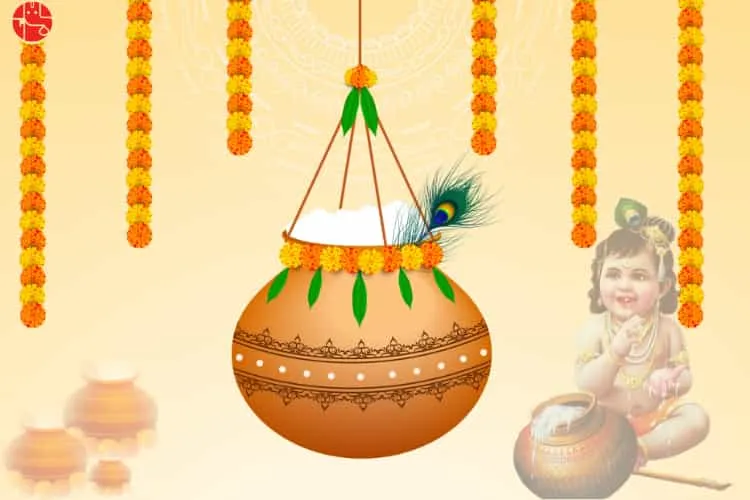 ---
Why Is Dahi-Handi Essential For Celebrating Krishna Janmashtami?
In India, every festival is celebrated with great joy and spirit. Out of all the Hindu mythology Gods, Lord Krishna is considered as one of the most captivating and inspiring ideals who is believed to be the eighth incarnation of Lord Vishnu. In his lifetime, Krishna did great deeds to teach people the art of life. Among all his preaching, people love to recall his mischievous and playful childhood actions on his birthday, Dahi Handi celebration is one of them.
Every year, on the eighth day of Krishna Paksh as per Hindu calendar, Krishna Janamashtami is celebrated. Mostly, the festival occurs in August or September. People across India happily plan for this auspicious festival. In Gujarat and Maharashtra, there is unique importance of this festival, and everybody is very fond of it. If you are unfamiliar with the significance of Dahi Handi or what is Dahi Handi festival, you have reached the right page. This article will help you understand the story behind the Dahi Handi ritual.
Before we begin with the history and story of Dahi Handi, let us ask our expert Astrologer to tell us when is Dahi handi going to be celebrated in 2023?
According to the Hindu calendar and Panchang, Dahi handi festival is celebrated with a lot of enthusiasm and glee on the next day of Krishna Janmashtami or Ashtami of Krishna Paksh of Hindu month, Bhadrapada.
Know Your Janmapatri & Get Personalized and accurate readings.
---
What is the correct muhurat of Dahi Handi in 2023?
is followed by the auspicious choughadiya muhurat. Considering that Dahi Handi is a religious festival, following auspicious muhurat for religious activity is a must. For Dahi Handi is this coming 7th September, Thursday, 2023, the auspicious time for day Choghadiya shubh Muhurat is 02:43 PM to 04:14 PM, whereas for the night, shubh Muhurat is 07:16 PM to 08:45 PM
Now, we know when to have Dahi Handi celebration, let's check out how to make Dahi Handi?
---
What ingredients are essential to add in Dahi Handi?
Every region adds ingredient based on dairy item produced in their place, as Krishna loved all the dairy items including dahi, butter, ghee and milk. However, as per tradition, Dahi Handi usually has certain products. Dahi Handi is filled with a mixture of beaten rice with creamy yogurt (Dahi Poha), sugar, jaggery, ingredients viz, dahi, ghee, sugar, jaggery and Dahi poha. Later, the earthen pot is decorated with flowers and silver coins are hung along with the rope, which will be distributed as a prize to the winners or Govindas reaching the Handi first.
This whole celebration is the imitation of Krishna's childhood mischief. When Krishna was growing in Vrindavan, all the best quality dairy food was supposed to be given to their cruel king Kansa as tax. Thus, there were very little dairy goods available for Krishna and his friends. As Krishna loved fresh Makhan (butter), he used to steal Makhan with his gang from the homes in Vrindavan including his own home.
Mostly, Makhan Handi hung above in the houses with the intention to protect it from stealing or spilling. Krishna and his friends were short to reach the Makhan Matki (Pot). Therefore, they used make a human pyramid and reach to the top of Handi for stealing the Makhan. Sometimes, they even break the Handi to get the Makhan out of it. This activity of Krishna is known even today, and in memory of him, people copy the same action by celebrating Dahi Handi festival on Krishna birthday.
By reading this, you might have come to know what is Dahi Handi and why it is so popular.
---
Get to know what astrologers say about Importance of Dahi Handi
The Dah Handi ritual is an imitation of Lord Krishna's actions. It is an illustrious team building sportive event fueled by massive amounts of adrenaline celebrated on the second day after the incarnation of the deity Vishnu.
Dahi Handi importance is because it is a commingling of sport and a perfect fusion of spirituality and adventure. The festival is also known as 'Gopal Kala'. Dahi Handi is a major event in major cities and towns in Maharashtra.
It is an Indian festival that involves making a human pyramid of 'Govindas' and breaking of hanged earthen pot (a matki or handi), filled with milk, honey, curd (dahi), butter, fruits and water. Across India, celebrations take a devout mood. Idols of the deity are decorated, and worshipers arrange grand celebrations, which include breaking of the Dahi Handi, Raas Lila and recitation of mantra and holy books too.
Everybody has their own way to celebrate the grand birthday of Lord Krishna. Dahi Handi is one of them and is very popular in India. It is the social celebration that brings all the Krishna lovers together to witness one of the Krishna Lila and recall the deity and his preaching. To know more about the significance behind Dahi Handi, talk to our astrologer and increase your mythological knowledge.
Get 100% Cashback on Your First Consultation, Talk to our Astrologers.
With Ganesha's Grace,
The GaneshaSpeaks Team
---
---
Get 100% Cashback On First Consultation