Happy Birthday Yami | Birthday Prediction By Ganesha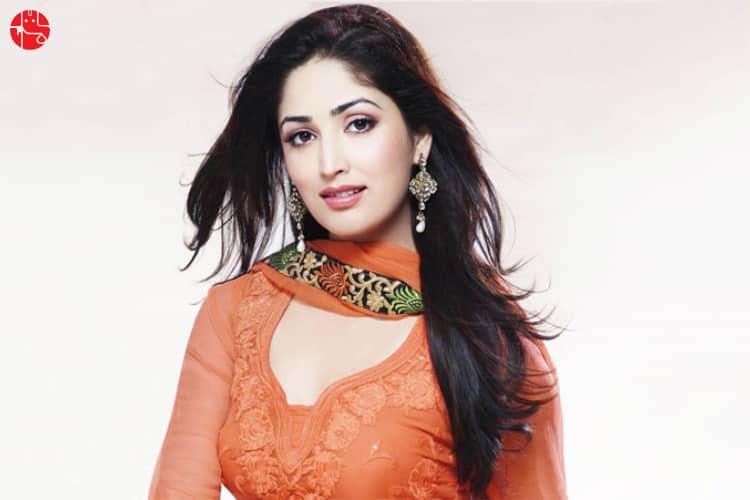 The baby of Bollywood - Yamki Gautam made the audience cringe in a good way with her latest appearance in the movie Bala. Her journey for the small screen to the big is aspirational for many young actors. This Indian beauty entered the silver screen in the year 2008 and never looked back as she bagged one successful role after the other.
Yami's Personal Life
Known for her desi but glamorous look, the elegant Yami Gautam was born on November 28, 1988, in Bilaspur. Her fascination for Bollywood has come from her father, Mukesh Gautam who is a Punjabi Film Director. After completing her schooling, she took admission in Punjab University, Chandigarh, to pursue Law. She wanted to join the Indian Administrative Services. But at the age of twenty, she got inclined towards the glamour world. For this, she left her education midway and did not complete the bachelor's degree in Law Honors. However, she is now pursuing her graduation in Mumbai currently.
Career Graph
Owing to her filmy background, Yami was sure to hit the screen someday. She started her career as a television actor with the TV series Chand ke paar chalo in the year 2008. After a short break, she got noticed for her performance in the serial Ye Pyaar Na Hoga Kam, in 2009. She also worked in Meethi Choori No. 1 and Kitchen Champion Season 1. While working for the small screen, Yami's efforts to bag a role in some good movies on the big screen, yielded the desired result.
What does 2020 have in store for your career? Get the 2020 Report.
Yami ventured into the big screen with her debut in the Kannada film Ullasa Utsaha in 2010. The film didn't work well but it surely captured the attention of filmmakers as Yami's performance was outstanding. She then debuted in Telugu film Nuvvila. Directed by Ravi Babu in 2011.
Finally, she got a break in Bollywood with Vicky Donor in 2012, directed by Shoojit Sircar. It was Yami's first commercial success at the box office. And for her role in this movie, Yami won her first IIFA award.
Her career journey has been a mix of blockbuster and flop movies. From Total Siyaapa, Action Jackson, Juniniat, Sanam Re, Hero, City of Revenge, Pyaar to Tha to Kaabil, Badlapur, Uri and now Bala, this Fair and Lovely girl definitely made her mark in the industry.
Apart from movies, Yami also endorses Cornetto, Samsung Mobile and Chevrolet, to name a few.
Yami Gautam and her Birth Chart
Yami Gautam
Date of Birth: November 28, 1988
Birth Time: Not Known.
Place of Birth: Bilaspur, Himachal Pradesh, India
Surya Kundali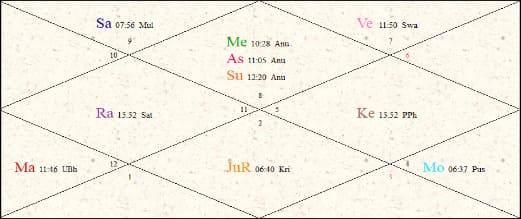 Astrological observation
In the Surya Kundali of Yami, Rahu is passing over the eighth house, Ketu and Saturn are transiting second, Jupiter is also transiting the second house to her ascendant.
According to her Janampatri, the year will start on a good note for her and it's time for her to get ready and welcome new opportunities with open arms. This is the right time to gain success and win some awards for her achievements. She may receive desired results for her efforts.

Jupiter transit will bring happiness and enhance her wealth, throughout the year. She would be able to achieve her goals, get appreciation from the audience resulting in an increase in name and fame. This year maybe a year of major changes for her, there may be a remarkable rise in her authority.
Her acting and creativity skills will be enhanced. She might also get interested in writing scripts. Saturn will bless her with high authority and success in all areas. She will also find herself busy shooting in overseas countries.
What Does The Jupiter Transit Have In Store For You? Get Jupiter Transit Report!
Some new relationships and connections are also on the cards. This can be the year of settlement of her personal life also.
But at the same time, she has to make some compromises this year. Between May 14, 2020, and June 29, 2020, she needs to remain strong and energetic and should be receptive to listen to others too. She has to be practical in this duration. She might also travel to some holy places this year. Yami may also spend some money on religious activities or contribute to the renovation of some place of spiritual significance.
She needs to stay cautious about her health this year. She may feel dull and face some health issues like infections or allergies.
Birthday Wish!
On her 31st birthday, we wish the "Pari" good luck for all the upcoming movies and other ventures. May you shine out in Bollywood and move ahead in other territories too.
To Get Your Personalized Solutions, Talk To An Astrologer Now!
With Ganesha's Grace,
The GaneshaSpeaks.com Team