Will Nandita Das' film Firaaq meet with success?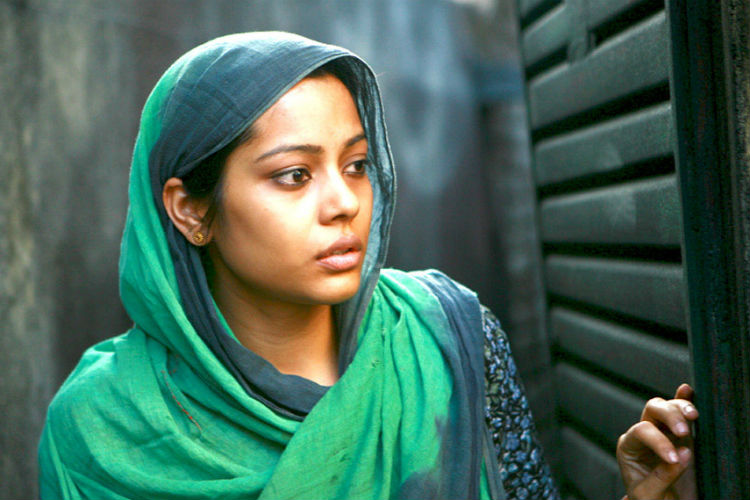 Born to a painter father and a writer mother, dusky actor Nandita Das sketched her way to fame with cinematic gloss. Enchanting the audience with her power-packed performance in films like Earth, Water, Fire, Aks and Bawander, the 39-year-old actor has carved a niche for herself as a thinking man's pin-up idol.
Nandita began acting with a street theatre group called Jannatya Manch and made her big screen debut with Oriya film Pariniti in 1987. However, her acting skills were prominently noticed only in Deepa Mehta's films Earth and Fire. Her next film Bawander earned her world-wide acclaim and also won her the Best Actress award at Santa Monica Film Festival.
Now, after acting in both commercial and offbeat films in various languages, Nandita has made a foray into direction with Firaaq, which is based on the infamous 2002 Gujarat riots. The film depicts the impact of violence on the human psyche and has already bagged several awards at the Asian Festival of First Films.
Slated to release in India on March 20, 2009, Firaaq promises to live up to the definition of meaningful cinema. Ganesha predicts whether the movie will be received as well in India as it was abroad.
Numerology of the Title Firaaq
Ganesha notes that the numerological total of the title Firaaq is 5, which is ruled by Mercury. The release date totals to 2, ruled by Venus. Sum total of the movie's release date, month and year is 7, which is ruled by negative Moon and Neptune. So, this is Mercury, Venus and Neptune pattern. Ganesha predicts audience will like the plot and story of this film.
Since Moon, being luminary, rules creative art, Firaaq will also see unparalleled performances by its actors as well as good cinematography. However, Neptune rules liquids or processing of celluloid plus arts. This factor may not bring in good business at the Box Office.
Firaaq's Release Time Chart
20th March 2009
(Location Bombay)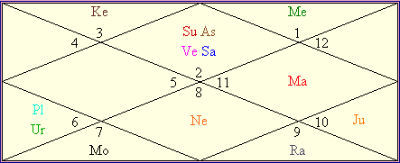 Astrological Points
Ganesha observes that the film is releasing with the influence of Taurus Ascendant. The Lord of the Ascendant is retrograde in the 11th House.
Mercury and Mars both are posited in Air Sign in Midheaven with Uranus and Neptune.
Jupiter, the Lord of the 11th House of gains, is placed with Rahu in the 9th House of fortune.
Retrograde Saturn aspects the 10th House of success. Saturn is the slowest moving planet barring Uranus, Neptune and Pluto.
Astrological Analysis
This film may have some bold sequences, feels Ganesha.
Firaaq may have a powerful storyline with some aggressive scenes as Mars rules aggression and is placed in the Air Sign in the 10th House.
Intellectual Mercury's influence reflects good dialogues. Hence, the film could give a strong message.
First weekend's business at the Box Office may be good.
Till the end of the first week, this movie may do well at the Box Office but second week onwards, once transiting Moon leaves Pisces on 28th March 2009, the film's earnings may dwindle.
Ganesha feels that Firaaq may get mired in some post release controversies. However, this film is worth watching owing to its promising cast and also because Venus, the significator of performing arts, though is retrograde, is in its sign of exaltation at the time of release.
Ganesha wishes good luck to Nandita Das and her team.
With Ganesha's Grace,
Bhavesh N. Pattni
www.GaneshaSpeaks.com