Will Liz Hurley and hubby Arun Nayar part ways?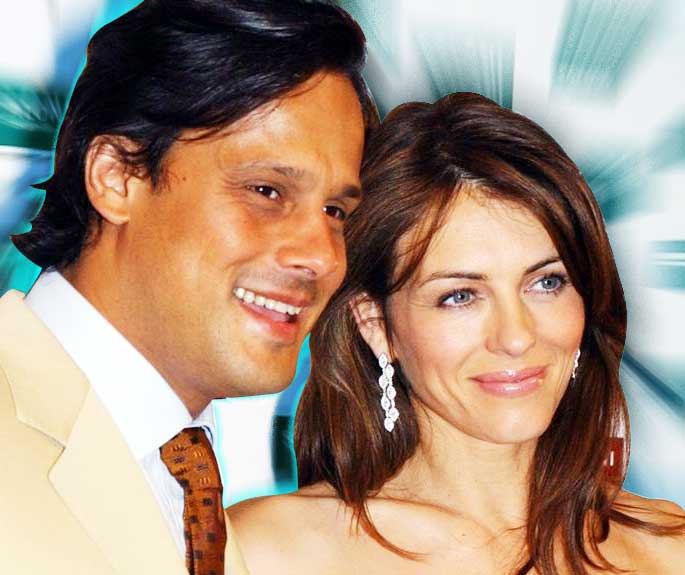 After a fairy tale romance carried out in full media glare, the grapevine is rife with rumours that sexy British model and actor Elizabeth Hurley and her Indian husband and business tycoon Arun Nayar are heading for splitsville. Their twice solemnised marriage is allegedly on the rocks because the Indian textile heir is tired of his glamorous wife's obsession with parties and commitments to various contracts.
Liz, who was actor Hugh Grant's girlfriend for 13 years before they called it quits, has been married to Arun for the past two years. The couple first took their vows at Britain's Sudeley Castle and followed it up by a lavishly colourful Indian-style wedding at Jodhpur's Umaid Bhavan Palace in 2007.
Famous for her roles in films like Bedazzled and the two Mike Myers' hit Austin Powers comedies, Liz has a six-year-old son Damian from a previous relationship. On the other hand, Arun was earlier married to Italian model Valentina Pedroni.
In view of the recent tension between Arun and Liz, Ganesha grows anxious and predicts whether the two will patch up their differences or decide to part ways.
Astrological Analysis
A total lunar eclipse was visible from Europe and a large part of the world on Saturday night, March 03, 2007, a day after Liz and Arun's wedding at Sudeley Castle.
The eclipse occurred in the sign Leo. Moon was in Magha Nakshatra, ruled by Ketu and Sun was in Satatara Nakshatar, ruled by Rahu. As a result, both the luminaries were severely afflicted. Hence, it was not at all a suitable date for an auspicious event like a wedding.
Liz Hurley's Horoscope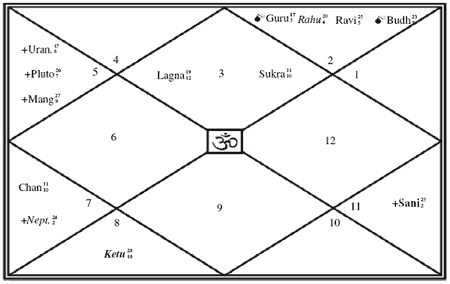 In Liz Hurley's chart, the Lord of 7th House (marriage) is placed in the 12th House with Rahu and also in Dual Navmanasa. So, her first relationship with Hugh Grant was a failure.
Now, the 43-year-old actor is again facing friction in her married life. Arun and Liz's common friends have said that apart from other factors, it is also Elizabeth's alleged 'bossy' behaviour that isn't going down well with her husband.
There's an astrological side to this. Liz has Sun placed in the 12th House with Rahu in Taurus and Sun is also very powerful in Navmansa. This is why the actor comes across as a domineering personality. Conjunction of Rahu with Sun unleashes sudden and catastrophic developments, thereby ruining conjugal bliss.
Liz is currently running the Saturn-Jupiter period. Jupiter is afflicted by Rahu in the 12th House. Transiting Rahu will enter her 7th House from 18th November, 2009. As a result, the couple may constantly face dilemmas and may ultimately decide to end their marriage.
With Ganesha's Grace,
Tanmay K.Thakar,
www.GaneshaSpeaks.com