The Sun of success shines bright for Whoopi Goldberg, predicts Ganesha
Not many know that Whoopi Goldberg, in her childhood days, suffered from dyslexia, because of which, at the age of seventeen, she had to drop out of school. Maybe destiny had better plans for her. She worked hard to realise her dreams, and went on to become the famous Hollywood star, Whoopi Goldberg, and also got honoured with a star on the Hollywood Walk of Fame. They say, doing comedy is serious business, and she seems to have really taken it seriously. Over a hundred and fifty films and a number of television programmes in her kitty, the Ghost star has slowed down off late, and is concentrating on doing quality work
A reputed actress and activist, Whoopi Goldberg celebrates her 55th birthday today. Ganesha, with the help of Vedic astrology, predicts her year ahead.
Whoopi Goldberg
13th November, 1955
12 : 48 P.M.
New York, NY, U.S.A.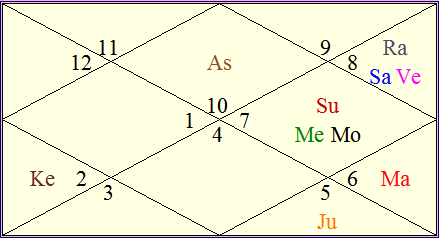 Astrological Observations
Whoopi Goldberg is born with Venus, Saturn and Rahu conjunction in 11th House. Venus gives direct aspect to it's own sign Taurus in the 5th House. This is favourable position for an artist.
Ganesha also notes that debilitated Sun gives exalted aspect to the 4th House.
Capricorn Ascendant makes her a hard working person.
Currently Saturn is transiting through Bhagya Bhuvan and after her birthday next year, Saturn will be transiting over Stellium in the 10th House of her chart.
She is currently under the influence of Ketu major period and sub period of Venus. Subsequent sub periods will be of Sun and Moon, till her next birthday.
Astrological Predictions
Whoppi is not only born with strong natal potential as a performing artist, but she also possesses the talent to perform behind the screen.
She will be spiritually inclined during the next one year.
Her film career would surely be good, as currently she is under Venus' sub period, later she will be under the sub period of Sun, which is placed in the 10th House within one and a half degree orb of M.E.P. (Most Effective Point) and Moon is also placed in the 10th House. Both Sun and Moon are in Libra, the sign that indicates public image. So no matter whether Whoopi signs many films in next one year or not, she will be appearing in the news quite often.
Mid September to mid December, 2011 is the period during which she might either undergo an operation (surgery) or may suffer from some ailment. In short, health issues are foreseen during the said period.
Whoopi may also be nominated for some award during the year ahead.
As Venus aspects 5th House and Mercury is also in the 10th House in the Air sign in her chart, she might not just focus on television or films, but may also take interest in stage performances or may also host some shows as an anchor.
Her public image will be gradually changing to more and more positive as the year progresses but she might feel that it was slow and steady year.
Good luck and may Lord Ganesha bless Whoopi with a great year ahead.
With Ganesha's Grace,
The GaneshaSpeaks Team