What's in store for Jaya Bachchan in a year ahead?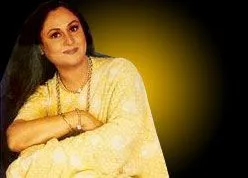 An experienced actress of Hindi cinema, a talented actress, Queen of Shenshah of Bollywod, mother of Guru of Indian film Industry, a perfect homemaker………… and the list is inexhaustible.
Yes friends, you all are impeccable in guessing that she is none other than Mrs. Jaya Bachchan.
We all wish her a happy birthday in advance and hope that this birthday be just the beginning of a year filled with happy memories, wonderful moments and shining dreams.
Our astro analysis will provide you an insight into Jaya Bachchan's future.
Celebrity's birth times are generally disputed and it is very difficult to find their actual birth time. But from various resources, Ganesha could confirm that Jaya Bachchan is born with Capricorn Ascendant.
Jaya Bachchan's Natal Chart
Jaya Bachchan's Natal Chart
Presence of powerful (Swagruhi) Venus in the fifth house of performance in her Natal chart indicates that she is a very nice actress. Debilitated Mars' exalted aspect on the Ascendant indicates that she is a confident woman by nature. However, Moon in Pisces makes her a sentimental person. With Sun and Moon in Pisces she has scope of being inclined to spirituality, notes Ganesha. Transiting Jupiter was passing through Capricorn and was retrograde on the day of Marriage with Amitabh Bachchan i.e. 3rd June 1973.
Overview of Jaya Bachchan's Year Ahead
As her time of birth is not perfectly accurate, instead of Solar Return chart, Ganesha uses planetary transits to sketch the picture of year ahead. Ganesha notes that Saturn and Rahu opposition hitting her 2nd house-8th house axis is getting over in the month of April 2008 but it will then hit first and seventh house axis of her Natal chart. Transiting Ketu will be passing over Natal Saturn and Mars and Rahu will be transiting through the Ascendant. This composition may give her some hard times till 17th November 2008. Jupiter and Rahu will be conjunct in her Ascendant for some months, so she will have to keep away from controversies. Her health may also suffer in coming one year. Chances of accident/physical injury/surgery are also there with Ketu's transit over Saturn, Mars and Pluto posited in the seventh house. She may take more active participation in politics during next one year and may also remain in limelight on and off.
Jaya Bachchan's Jupiter Return and Year Ahead
Ganesha observes that her Jupiter Return has happened on 17th December 2007. The Return chart has Gemini Ascendant with retrograde Mars in the Ascendant itself. Moon is very well posited in the 10th house being second house Lord. It is to be noted that it's seventh house of public image's Lord in the Natal horoscope. Venus is Swagruhi in the fifth house. Mercury, Sun, Jupiter and Pluto are in Stellium in the seventh house of Return chart.
Jaya Bachchan's Jupiter Return Chart 2007
As such Jupiter Return marks very important year in anyone's life so for Jayajee too. Many famous personalities have achieved great fame during their Jupiter return, which includes Princess Diana, Marilyn Monroe, Sachin Tendulkar, Madhuri Dixit – too longer a list. However, this depends on the Ascendant of 'Jupiter Return Chart'. In fact, in case of any Return chart, the Ascendant holds prime importance. The Return chart also indicates that concern for the family and specifically for the husband is likely to increase. She may be dealing with some issues related to morals but may be in a mood to preach others and hence may start giving bold statements too, during this year, feels Ganesha. Dealing issues regarding morals doesn't mean 'immoral activities' but it means that at least there will be some questions against her moral values about various matters. She is a very wise human being with Jupiter in Sagittarius and Sun Moon conjunction in Pisces in the Natal chart so she has capacity to handle issues, very tactfully. She might travel frequently or more than usual at least, during this year.
On the very positive side, Ganesha foresees her becoming a bit active in social work and film industry both, during this year. So we will be able to see appearance of such a fine actress, if not on and off, at least some glimpses here and there in media too. Ganesha would not be surprised if she receives some award or special appreciation for her achievement during the year ahead.
With positive happenings expected we all wish her that she doesnot just see a year older, but a year better. Ganesha wishes many happy returns of the day to Jayajee and also wishes her good luck for all the endeavours.
With Ganesha's Grace,
Bhavesh N. Pattni
www.GaneshaSpeaks.com
---
---
Get 100% Cashback On First Consultation