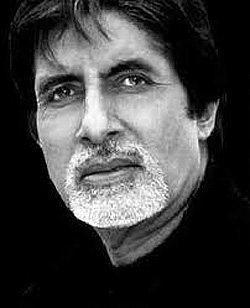 When he says, '
Mein aur meri tanhaai, aksar yeh baatein karate hai'
, you can actually feel the depth of loneliness he is trying to express. When he says, '
Don ko pakdana mushkil hi nahin, namumkin hai'
, you actually believe it to be an impossible task. And when he says, '
Namaste, ji mein Amitabh Bachchan bol raha hun'
, the feel of a close friend calling is unmissable. Big B, with his mesmerising voice and gifted acting skills, has made a special place for himself in the hearts of his innumerable fans all over the world. The superstar who celebrated his 69
th
birthday on 11
th
October continues to be the most bankable celebrity in the country. With numerous awards, honours, recognitions, films, and not to forget the plenty of endorsement deals in his kitty, Amitji, as people fondly call him, is still going strong and can give any young actor a run for his money!
Ganesha, with the help of Vedic astrology, predicts the year ahead for this living legend.

11
th
October, 1942
17 hours (War time to be deducted)
Allahabad, India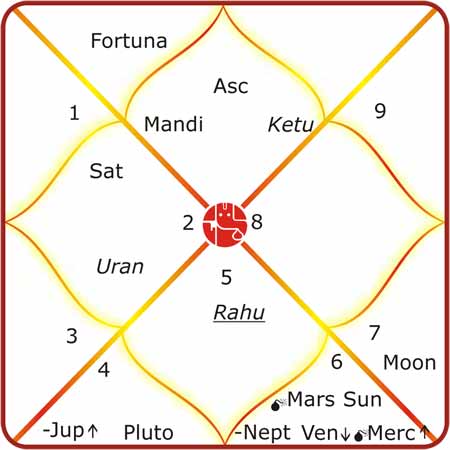 Astrological Observations
In Amitabh Bachchan's chart Jupiter will be transiting through the 3rd House till May 2011, after which it will be transiting through the 4th House of domestic matters.

Ketu and Rahu are already transiting over the 4th House - 10th House axis.

Ketu Dasha is in force, and it will show its effects throughout the year.

Saturn is currently transiting through the 8th House of his Natal chart over the stellium of four planets – Venus, Mars, Sun and retrograde Mercury.

Post November 2011, Saturn will be transiting over his Natal Moon placed in the Bhagya Bhuvan. That's when second phase of Shani's Sade Sati will begin.
Astrological Predictions
Considering Dasha Bhuktis and planetary transits, Ganesha feels that during the year ahead, Amitabh Bachchan would be busy working but he may face health issues.

Issues at the domestic front may also keep him emotionally disturbed.

Ganesha feels that this is going to be a slightly different year for Mr. Bachchan due to Rahu Ketu's transit through the 4th House 10th House axis. He is likely to do different roles this year.

In Amitabh Bachchan's Nirayana Solar Return chart his birth place has Venus in Libra Ascendant. We can thus continue to expect good performance from him and like always, he is not likely to disappoint us.

On the other hand, Muntha (the sensitive point) is with Rahu in the 2nd House of this Solar Return chart indicates that either family or finance will remain a cause of concern.

The influence of Ketu Dasha is the most striking feature of Mr. Bachchan's chart. Ketu is placed in the Ascendant, which signifies the philosophy of life and spirituality. Therefore, Ganesha feels that matters related to these subjects are going to attract his attention and because of that, he may select films that are not completely commercial. He may choose to do off-beat movies.
With Ganesha's grace,
Bhavesh N. Pattni
The GaneshaSpeaks Team