It is that time of the year again! From the myriad short-listed, a path-breaking feature film is selected to represent India at the world cinema level at the coveted Oscars. It's our ticket to international fame! Or, is it really? Do we (read- the selection committed, the involved guild et al) really give that enough profound thought to ensure that whatever entry is staged finally is excellent enough to represent our booming nation at an international platform? Naturally, there are controversies surrounding this issue year after year.

This year is no different! India's chosen entry for the Best Foreign Film Category this time is a surprise one – a Gujarati film – The Good Road – written and directed by Gyan Dorrea. The Good Road, selected from a total of 22 features in the race, is an interesting story of three intertwined tales, all of which are related to the centre of action – a highway in the Kutch region of Gujarat. The selection jury member Goutam Ghose said that the film manages to capture the read India, and India that is hidden under layers.

The Good Road competed against the prime heavy-weight and hugely popular contenders Bhaag Milkha Bhaag, The Lunchbox, Vishawaroopam and Celluloid among others before it made the coveted slot. Many film-makers, however, have lashed against this choice, and have publicly vented their disappointment. Buzz is rife that a petition may also be filed, requesting the authorities to not send this film to the Academy Awards. According to a certain section, also against the selection of The Good Road, there may be some vested interests playing a major role here.
Ganesha looks at the release time chart of this movie to predict the road ahead Release time chart has Saturn and Rahu 10 degrees apart from each other in Libra. The Moon is debilitated and Venus is placed in the Ascendant in the release time chart. Mars, Jupiter and retrograde Mercury are placed in Gemini and the Sun is in Cancer.
The Good Road's release date is 19th July 2013.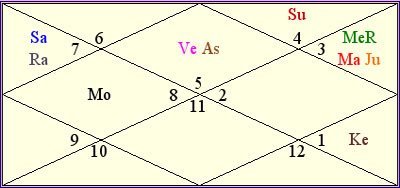 Will The Good Road get nominated in the Best Foreign Film category at the Oscars?
This movie has already won an award for the best Gujarati film at 60th National film awards. There is a strong possibility that this film may also get nominated in the Best Foreign Film category at the Oscars, feels Ganesha. However, the film is going to be criticised very much, and it is surely going to create great controversy. There will be many issues related to the film, which will come to the fore in the due course of time.

If yes, will it go on to win the Oscars?
The Oscars – 86th Academy awards will be held on 2nd March 2014 at Hollywood, LA, CA, USA. Mars will be retrograde when Academy awards will be held, which is Yogakaraka planet of the release time chart. Moreover, Venus, the Lord of the 10th House, in the release time chart was exalted in transit - when film won the National film award in India. At the time of Oscars, Venus will be in Capricorn – a friendly Sign. Considering this, Ganesha feels that The Good Road may win in some category, but won't win the Best Foreign Film award. Unless the film is enforced to win Oscars through other means, the chances of this film winning Oscars are very feeble.

Will all the recent controversies surround it die down any time soon? Are the planetary positions in support of The Good Road?
The planetary alignments clearly indicate that the recent controversies will not die down soon! In fact, there are chances of the controversies heating up by the day, and it may all become more intense, before the film reaches some stage at the Oscars. There will also be strong opposition from people or media for the selection of The Good Road, as India's official entry to the Oscars next year, feels Ganesha.


Ganesha's Grace,
Bhavesh N. Pattni
The GaneshaSpeaks Team