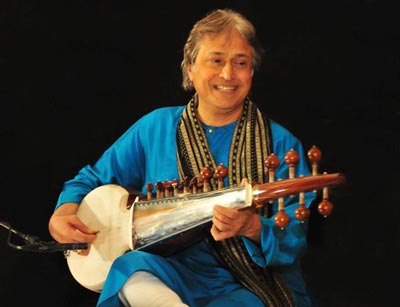 Ustad Amjad Ali Khan – Indian Sarod Player 
Date of Birth: 9th May, 1945
Birth Time: 23.00 Hrs.
Place of Birth:- Gwalior, Madhya Pradesh, India
NATAL KUNDLI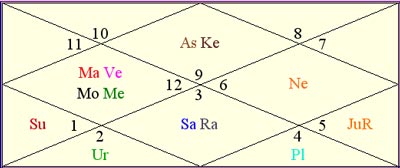 The Planetary Picture:
Ustad Amjad Ali Khan's Venus,   the planet of music and arts placed with Mercury the planet of skill and versatility, the Moon the  planet of determination and attainment and Mars the planets of  energy and power in the Jupiter's sign of expansion Pisces. The combination of these four planets given him the highest successive 
The brightest highlight in the Natal Chart of Ustad Amjad Ali Khan is the placement of Venus – the Karaka of creativity, arts and music in its Sign of exaltation (Pisces) and its combination with the Moon, Mars and Mercury. Venus renders upon him great artistic brilliance, the Moon blesses him with amazing imagination, the Mars gives him tremendous energy and spirit and the Mercury provides him with versatility and adaptability. 
Ganesha points out that the placement of an exalted Venus in the Sign of exaltation, that too in the Kendra sthana gives rise to one of the Panch Mahapurusha Rajayoga – the Malavya Yoga. 
The placement of the Lord of the 9th House – the Sun, in the 5th House and the placement of the Ascendant Lord Jupiter in the 9th House results  into a Parivartana Maharajyoga and this enabled him to win large scale recognition and awards.   
His Natal Vargottama Mercury in the chart has also blessed him with a great understanding of music and arts. He also achieved unmatchable success in the world of music as a vocalist and attracted the masses. He has millions of music lovers and ardent fans of Indian classical music, who follow his magical music devotedly! 
Owing to a powerful Venus, he could give remarkable performance throughout as a legendary classical  musician.  Jupiter's aspect to  the Sun, the planet of rise and shine, adorn him with  fortune to gain the great popularity in India and all over the world also. 
The aspect of benefic planets the Moon ,Mercury  and Venus to the 10th house blessed him with steady and long run artistic journey and made him an outstanding figure in the field of traditional music. 
He has good/artistic control on his fingers to play Sarod with ease and brought him immense popularity which has created the history. 
Such beautiful placements and combinations of planets in the Horoscope Ustad Amjad Ali Khan's Natal Chart have blessed him Khan with great renown and recognition. He is an artist, who shall forever be renowned as the legend of Sarod, who has gained extraordinary prominence due to his improvisations with Sarod, holding number of national and international awards. 
Ganesha wishes good luck and bright future ahead to Ustad Amjad Ali Khan.
With Ganesha's Grace,
Rantidev A. Upadhyay
The GaneshaSpeaks.com Team