The debonair Dev enters 85th Solar Return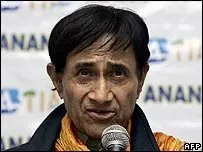 The handsome, the stylish, the debonair Dev Anand is celebrating his birthday today. Dev has always been much loved and lauded by film industry and his fans across the world. His hair style, dressing and dialogue-delivery have been widely imitated by his successors in Hindi film industry. Ganesha would like to throw light on his silver screen life.
Dev Anand was born on September 26, 1923 at 9.30 am in Gurdashpur, located in Punjab. He was born with Tula Lagna (Libra Ascendant) and lord of ascendant is Venus, posited in 12th house. Venus, the significator of acting as well as modeling, is Swagruhi (in its own sign) in Navamansh chart. This makes Venus powerful. Moreover, there is aspect between Moon and Venus, which encouraged him to become an actor and he made it possible. Libra, the sign ruled by beautiful Venus, makes him one of the greatest stars the Hindi film industry has ever seen. His ascendant lord is Venus, which showers beauty and elegance on him. This ascendant helped him successfully play the roles of an urban character with a bundle of suave.
---
2nd lord Mars
The 2nd lord Mars is posited in the 11th house of fulfillment as well as benefit from other person. For this reason he was soon offered a break as an actor by Prabhat Talkies to star in Hum Ek Hain in 1946. The Jupiter is powerful in 1st house and is aspecting the 5th house of amusement, 7th house of philosophy as well as 9th house of luck. Thus Jupiter has been contributing for his powerful achievements.
From the June 12, 1941 to June 12, 1961, he was under the influence of major period of Venus, which was his fruitful period. In 1948, when Venus was in its own sign in Navmansh chart, he was signed by Bombay Talkies for its Ziddi, wherein he costarred with Kamini Kaushal. Ziddi was a huge success for Dev. The period between 1950 and 1960 was fantastic and profitable. He had earned name and fame, awards, honours and recognitions. He was nominated in the category of the Best Actor for his 1955 movie Munimji, and after three years, he was selected as the Best Actor for his Kala Pani. In 1959, 1960 and 1961, he was nominated in the Best Actor category for Love Marriage, Kala Bazar, and Hum Dono. Sun, the lord of 11th house of fulfillment, was posited in the 12th house with Venus. He was under the influence of major period of Sun from the 12th June 1961 to 12th June 1967. The period brought glory in the form of Guide, which proved him a complete actor. Venus played a good role behind his major achievements.
---
major period of Jupiter
Devanand has been under the positive influence of major period of Jupiter, which is posited in 1st house. This period of Jupiter has already been started from 12th June 2002 when major period of Rahu was completed. Jupiter has generally been associated with good luck and fortune. Optimism and growth come under its rule. Jupiter is also associated with a sense of humor, goodwill, and mercy.
About his future, Ganesha says that the year 2008 is favorable for him. At present he is under the influence of sub period of Mercury, which is exalted in his Natal chart. From the end of November 2007, transiting Jupiter will pass through 9th house and will aspect the 1st house of advantages, 3rd house of arts and drama. He may be involved in film or direction. His career may be built around the way he appears or presents himself. His ability to mesmerize others is key element for his success. The position of Jupiter in 1st house is denoting good and long life plus enough power for getting success. Devanand is successful by his artistic excellence. He possesses a truly artistic spirit in his life. He readily acquires the knowledge. Rahu is powerful in 11th house. Moreover Rahu and Ketu are Swagruhi in Navamansh chart, and Rahu & Ketu both are rulers of south-west direction. Bombay is located in south-west direction from the Punjab. This location is very important in his career as an actor. Transiting Saturn is passing through 11th house with the addition of Jupiter, greeting the next year with favours for him. He may get benefit for new deal in film industry as he is under the influence of Mercury till 18th May 2009. Mercury represents coordination as well as communication.
Dev Anand may love to keep track of all the details of his life. He may be a little nervous when things are not orderly or when things seem to be out of control, so he needs to put a lot of energy into taking care of day-to-day, practical matters. Mercury is the significator of publishing books. His autobiography `Romancing with Life' may meet a whopping success in coming days. Next year is profitable in terms of finance also. Transiting Saturn is aspecting the 1st house of its own sign Libra, which indicates that there may not be any serious problem indicates of health. However the Mercury is 12th lord, which may create some health problems for him. All in all, next year would be admirable for him.
Ganesha wishes him a very Happy Birthday and evergreen `romancing' days in life ahead.
Ganesha's Grace,
Nikunj Suthar,
The GaneshaSpeaks Team
---
---
Get 100% Cashback On First Consultation