Sunny Deol Birthday Prediction: Year 2021 for Actor turned Politician
For 90s audiences, Macho meant Sunny Deol. An action star in the real sense who is also a great actor, Sunny Deol was one of the most bankable names in Bollywood. He redefined the Hero stereotypes of the industry, where a common man was no longer in the hands of the system, but fighting against it successfully. Those roles made him all the more relatable, and for a whole generation, he became a man everybody wanted to be!
He was one of the first stars to bring the fitness factor in the industry. His "Dhai Kilo ka Haath" wasn't there just for the dialogues! It made him a believable action hero. In those movies, he literally muscled away all the goons and corruption with his bare hands. He was not the He-Man all the time, though. He started his career with romantic hits like Betaab, Sunny, and Sohni Mahiwal, on a promising note.
His career-changing hit was Ghayal. Though he was already an established action star by then, the film was incredibly successful and established Deol as an actor as well. Similar was the case with Damini, where he played a lawyer with his famous 'Tareekh pe Tareekh' dialogue. The movie led him to win National award as well as Filmfare award for Best Supporting Actor. These are the two movies that made him a household name.
Are you expecting a big break in your career as well? Find out what stars have in store for your professional life in 2021 with Career Report 2023, personalised for you by our acclaimed astrologers.
'Border' and 'Gadar' are some of the highest-grossing movies for the respective years they released, the latter bagged him an award for 'Outstanding Performance' and new heights of commercial success. The movie also started his partnership with Anil Sharma, with whom he later worked in 'The Hero: Love Story of a Spy' and 'Apne' (with his brother Bobby and father Dharmendra). His latest work includes Yamla Pagla Deewana series and Directing his son Karan's Debut movie "Pal Pal Dil Ke Paas".
On this October 19th, his fans are ready to celebrate the star's 64th birthday with his famous dialogues and movies. But, Yara O Yara, don't forget to groove on those trademarked dance moves. On this special occasion, we have something special to share, too. We bring you an astrological prediction of Sunny Deol's year ahead, based on his birth chart. Let's Dive in!
---
Sunny Deol Birth Chart:
Date of Birth: 19th October 1956
Time of Birth: Not known.
Place: Sahnewal, Punjab, India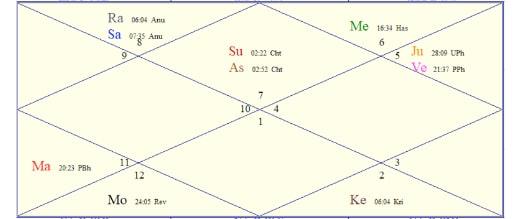 Get Your Hand-written Janampatri By Our Experts.
---
Sunny Deol Horoscope by Date of Birth:
According to his date of birth, Sunny Deol's Zodiac Sign is Libra. As we do not have the exact time of birth, we would be analysing his Surya Kundli. The time of birth is essential for the accurate future prediction of the native. However, with Surya Kundli also, we can understand a lot about someone's personality and the factors that affect their past, present, and future.
With a personalised Janampatri based on your birth details, you too can make the best out of the planetary positions and make the right decisions for the future with important matters of your life.
We can see the mutual aspect of Venus and Mars in Sunny Deol's Kundli. The venus is an indicator of how he was always supposed to be working in an industry related to entertainment. Mars is what fuels that desire. With the combination of two, we can see how Sunny Deol has had a great interest in the entertainment industry and a desire to excel in it, by following the footsteps of his father.
His dedication to fitness and the discipline towards it may be a result of Jupiter in Uttara Phalguni Nakshatra. He may also have followed the same discipline in personal life, to achieve success and be where he is today. That combination may also have made him enter his second career, the politics. Ganesha predicts that he may be a successful constituent for his constituency Gurudashpur and is likely to meet with the expectations people have from him.
His health and fitness is something he needs to take care of in the upcoming year, as he may find it hard to take a time-out for himself. This issue, however, may only be prevalent till March 2021, and the months after that are not likely to cause Sunny Deol any trouble.
---
---
Get 100% Cashback On First Consultation