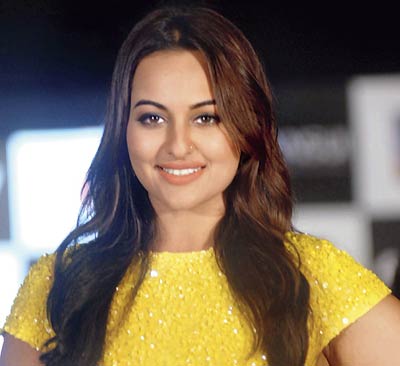 Vivacious Indian actress Sonakshi Sinha started her career as a costume designer for movies. Daughter to the yesteryears' popular actor Shatrughan Sinha, the beautiful young woman was soon spotted by film-makers as someone who should be rather working on-screen than back-stage. Pretty Sonakshi made her debut as Salman Khan's leading lady in the highly successful action-drama Dabangg, for which she bagged the Filmfare Award for Best Female Debut. Also fondly known as Sona and Shotgun Jr., Sonakshi has already featured with top actors of B-town, and is considered as a good luck charm by many, thanks to the fact that she has some back to back blockbuster movies like Rowdy Rathore, Son of Sardaar and Dabaang 2 to her credit. The charming lady with flawless skin and expressive eyes was even nominated for the Filmfare Award for Best Actress, for her performance in the film Lootera. Sona recently made her Kollywood debut with the movie Lingaa.

The strong and confident Sonakshi, who has proven her detractors and critics wrong on many occasions, celebrates her birthday on 2nd June. Till now, she has refused to give into any criticism, be it about her weight or her relationship status. Will she maintain her upbeat approach in the years to come? How will her forthcoming films and personal life fare? Ganesha looks her Sona's Solar Horoscope to predict the way ahead for her -


Sonakshi Sinha Date of Birth :-

02nd June, 1987

Time of Birth :-

Not known

Place of Birth :-

Patna, Bihar, India

Surya Kundali (Solar Horoscope)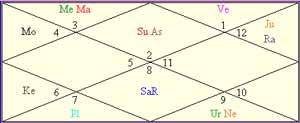 As the birth time of celebrity is not available, the details are based on the Solar Horoscope (Surya Kundali), created with the help of the person's birth date and place only.

Astrological Observation:-


Currently, the retrograde Saturn transits through the 7th House from Sonakshi's Natal Sun, and this shall continue till 2nd August 2015 (and further from 25th March 2016 till her next birthday). This way Saturn will give a negative aspect to Sona's Sun .
Mercury, the Lord of the 5th House (House of performance) is placed in the 2nd House with Mars.
Jupiter will be transiting through the 4th House in Sonakshi's Chart from 14th July 2015, and it will give a positive aspect to Venus placed in her 12th House, and will also form a Square aspect with her Natal Sun.
Ketu will be transiting over Sonakshi's Natal Jupiter till January 2016. Also, the period up to January 2016 is also the Rahu Ketu half return phase for her.
After January 2016, the transiting Rahu Ketu will form a Square aspect with her Natal Sun.
Astrological Predictions

Due to Saturn and Rahu's adverse transits happening in her Chart, chances of her finding a suitable match/life partner are lesser during the next one year.
The transit of Rahu over the 5th House of performance in her Surya Kundli aspects Jupiter. This may keep her busy in films and television projects, but overall Sonakshi wouldn't be satisfied with her own performance.
Jupiter's transit through her 4th House looks quite hopeful for her. till her next birthday, though, as the transiting Jupiter will give positive aspect to Venus, and be in Sextile aspect with her Natal Mercury and Mars. She will remain more active during next one year for her career.
Ganesha, thus, foresees her career graph going upward by her next birthday.
Ganesha feels that post January 2016, when the transiting Rahu and Ketu form a Square aspect with Sonakshi's Natal Sun, she may face some obstacles in her career.
Overall, though, her career progress, as an actress, looks set to be good during next one year. But, the transiting Saturn's Opposition aspect to Natal Sun indicates that she will have to work harder in order to prove her mettle.

Ganesha wishes a happy birthday to Sonakshi Sinha and also a great year ahead.

With Ganesha's Grace,
The GaneshaSpeaks Team