Shani's Sade Sati spells tough times for Big B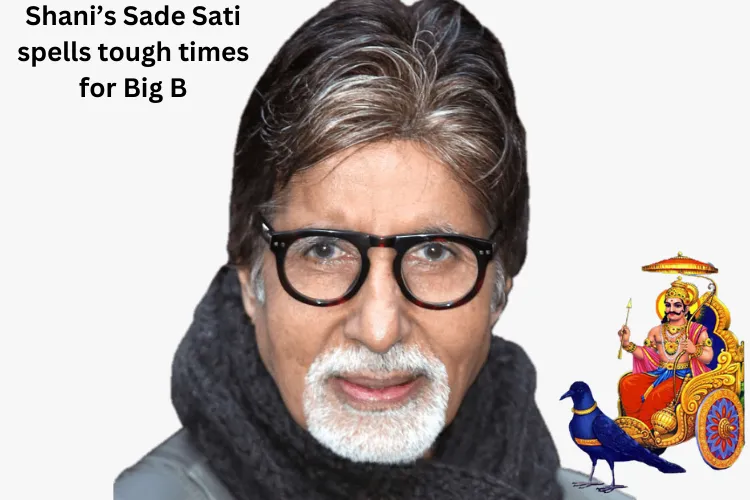 Amitabh Bachchan's unexpected blog about his deteriorating health has sent a shock wave across the country, and has left his innumerable fans stunned. The blog mentions that he is suffering from Liver Cirrhosis and that 25% of his liver has been destroyed by the disease. The 67-year old Big B is still going strong in terms of his magical spell on the silver screen. However, now it seems that the audience may get to see less of Big B's dashing personality as his liver ailment, which is now revealed to the 'aam janata', is just one of the many ailments he suffers from.
After the near fatal intestinal injury during the filming of a fight scene for Coolie, it was vigils, prayers and wishes of his millions of fans that brought back the Shahenshah of Bollywood from the jaws of death. Will our prayers work this time too? Ganesha predicts Amitabh Bachchan's health with the help of Vedic Astrology.
---
Amitabh Bachchan
11 October 1942
17 hours 00 min.
Allahabad, India
---
Vimshottari Dasha
---
Astrological observations
Being Ascendant Lord, Saturn is transiting through the 8th House in Amitabh Bachchan's chart.
He is under the influence of Shani's Sade Sati (first phase).
In a horoscope, Venus rules the liver. Saturn is transiting over Natal Venus being the Lord of the Ascendant.
Ketu is placed in the Ascendant. Ketu Dasha and Rahu Bhukti will rule till 7th January, 2011.
After the month of May 2010, transiting Jupiter will aspect the 8th House and Natal Venus.
---
Astrological Predictions
Ganesha foresees tough time for Amitabh Bachchan as far as health is concerned. This will continue till 7th January, 2011 because of Ketu Dasha and Rahu Bhukti, specifically because Ketu is placed in the Ascendant and signifies 'self'.
Sade Sati's first phase is going to be tough for him, so health may deteriorate gradually; however as Jupiter is going to enter Pisces in May 2010, it may help him find a solution to his ailments.
Ganesha's foresight says that because of Shani's Sade Sati and adverse Dasha Bhukti's influence, now onwards he will have to be extra cautious about his health. Next five years will be crucial for him from health point of view.
Laghu Rudra for Rahu Ketu Shanti, along with the medical treatment will help him recover faster.
Good luck and may Lord Ganesha bless Amitabh Bachchan with speedy recovery.
With Ganesha's Grace,
Bhavesh N. Pattni
www.GaneshaSpeaks.com
---
---
Get 100% Cashback On First Consultation