Sara Ali Khan Birthday Forecast 2019 – Positivity and Passion to fill her life
Sara Ali Khan is leading the life all of us have always wanted. One, she is a real-life princess. Two, she will be romancing Kartik Aryan in her next movie. Three, she's already romanced Ranveer Singh. And four, she is gorgeous and wealthy. Who wouldn't want to be her? Also, she is super-smart! We love beauty with brains. Always! As she celebrates her birthday on August 12, 2019, let's have a look at her short and sweet life. PS: Sara Ali Khan's zodiac sign is Leo! And she truly is one! Find out more about YOUR Zodiac Sign here.
Sara Ali Khan was born in the Nawabi family of Pataudi to Saif Ali Khan and his first wife, Amrita Singh. She grew up to be an intelligent student at Columbia University (New York), where she majored in History and Political Science. Here's a factoid for you- She finished her studies within three years and took off the remaining year and a half to focus on weight loss. Sara was diagnosed with PCOS, which was the primary reason for her weight gain. Once she got done with her fitness journey, she returned to India looking better than ever.
Once in India, Sara Ali Khan debuted with Abhishek Kapoor's Kedarnath (2018). And let us tell you, she was extra awesome in the movie. No one in the multi-verse could have guessed that it was her first movie. That film won her the Filmfare for the best debut! The same year she starred in Simmba, which became the third highest-grossing film of 2018. At this point, we can't wait for another Sara Ali Khan movie!
Well, that's about it regarding her life. Let's hop right into Sara Ali Khan's kundali to sneak-a-peek into her future.
Sara Ali Khan Birth Chart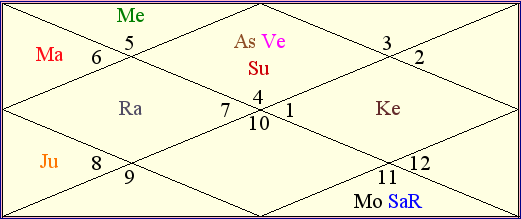 Astrological Observations
Natal Sun in Cancer
Her planetary combinations indicate that she is imaginative, caring, and peace-loving by nature. She has a strong drive for recognition and acceptance. She has a great attachment towards family and home. Sometimes she may be moody, touchy-feely, and possessive too. She takes time to take decisions, sure, but her judgments are definitely based on practical grounds.
Saturn in Aquarius
The Saturn is in its own sign, Aquarius in her chart. She is a self-disciplined person with the inner strength to achieve all her desires. She is capable of handling every situation wisely. She can see a broader picture of the circumstances, which is one of her greatest strengths. She is able to plan ahead and organize her life systematically.
Sara Ali Khan Birthday Predictions- The Road Ahead
The upcoming period promises to be a fab year for Sara Ali Khan. Currently, the transiting Jupiter is influencing her natal Sun and Venus, which will bless her with success, name, and fame. Post-November 2019, she is likely to get new projects, giving her a superb opportunity to move ahead in her career. People in the film industry will count on her, and she will be able to outperform the expectations of the production houses. Her resourceful and creative nature will help her understand her roles to the core.
She may face some health issues in the first half of 2020, which may demand her immediate attention. Health issues can delay the production of her forthcoming films. Ergo, Sara Ali Khan needs to be really careful about her health. The good thing is that she will be able to deal with the madness perfectly well.
Overall, the positive transition of Jupiter will help her in earning name, fame, and success; and she will be remembered for her valuable contributions to the film industry. Know more about your upcoming year- Talk To An Astrologer Now!
Have the happiest of birthdays, Sara!
With Ganesha's Grace,
Acharya Shandilya
The GaneshaSpeaks Team