Sara Ali Khan Horoscope – Future Super Actress of Bollywood!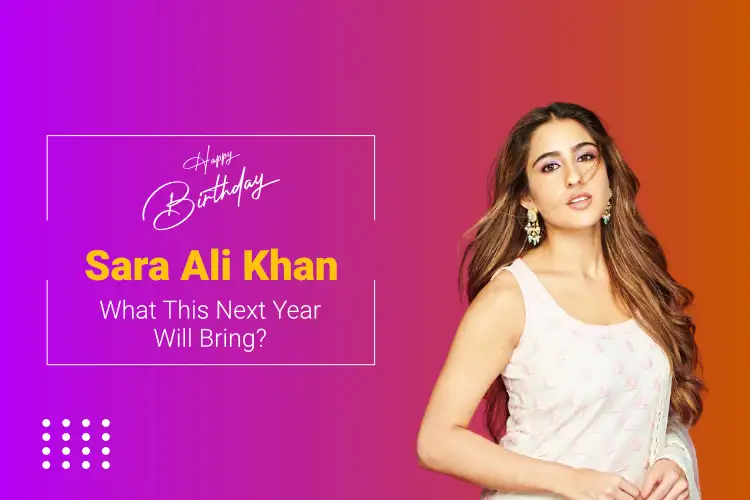 Born and brought up into the Pataudi family and gorgeous daughter of Bollywood actor Saif Ali Khan and actress Amrita Singh – Sara Ali Khan is an emerging actress. She has just started her journey in Bollywood and has soon amazed everyone with her performance. Although she was overweight and fat, with hard work and dedication to become an actress, she forced herself to become fit and slim. Moreover, she completed her graduation from Columbia University in New York. With her first break in the "Kedarnath" movie in 2019, she continued the journey upwards with the blockbuster "Simbaa" directed by Rohit Shetty. Soon she mesmerised everyone with her acting skills and it's clear that she is here to stay long in the glamour world.
So what makes her so special, let's reveal with the help of Vedic Astrology.
As per Sara Ali Khan horoscope, she is born Cancer Sun which makes her a truly emotional and sensitive person. Cancer is all about creativity and having the soul significator Sun in it makes her a very artistic soul. Moreover, the creative planet Venus is also placed in the sign of Cancer which again makes her an extremely talented and compassionate person. Cancer Venus is very good for the actor's profession and makes her flourish in her artistic expression. She is very intuitive as well and at the same time, the conjunction of Sun and Venus adds another fuel to fire. This conjunction is blessed with beauty, glamour and truly an artistic talent. Mercury is also placed in the brighter sign Leo which assists her to express verbally at its best. She can create magic with words with the help of Leo Mercury that again adds a lot of energy to her artistic persona.
Know the real strength of the planets. Get premium janampatri and reveal all secrets of your life.
---
Sara Ali Khan Horoscope By Date of Birth
Sara Ali Khan Date of Birth: Aug 12, 1995.
Time of Birth: Unknown.
Place of Birth: Mumbai.
Sara Ali Khan Kundli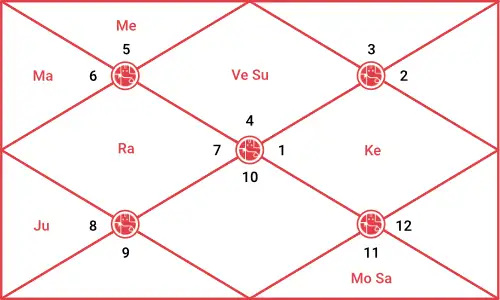 ---
What The 2021 Year Brings To Her
As per Sara Ali Khan kundli, we can expect this 2021 year will be a huge turning point for her career. Taskmaster Saturn transit in Capricorn will surely make her more serious about her career. She has just started her career and Saturn transit will truly bring more maturity to her personality making her more choosy. Benefic Jupiter transit in Aquarius will also bring growth in her career. As Jupiter transits over the natal Moon and Saturn, this may also trigger some special events in her life. We can expect she might be working with the topmost production houses and her popularity will increase too. Moreover, she is going through Saturn mahadasha and Saturn antardasha which again build a strong foundation for her future success. Just go ahead, gorgeous lady!
---
Gorgeous Girl Health In Pandemic
Health will not be a problem for her this year as per Sara Ali Khan natal chart. During her birthday, Mars transit in Leo will surely boost her energy and make her more active in health-related matters. Taskmaster Saturn and benefic Jupiter both transit will work in her favour this year. Divine Jupiter transit in the eighth house will protect her in adverse times. Smoky Rahu transit in Taurus is very beneficial for her and because of this impact, she may be mentally healthy and may enjoy her life being a free spirit. As she is going through Saturn mahadasha due to Saturn's impact, she may become more serious about her fitness too. So, it is a very good time for health. Keep smiling!
---
Upcoming Movies
A very good time for her upcoming movie "Atrangi Re" starring Akshay Kumar. The movie is releasing in August 2021 so transiting Jupiter in Aquarius will indicate a strong success for her career. August transits will be very crucial for her career and movie release will again increase her popularity. Mars and Venus transit in Leo will create strong energy to move ahead with full confidence. Moreover, Saturn mahadasha will bring many more opportunities in future but Saturn will make her career strong this year by giving proper direction to select roles. So it's a very good start!
What 2021 has stored for you? Get your personalized 2023 horoscope report
---
Wealth For Gorgeous Star
This year may not be good for her wealth prospects. She may not be able to get the desired results that she wants. Planet of restrictions Saturn transit might delay but the taskmaster always blesses later. Beneficial Jupiter transit in eight houses might bring unexpected wealth for her. This 2021 may not be that good but 2022 will be better and far brighter than this. Moreover, she is going through Saturn mahadasha. It may also create some hurdles to generate more wealth in 2021. Nevertheless, 2022 will finally kick start more monetary gains.
What 2021 brings you the complete package? Get 2023 yearly highlights report.
---
New Investments and Businesses
As per Sara Ali Khan astrology, she may not invest in new ventures this year. She will be more focused on her work and professional commitments. Even though Saturn transit in Capricorn is very good to start on her own, she doesn't want to. Good time to plan things in advance for future development. Yes, a very good time for her to endorse new brands and products and she will definitely do more. Moreover, Rahu transit in Taurus will increase her materialistic desire and help her to gain it too. The 2022 year will trigger major events in her life in a positive way so choosing the correct project will be crucial for her to get future success.
So, yes, a very good time for her. She is going through a phase where she needs to be more alert. Casualness and lack of awareness might affect her future success. Next year's success will largely depend on what she accepts and rejects. In the future a very good time for love life as well, so she is in that stage where everything can turn into gold so overall a very good 2021!
We wish Sara Ali Khan – Happy Birthday and a good year ahead!
Want to Lead a Celebrity Life? Consult Our Top Astrologers Now!
With Ganesha's Grace,
Astrologers trained by Shri Bejan Daruwalla
The GaneshaSpeaks Team
---
---
Get 100% Cashback On First Consultation