Saif's performance will be enjoyed by the audiences in Phantom, says Ganesha…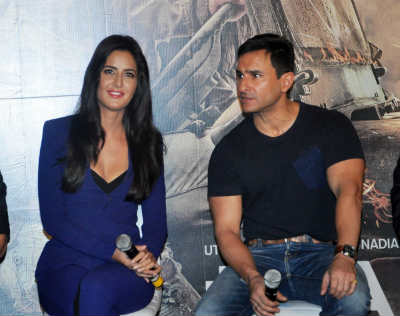 The Chhote Nawab of Bollywood and the carefree actor Saif Ali Khan hasn't been seen on the silver screen after his last movie Happy Ending, in which he played a double role. He seems to have given his best in the Kabir Khan directed Phantom, as he has reportedly performed high-octane action scenes along with his pretty co-star Katrina Kaif, who herself has performed many action sequences in the film. Many film pundits are expecting this film to do wonders to the career of the Leo Khan and establish him as a guy who means business! Let's check out what Ganesha has to say about the Hum Tum star....
Saif Ali Khan
Date of Birth :- 16th August, 1970
Time of Birth :- Not Known
Place of Birth :- New Delhi, India
SOLAR CHART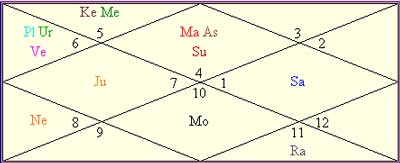 [Owing to the unavailability of credible birth-time of the celebrity, the analysis and predictions have been done on the basis of the Solar Chart/ Surya Kundli with the help of his birth-date and birth-place only.]
Astrological Predictions:-
1) Will Saif Stamp his Authority as the Nawab in Bollywood with his performance in the Kabir Khan directed Phantom?
'Phantom' Releasing on 28th August, 2015
On Phantom's release date, Mars and retrograde Venus will be in Cancer sign. Moon will be in Capricorn sign. Mars and Venus would be falling on Saif Ali's Sun and Mars.
Considering these factors, Ganesha feels that this movie will remain important for his career. His performance in this movie will be very good and it will be appreciated. Saif will once again be able to prove his mettle as an actor in this movie, says Ganesha.
Ganesha wishes a great time ahead to Saif Ali Khan for his next Bollywood outing.
With Ganesha's Grace,
Rantidev A. Upadhyay