Saif Ali Khan Horoscope 2024- New Growth and Big Changes!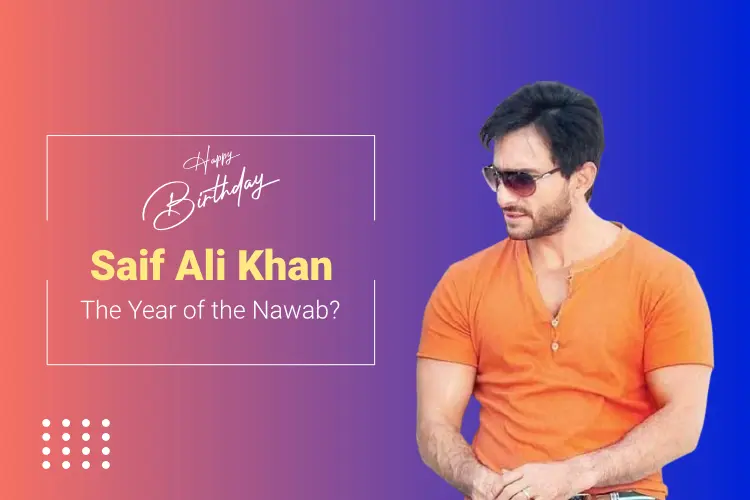 One of the most underrated Bollywood actors and widely known as Chote Nawab who is none other than Saif Ali Khan. Started his career in 1992 as a romantic hero with a cute face in Yash Chopras "Parampara" and then to be the Langda Tyagi in "Omkara", the Chote Nawab has been very versatile and amazing with his acting talent. He is such a talented actor who can act as a father in "Ta Ra Rum Pum" and at the same time, he can be very revengeful in Race. Hence, he can do any kind of role. The recent movie "Tanhaji: The Unsung Hero" was one of the best performances of his career and the role of Udaybhan is loved by everyone. He also worked as a television presenter and stage performer. He owns the production company known as Illuminati Films.
So what makes him so special and versatile in acting such that every time he surprises viewers. Many even do not know what kind of roles he will bring on screen and every time increases the curiosity of his films. So let's talk about it.
As per Saif Ali Khan kundli, Sun is placed in the sign of Cancer, which makes him a very creative and imaginative person. Sun is the soul significator in astrology which really boosts his strength for an acting career. As Mars is placed in feminine Cancer, it adds a lot of sensual needs and gives him the ability to act as a true romantic hero. Sun and Mars conjunction makes him a bold and fearless person as well. He is blessed with Mercury in the Leo sign which gives him amazing communicative power. Leo Mercury always helps in performing arts and gives unique ways of speech which again adds fuel to fire. Jupiter is placed in the sign of Libra which makes him a very funny and creative person as well which again helps to build a strong acting performance.
---
Saif Ali Khan Horoscope By Date of Birth:
Saif Ali Khan Birth Date: 16 Aug 1970.
Time of Birth: Unknown.
Place of Birth: Mumbai.
---
Saif ali khan kundli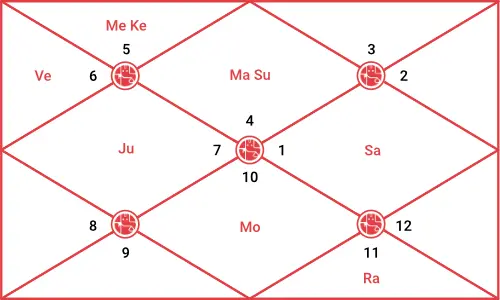 ---
How Will It Be 2024 For Chhote Nawab?
As per Saif Ali Khan horoscope, the year 2024 looks good and brings many unexpected changes in his life. Jupiter transit in Aquarius over natal Rahu can bring some unexpected new projects from him. This year he might invest a lot of time to introspect and analyse things for future development. Mars and Venus conjunction will definitely boost his desire on his birthday and transit will help him to achieve more. However, as he is going through Saturn mahadasha and Saturn antardasha so the pace of his life may not be as fast as he wants but surely he will plan things for his future.
Learn what changes come into your life with Jupiter transit in Aquarius!
---
How Will Be His Health During The Pandemic?
Yes, he needs to take care of his health as Rahu is placed in the eighth house of the natal chart but transit of Jupiter over Rahu will definitely reduce the ill effects of Rahu. He must be aware of accidents/injuries. Some unexpected health issues might suddenly come up but he will surely be able to win over them. Saturn transit over the natal Moon again brings very conscious efforts in health-related matters and that's why he may change his fitness routine/diet as well. Moreover, due to Saturn mahadasha as a taskmaster, he will take care of his health and must have a serious approach towards it.
---
Saifeena Relationship and Their Children
As per Saif Ali Khan birth chart, a very good time can be predicted for love and relationship with his beloved wife – Kareena. This year will be better than 2023 for married life and the Saturn transit in Capricorn is going to fill more romance in the air. He is born with Moon in Capricorn which always makes him very serious when it comes to his children's matters. Apparently, Saturn mahadasha will push him to plan things for his kids' future. Mars and Venus transit will definitely boost very sexual and passionate energy for couples which will add a lot of fire to their marital life.
---
Upcoming Projects and Assignments
As per Saif Ali Khan astrology, Jupiter transit in eight houses will definitely bring some new and unexpected projects for him. In the upcoming time, he will select roles that will be completely new for the audiences. He wants to change and Jupiter transit over natal Rahu will force him to do as well. Saturn transit in the seventh house also brings a new partnership for him and he would love to invest in different ventures apart from films. He will surely invest in such a manner that will be solid and long-lasting as he is going through Saturn mahadasha.
So overall a very good year can be predicted for chhote nawab. Even though 2024 started very slowly for him, we can expect a lot many things from him in the future. He is going through taskmaster Saturn mahadasha and the peak time of Saturn is yet to come. Saturn (Shani) will surely bless him and he is not going to stop.
We wish Saif Ali Khan – Happy Birthday and a good year ahead!
With Ganesha's Grace,
Astrologers trained by Shri Bejan Daruwalla
The GaneshaSpeaks Team
---
---
Get 100% Cashback On First Consultation