Rekha Birthday forecast: Are there Substantial Rewards on the Card?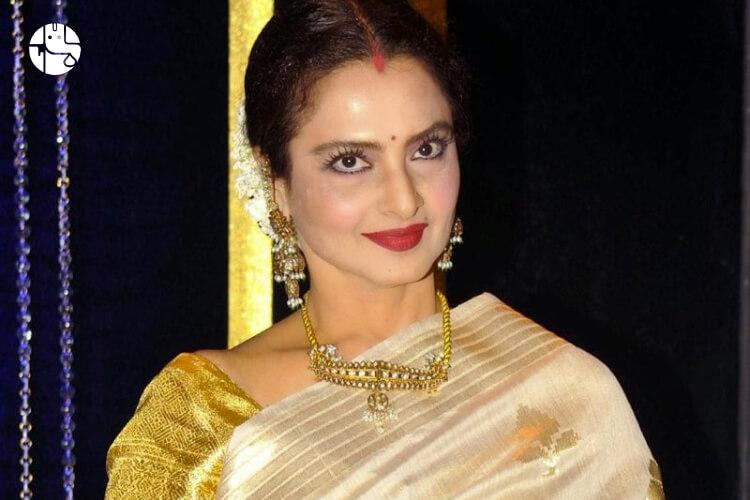 Rekha, the gorgeous beauty and a distinguished personality of Bollywood noted for her versatility and acknowledged as one of the finest actresses of Indian Cinema. From fiction to the real world, she was just a matter of praise because of her aced performance in every section of the film. Her sibylline look was so hallucinatory that she is often praised as the Greta Garbo of Bollywood.
Reka aka Bhanurekha Ganesan comes from a traditional south Indian family and a daughter to a Tamil superstar Gemini Ganesan and small-time Telugu actress Pushpavalli. The relationship between the trio was not as good as compared to the other traditional families. Due to which she had to go through a myriad of sledges since her childhood.
She was just a minor when she was forced into choosing acting as a full-time career option because of her unstable financial condition. The starting of her career as a child artist happened with the Telugu film Rangula Ratnam (1966). For which she won multiple Filmfare awards for the best feature film. Later she moved to Bollywood to advance in her career, but the journey was not as sublime as crystal water. She faced a lot of criticism about her bumpy look before making her first Hindi film debut with the Hindi film Sawan Bhadon (1970). For which she won a streak of praises for her astounding performance. During this period, she came across multiple complexion related issues, but with the talent and strength of her personality, she overcame this intensely misogynistic and patriarchal world. After that, the journey of her from the rough road to the smooth road unfolded, and she appeared in multiple award-winning films like Khubsoorat (1980), Khoon Bhari Maang (1988) and Khiladiyon Ka Khiladi (1996), respectively. Her portrayal of a classical courtesan in Umrao Jaan (1981) won her the National Film Award for Best Actress. 
Though her journey went through several thicks and thins, she always came out as an unblemished character and sustained her status in Bollywood. Now as her birthday is near and also going to be 66 this year, she might be expecting some new changes in this new era of life. So let's go and get some insight about what changes she may expect in this quarter of life based on her Surya Kundali. 
Surya Kundali of Rekha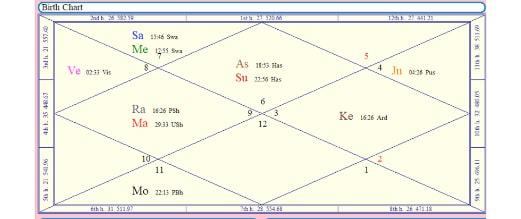 Name: Rekha
Date of Birth: 10th October 1954. 
Birth Time: Unknown. 
Place of Birth: Madras/Chennai.
What her stars say about her!
Rekha is a queen of Bollywood and a leading actress of the '70s and '80s era known for her exceptional acting skill and her charming voice. She is someone who is loved by many for her evergreen personality and over the top performance in every single subject, she chooses and can fill every word with the new life which we all have witnessed on the silver screen. 
 But trust me, this hadn't been easy for this great Diva at the beginning as she faced lots of criticism and opposites words before achieving this feat and for which she had to go through an immense transformation which made the subject of new vogue. 
All thanks to the Moon placement in Aquarius, which will make her ambitious and encourage her to climb the ladder of success. To sustain the Bollywood success that she has achieved in all these years, she needs to take up some challenging roles in the upcoming future. Thus, she can continue giving blockbuster in this competitive movie world Moreover, the exalted Jupiter in the fourth house indicates an experience of boundless goodwill and progress from all the areas of life. Some substantial rewards and recognition may come to her now. You can also know about your upcoming events and be ready to make the best out of it by unfolding your personalised Janampatri written by our expert Vedic astrologers. 
Favourable combinations Driving Rekha's Career 
The combination of Mercury and Saturn in the 7th house may prove favourable for her career. All the recognition and love she has got from the contemporaries, lead actors, fans, and other people involved in the industry of Entertainment and Cinema are due to the powerful conjunction of Mercury and Saturn. Also, she would also be rewarded handsomely for her exceptional acting skills. She may earn through brand endorsements and get more fame and be more eminent across the world as this great combination would bring all the spotlight.  
Promising Birth Chart of Rekha
The chart of this splendid actress looks promising, and it has all the ingredients that may lead her to have favourable years ahead. Further, the good part is that she would love to be independent in terms of thinking with all delicacy. Also, she would love to keep her opinion but in a very subtle manner. As per her birth chart, she would continue to glow in the times to come and could also expect some positive phenomenon in all aspects of her life. 
Moreover, at her professional front, we may expect her comeback in the sphere of world cinema where she would be winning the hearts all over again with her pleasant look and splendid performance. Reality shows maybe there in her pockets. Yaas, she may be the judge of some upcoming shows or may also host a reality show. 
On her 66th BIrthday, Ganesha wishes her good luck and healthy life for her upcoming trajectory.
To Get Your Personalized Solutions, Talk To An Astrologer Now!
With Ganesha's Grace,
The GaneshaSpeaks.com Team