Rakhi Sawant, Many Many Happy Returns of the day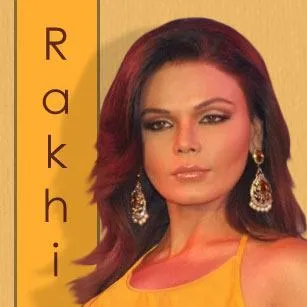 Any publicity is good publicity, or so they say. The fiery female Rakhi Sawant's claim to fame is a perfect example of how negative publicity can work wonders in one's life. All the controversies she has managed to garner so far has only added to her credentials, as she went on to grab a few fabulous film offers and a high-spirited reality show in particular. Nonetheless, the road ahead doesn't seem that rosy, predicts Ganesha as she might fade into obscurity in the year 2009.
Birth Details
DOB – 3rd February 1980
TOB – Unknown (Sun Sign Horoscope)
POB – Bombay
Astro Analysis:-
The Dragon's head and Jupiter are passing through the ascendant over natal Sun and Mercury. Transiting Saturn is passing over natal Dragon's Head, Moon, Mars and Jupiter. Transiting Saturn aspects the Tenth House of profession and aspects natal Venus the Lord of the Tenth House and also the Lord of the Fifth House of love and creativity. Transiting Dragon's head aspects the Fifth House. The Solar Arc point of natal Mercury falls in conjunction with natal Venus and is square to natal Neptune.
Predictions:-
Ganesha thus notes that the year will be a bit difficult for her, if she does not manage her public relations and affairs well. There are possibilities that she may wade out into obscurity in this year. Her creativity which was highly spontaneous and intellectual may go through a dull phase this year. Her love issues are possibly on the reverse gear mode as she may fail to find some one.
Professional success seems to slow down this year. There may be a restriction to her natural charm and charisma, notes Ganesha.
A loss of a senior member in her family is also predicted. Ganesha foresees possible power struggles with her seniors, while her over confidence may become instrumental in losing some of her contracts.
Summary:-
Ganesha feels that by next birthday, she might be lost in the oblivion. Simply put, she is a falling star.
Wishing her good luck and may Lord Ganesha bless her.
With Ganesha's Grace,
Rikhav Khimasia
www.GaneshaSpeaks.com
Talk to our Astrologers First Consultation with 100% Cashback!
---
---
Get 100% Cashback On First Consultation