Priyanka Chopra Horoscope: Unstoppable Year Ahead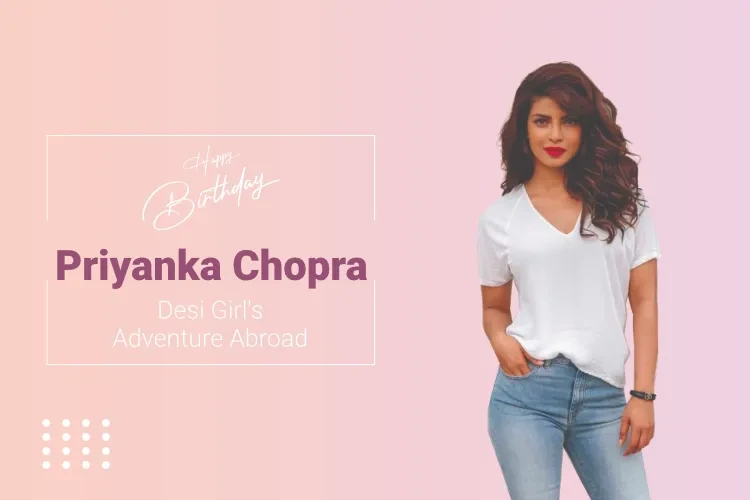 The winner of the Miss World 2000 pageant and one of the highest-paid actresses in the world is none other than Priyanka Chopra. She debuted in Bollywood with Andaaz movie and later on gave some brilliant performances in movies such as Aitraaz, The Hero: Love Story of Spy, Waqt: The Race Against Time, Yakeen, Krrish, which established herself as one of the most prominent actresses in Bollywood and never looked back.
Her talent is not only limited to Bollywood as she went into Hollywood, where she became one of the highest-paid actresses internationally. Currently ruling Hollywood, Pee-Chee is the winner of National and Filmfare awards. Also, she received Padma Shri in 2016 for contribution to Indian cinema. No doubt, she is popularly known as Desi Girl of Bollywood.
So, what is the reason for the desi girl who gave her name and fame internationally? What are the strengths seen in Priyanka's birth chart as per Vedic astrology, which brings the best performance every now and then? Well, let's reveal some of these factors with the Priyanka Chopra Horoscope.
---
Priyanka Chopra Horoscope by Date of Birth:
Priyanka Chopra Birth Date: July 18, 1982.
Time of Birth: Unknown.
Place of Birth: Jamshedpur.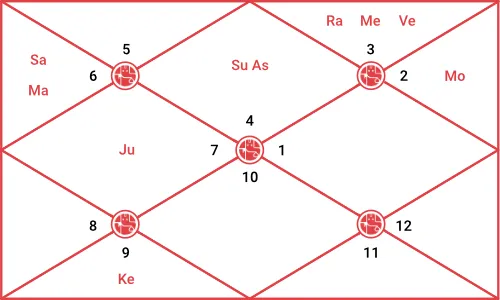 Also Read: Is Comeback Muskil for Anushka Sharma after Her Baby's Birth?
As per Priyanka Chopra horoscope, she is born Cancer Sun, which makes her a sensitive and nurturing person. This Cancer Sun is extremely beneficial for acting as Sun represents the core essence of her personality which brings natural talent at its best. Priyanka Chopra's zodiac sign is Taurus, and her Moon is exalted, which makes her a very sweet person attracting viewers again, helping her to gain more popularity. Rahu, Mercury and Venus make her very naturally drawn to modelling and the movie industry, where she is very fiery and passionate in her performances. This conjunction also makes her extremely sensuous.
Know the real strength of your planets and get success. Get Janampatri with a detailed report.
So, what does the upcoming year hold for Miss world? Are there any unexpected changes in her life? Let's talk about it.
---
Priyanka Chopra Horoscope 2021: What do Stars Say?
As per Priyanka Chopra kundli, the transiting Saturn in the Seventh house of the natal chart will be very favourable for her. She will be involved in some activities which will again increase her popularity. This is the time for her to lead the masses, and viewers will love her performances in Ads or Movies. Jupiter transit in Aquarius will bring some unexpected changes in her personal life. Family time is there for her. As she is going through Jupiter mahadasha and Sun antardasha, this will again bring name and fame for her. This time is very beneficial for creative projects, which will ultimately elevate her status as an actor.
---
Health Prospects For Priyanka Chopra Horoscope
As per Priynaka Chopra natal chart, Rahu transit in the eleventh house of the natal chart will be very beneficial for health. She will be at her optimal health and able to maintain health with the help of Saturn transit. Jupiter transit in Aquarius will bring some new changes for health-related matters. Transit of Mars in Leo will be extremely favourable for her as some bold decisions can be predicted related to her health which will be able to fulfil it. Due Jupiter mahadasha and Sun antardasha in her kundli, this period is favourable for her health, and even in this pandemic, she will be safe this time for sure.
---
The Married Life For Lovebirds Nick & Priyanka
A very positive and favourable time for lovebird Nick and Miss world. Saturn transit in Capricorn will strengthen the relationship between the couples according to Priyanka Chopra Horoscope. Any past issue or worry will start reducing and bring a solidity in their relationship. Jupiter transit in the eighth house of the chart will make her focus on married life specifically for this year. Moreover, Venus transit in Cancer, Leo and Libra will be extremely beneficial for this year as per Priyanka Chopra horoscope. No doubt, Venus transit will bring a new wave of romance and will be able to enjoy all the things. As Jupiter dasha is very favorable for her, – you will not be surprised by her vacation or refreshing romance.
How will married life be in 2023? Get Free 2023-marriage-prospects-report.
---
Hollywood or Bollywood? This Year 2021 For Priyanka
Satur transit in Capricorn will help her to work in Hollywood. This time, success is away from the homeland for Miss world. Rahu transit in Taurus will be very much helpful to get success in hollywood. She might get some new projects this year, says Priyanka Chopra Horoscope . Therefore, She will be very much busy throughout the year to fulfil all her commitments, and many more projects can be done in the coming time as well. She will be more busy in Hollywood than Bollywood as her time is very good to get success overseas.Don't forget the dasha of Jupiter which will again add success to her fame internationally.
As per Priyanka Chopra kundli analysis, the desi girl of Bollywood is not going to stop here. 2021 is the start of something new in her life which she never did before. She will perform at her best and will take some major decisions in her career.Coming years will also bring stability and calmness in her life which will make her more focused towards her career. Now the desi girl will be unstoppable!!!
We wish Priyanka Chopra a very Happy Birthday and a lot of success ahead in life!
Want to Lead a Celebrity Life? Consult Our Top Astrologers Now!
With Ganesha's Grace,
Astrologers trained by Shri Bejan Daruwalla
The GaneshaSpeaks Team
---
---
Get 100% Cashback On First Consultation