Stars, flowers and moolah…all that more, foresees Ganesha for the upcoming release Once Upon Ay Time In Mumbai Dobara!
Once Upon Ay Time In Mumbai Dobaara! the much awaited sequel to the 2010 blockbuster Once Upon A Time in Mumbaai is all set to release on this Independence day, i.e. 15th August 2013. Starring Akshay Kumar, Sonakshi Sinha and Imran Khan, this gangster film is directed by Milan Luthria and produced by Ekta Kapoor. Akshay Kumar as Shoiab Khan, the main lead as well as the main antagonist of the film, is a character based on the real life fugitive underworld don, Dawood Ibrahim. With a reported making cost of Rs. 85 crores, much is at stake for everyone involved in this film.It would be interesting to see whether this film is able to create the same stir and sensation as the last week's release Chennai Express that is currently running to packed houses. Originally meant to be released on Eid 2013, Once Upon Ay Time In Mumbai Dobaara!, in fact had to be pushed ahead by a week to avoid its collision with the Shahrukh's Express. So, now all set and still releasing around a holiday weekend, will Mumbai Dobaara, that also has undergone a name change (an additional a removed from the original's Mumbaai, a y added to the A in the name and Again changed to Dobaara) hit the nail? Ganesha looks at the release time chart of the movie to see its way ahead.
Release time chart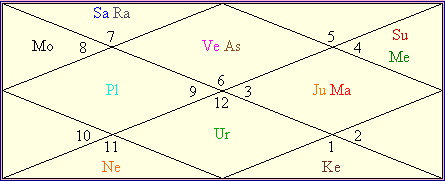 Astrological observations
This film is releasing with a tremendous planetary pattern.
Venus, the Lord of the 2nd House of finances is in the Ascendant and Lord of the Ascendant Mercury is in the House of gains.
There is an exchange between Mercury and Mars in this chart, but in that case Mars becomes Anyo Anya Neecha because Mercury is placed in Mars' Sign of debilitation. On the other hand, Jupiter is in Anyo Anya Uchcha position, because Mercury is placed in Jupiter's Sign of exaltation.
Moon the Lord of the 11th House is debilitated but Moon is in Anuradha constellation. Lord of Anuradha Constellation i.e. Saturn is exalted and Saturn is in Rahu's Constellation Swati. Rahu is placed in its own constellation Swati in the 2nd House of finances. All in all this is a splendid planetary alignment for a release.
Astrological predictions
Once Upon Ay Time in Mumbai Dobaara is going to receive a great opening at box office, for sure.
Although, the film may remain under controversy, its opening business and the entire first week's business will be too good.
We will see house-full declarations at many theatres.
Plus, the film is surely going to rock the overseas box offices too.
And, that is not all! This film will also get repeat audiences as well.
In this film, the producers will not only recover the money invested but will also mint more money.
When the transiting Moon meets the transiting Neptune, however, the film's business will slide down a bit.
Despite controversies pre/ post release, film's business will not be affected, feels Ganesha.
Numerological Angle
The tfilm's spelling has been set as per the rules of Numerology, as it thas been titled as Once tUpon ay Time in Mumbai Dobaara. tThis additional 'y' after 'a' is to set film's title's total to 3. tFilm is releasing on 15th tAugust 2013. So, birth number is 6. There is perfect rhythm between tbirth number and film's title's total as per Pythagorean system. tAlso, Akshay Kumar's date of birth is 9, which also sets well with tthe entire Numerological perspective. So, by and large Once Upon ay tTime in Mumbai Dobaara's spelling shall also play its part in tboosting the film's prospects.
In short, Once Upon ay Time in Mumbai Dobaara is going to be a big success story. Ganesha wishes good luck to the cast and crew of this film.
With Ganesha's Grace,
Bhavesh N. Pattni
The GaneshaSpeaks Team