A formula in comic genre films, done to death- A doubting wife,
a sizzling girl friend, a pal who stammers, disguised roles, stolen
diamonds, a ruthless yet funny villain and a flurry of activities
during the climax – all the hodgepodge transforming into a
rib-tickling comedy film. 'No Problem', which is releasing on 10th
December, 2010, is no different when it comes to the storyline.
However, when the gang of Bollywood hunks - Anil Kapoor, Sanjay Dutt,
Suniel Shetty & Akshaye Khanna along with the king of comedy,
Paresh Raval get together to tickle your funny bone, it's something
to watch out for. Sensuous Sushmita Sen and charismatic Kangana
Ranaut are expected to add some spice to the film.
Although
director Anees Bazmee (of 'No Entry' & 'Welcome' fame) promises
to deliver something hatke
this time, 'No problem' seems a cliché story... Will the audience
still have no problem in accepting the film? Ganesha envisages the
fate of 'No Problem' with the help of Vedic astrology.
No
Problem's release time chart for India's major territory
10th
December, 2010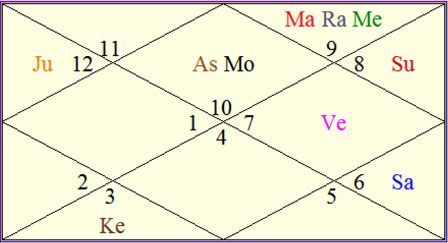 Astrological
Observations
The film is releasing with Capricorn Ascendant. Lord of
the Ascendant is in Bhagya Bhuvan.

Yoga
Karaka Venus is in the 10th
House in its own sign.

The
Lord of the 7th
House – Moon aspects its own sign.

Swagruhi Jupiter aspects Bhagya Bhuvan.

Lord
of the 11th
House – Mars is in the 12th
House with Rahu and Mercury.
Astrological
predictions
Ganesha strongly feels that this film will receive a
warm welcome at the box office. The film may see more than 75%
business during the first weekend.

Ganesha doesn't mean to say that it will be a good and
entertaining film, but somehow the magic of Yoga Karaka planet Venus
in Libra will work in the film's favour. There are chances of
stumbling upon 'houseful' boards at few cinema halls.

Ganesha feels that 'No Problem' will give a tough
competition to other films releasing during that time.

Ganesha
observes that the Lord of the 11th

House is placed in the 12th
House with Rahu and Mercury, and as the Lord of the 12th
House – Jupiter is its own sign, so 'No Problem' will not face any
problems even overseas. It is likely to do good business abroad as
well.
Lord Ganesha blesses the cast and crew of 'No problem',
and wishes it a problem-free release at the Box Office.
Ganesha's Grace,
The GaneshaSpeaks Team