Venus, Artistic Genius and Musical Magic – Ganesha's Special Study of Naushad's Horoscope..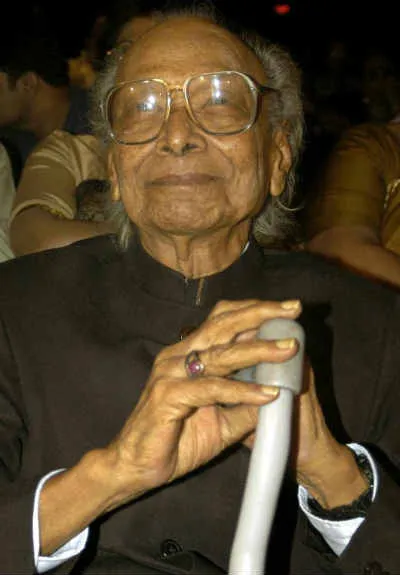 Naushad Ali
Date of Birth: 25th December, 1919
Time of Birth: Not Known
Place of Birth: Lucknow
---
The Astrological Portrait of the Musical Genius:
Sun is placed in Sagittarius in Naushad's Solar Chart.
Venus is the prime significator of arts, music and creativity. Venus in the Sign of Libra blessed him with the finest musical sensibilities and artistic talent. Venus is placed in Libra, which happens to be its Swakshetra, gave him interest in classical Music and gave him lots of skills in field of music. This created the path for him to excel in the field of music. And also ensured that he gained fame and recognition because of them.
The exchange between Mercury and Mars gave him great speed of thought, imaginations and a sense of originality. This is one of the contributory factors for his brilliant music skills. He was a very versatile music director of Indian film Industry and this also gave him versatility in his poetry, writing and music compositions.
The opposition of Moon and Jupiter is forming the Gaj Kesari Yog in his Chart. And also the exalted Jupiter made him a virtous, generous, expansive, calm-hearted, down-to-earth.
Saturn is important planet for his perfection in music. Naushad's dedication and perfection in music due to Saturn in his chart. Due to the Saturn's aspect on his Venus, he had a great penchant for classical music also composed some of the most sublime classical music pieces. Who can forget the epic song from Baiju Bawra – 'Man Tarpat Hari Darshan Ko Aaj… ', for which Mohammad Rafi rendered his voice.
All these planetary positions made him one of the prominent and glorious music directors of the Hindi Film Industry, and is particularly known for popularising the use of classical music in films. Naushad was conferred upon the Dadasaheb Phalke Award and the Padma Bhushan in 1982 and 1992, respectively, for his contribution to the Bollywood film industry.
May Naushad's soul rest in peace and may his glory eternally enchant people.
Understand the effects of these planets on your life – Talk To Expert Astrologer Now!
With Ganesha's Grace,
Kashyap Rawal
The GaneshaSpeaks Team
---
---
Get 100% Cashback On First Consultation