Nana Patekar's performance in Welcome Back may may be welcome well by the audiences, says Ganesha…
Nana Patekar's performance in Welcome Back may may be welcome well by the audiences, says Ganesha...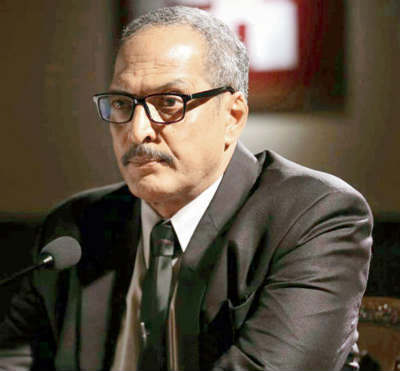 With fiery dialogues, extraordinary screen presence, awe-striking intensity, great depth of art and those eyes which give away a feel of revolutionary flame and righteous indignation within, Nana Patekar is surely one of the most amazing actors of India, who always readily commands fantastic admiration for his unique style of acting, drama and theatrics. He has that streak of intrigue and eccentricity, which makes for a very rare artist, who can play roles of different genres with flawless ease and that too in an unbelievably interesting manner. Having wowed the audiences with wonderful performances in movies like Krantiveer, Agni Sakshi, Ab Tak Chhappan amongst various others, Nana is coming back to entertain the movie-goers with the reprise version of the character- Uday Bhai in his next - Welcome Back, the sequel of the 2007 hit comedy movie – Welcome. Ganesha finds out, what the planets indicate about the stalwart actor. Let's check out...
Date of Birth :- 01st January, 1951
Time of Birth :- Not Known
Place of Birth :- Janjira, Maharashtra, India
SOLAR CHART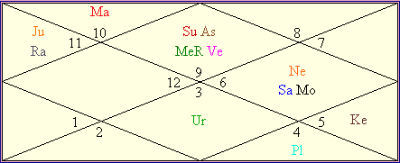 Owing to the unavailibity of credible birth-time of the celebrity, the analysis and predictions have been done on the basis of the Solar Chart/ Surya Kundli with the help of his birth-date and birth-place only.
Astrological Predictions :-
What lies ahead for him?
Ganesha notes that Nana Patekar will be under the influence of Jupiter's positive transit over Ketu, which will be aspecting the Sun, Mercury, Venus, Jupiter and Rahu till 11th August, 2016. This indicates that he will sign some new films during the next one year.

He may however remain selective about the subject, true to his nature.

Transiting Saturn will be aspecting Mars placed in the 2nd house of Surya Kundli till January 2017, so he will have to be careful in financial management.
How well will he be appreciated in Welcome Back?
His performance in the movie may remain average due to Saturn and Jupiter's partly favourable transit. However his dialogue delivery will be appreciated as transiting Jupiter will be aspecting Mercury of the Solar Chart.
On the whole, next year may remain average for Nana Patekar.
Ganesha wishes a great time ahead to Nana Patekar and wishes great luck for his next film Welcome Back.
With Ganesha's Grace,
Rantidev A. Upadhyay