Will Murder 3 match up to the hype? Ganesha finds out
Murder 3, a Vishesh Films production starring Randeep Hooda, Aditi Rao Hydari and Sara Loren in the main lead, is all set to hit the theatres on February 15, 2013, a day after the Valentine's Day. The third and the latest in the series of the now-famous Bollywood murder mystery, Murder 3 claims to have portrayed the bitter truth about the beautiful emotion called love, just like the earlier two films in the Murder series. With its melodious and touching soundtrack already topping the charts, the music is surely a USP of Murder 3, the directorial début of Vishesh Bhatt. The sensual scenes and interesting chemistry between the lead pair/s has also attracted a lot of eyeballs.
Despite the frills, some believe that the relatively unfamiliar star-cast of the film may be a hindrance in attracting the audiences to the theatres. On the plus side, the captivating teasers and the success of Murder and Murder 2 have perfectly set the stage for this film. So, what's in store? Ganesha analyses the Release Time Chart of Murder 3 and finds out the kind of reception it will garner at the box-office. Read on to find out more.
Murder 3
Release time chart for Bollywood's major territory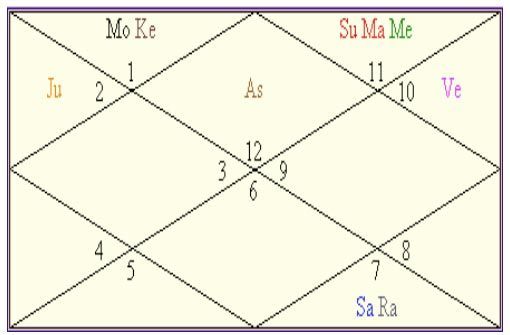 Astrological Observations
Murder 3 is releasing with the Ascendant Pisces.
In the release-time chart, the Moon is afflicted by Ketu in the 2nd House of finances.
However, it is to be noted that the Moon is Vargottami.
Jupiter, being the Lord of the 10th House, is placed in 3rd House.
In Samuday Ashtakvarga, there are 40 Auspicious Bindus in the 10th House.
Astrological Predictions
By looking at the aforementioned chart and the astrological highlights, Ganesha feels that the Murder 3 will surely have a good opening business.
The business during the first weekend of its release will also be quite good, as the release time chart's 9th and 10th Houses are powerful, as per the Samudaya Ashtakvarga.
The Stellium of planets in the 12th House also indicates that this film should do very well abroad.
However, considering the planetary transits after the release, Ganesha feels that even though movie is likely to have a good opening, its business is likely to get considerably reduced after 19th/20th February 2013.
As a majority of planets are in Libra and Aquarius, Ganesha feels that the movie's producers will have to count more on the business from the Western part of India.
Summarily, Ganesha feels that during the first week of its release, Murder 3's box-office collections will be good. However, as soon as the first week is over, the planets will change their stance and the movie's business may reduce.
With Ganesha's Grace,
The GaneshaSpeaks Team