Ironically, positive planets Mercury and Jupiter undid the enigma Michael Jackson....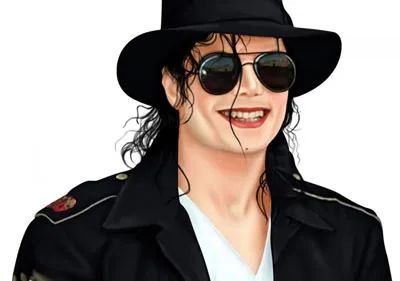 The King of Pop Michael Jackson, had he been live today, would have turned 57 on 29th August, 2015. The legendary singer, songwriter, record producer, actor and dancer won hundreds of awards, in his life-time and even beyond that, which makes him the world's most awarded recording artist in the history of the popular music. Words fall short, when we attempt to write the glory and accomplishment of this great artist, whose music, after about 6 years of his tragic death, still continues to hit the Billboards. In 2014, he yet again became the top-earning celebrity (in Forbes list), post death for the fifth consecutive time. The winner of multiple Guinness Records, Grammy Awards, American Music Awards and many more, Jackson was a phenomenon that doesn't happen often. And, despite all the riches and glory, the gleaming pop-star had a life full of ups and downs, full of legal battles, troubled relationships and diseases. Why and how did stars fill this rich life with so much bleakness? What made the Dangerous and Black and White star such a great artist, blessed with a fan following only a handful have managed to achieve in the world? On Michael Jackson's 57th birthday, Ganesha looks at his Natal Chart to analyse and reveal…
Date of Birth – 29th August, 1958
Time of Birth – 07.33 pm
Place of Birth – Gary, Indiana, USA
Natal Chart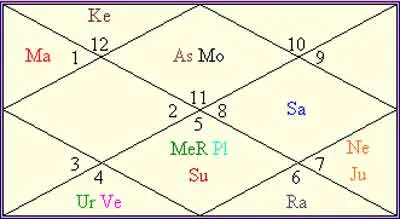 Michael Jackson was born with Aquarius Ascendant and the Lord of his Ascendant Saturn is placed in 10th House in his Natal Chart.
Michael Jackson was born on a Full Moon day. As Moon's light is at peak on full moon days, such days are considered auspicious for the birth of artists. When artists are born on such a day, they are able to rise to glory – in their life.
Moon's placement in the Ascendant in Jackson's Chart makes him creative, but it also indicates frequent mood swings.
The Ascendant Lord Saturn placed in the 10th House points towards great success in the field of work. In addition to this, the 10th House Lord Mars gives 8th aspect to Jackson's Ascendant Lord Saturn. This also contributed immensely to his success.
It is noteworthy that Jackson's Saturn Dasha began in 1972, i.e. when he started climbing the ladder of success in his musical career.
Further, Saturn's placement in his 10th House indicates that he must have worked really hard to achieve the success he received in his career.
Michael Jackson's Horoscope also suggests that although he was a talented and successful person, he also was given to being isolated and troubled. The Square aspect between Moon and Saturn in his Chart indicates that he was a lonely figure and couldn't get emotionally closer to anyone. Connecting with others easily did not come naturally to him, feels Ganesha.
Michael Jackson's was notable for his strange and turbulent love life. He married twice. Relationships are seen through Venus and the 7th House and Michael Jackson's 7th House is ruled by Sun, which is well-placed in his Chart Leo, but it is aspected by Saturn.
Ganesha notes that Saturn also rules the 12th House (Capricorn), which is related to hidden or secret matters. Saturn, being the 12th House Lord, aspected the 7th House of marriage by 10th aspect in Jackson's Chart. Also, Sun, Astrologically, is viewed as a separative planet. Both these factors indicate estrangement and disturbances in married life.
Mercury was weak in his Chart, due to retrogression and combustion. Plus it was in 8th House Lord in his Chart. This may have made him a recluse, unable to express himself well to others. Also, it was during his Mercury Dasha (1991-2008) that he gradually lost his popularity and started facing difficulties in various areas of life.
He was under the influence of Ketu major period and Venus sub period, when he passed away.
When he passed away, the transiting Jupiter and Neptune were conjunct in Aquarius and were closely opposite to his 8th House (of death) Lord Mercury. The 8th House is associated with serious diseases and sudden developments. Since Jackson's Mercury is Natally weak, it could not withstand the draining energy that Neptune was contributing. Jupiter's favourable aspect couldn't prove as the saving grace for Jackson, thus.
Perhaps, it was the gentle calming Jupiter's influence that was reflected in the fact that Michael apparently died of an overdose of Demerol, a powerful opioid – that he 'slept' forever without feeling anything.
May Michael Jackson soul rest in peace, and may his glory eternally enchant people.
For Personalized Horoscope Talk to an Astrologer Now, First Consultation with 100%
With Ganesha's Grace
Kashyap Rawal
The GaneshaSpeaks Team
---
---
Get 100% Cashback On First Consultation